DeTomaso Brake Pads
Achieve increased safety in your DeTomaso with DeTomaso Brake Pads from AutoAccessoriesGarage. DeTomaso performance rotors and Performance Brake Pads provide great decelerating power, with many compounds available. DeTomaso Performance Brake Pads are custom-designed to your make and model to fit perfectly, guaranteed. Best yet, the most popular DeTomaso performance brake brands are all in one place at AAG.
EBC Red Stuff Brake Pads provide race-level performance to your street legal sports cars. Red Stuff Brake Pads have 50% less dust than OEM replacement pads and are custom fit to your vehicle.
From $56.00
Free Shipping
Quick View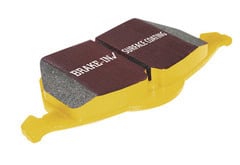 EBC Yellow Stuff Brake Pads give your car or truck high-performance racing power. These brake pads are formulated for track use as well as performance street use, and they're custom fit to your vehicle.
From $60.33
Free Shipping
Quick View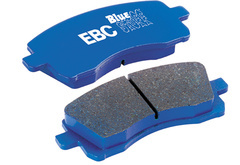 Blue Stuff Brake Pads give your vehicle the ultimate combination of race-ready power and road-worthy smoothness. Their unique NDX formula is specially designed for superior cold bite and a progressive feel. Plus, EBC Blue Stuff Pads are pre-bedded at the factory for a minimized bed-in time and superior performance.
From $76.61
Free Shipping
Quick View