Jensen Brake Pads
Jensen Performance Brake Pads from AutoAccessoriesGarage enhance your Jensen's stopping capacity. Cross-drilled, vented, and slotted Jensen rotors stay cleaner and cooled off to enhance your decelerating power. Each Jensen performance pad is custom-engineered for your precise year, make, and model. To find the most popular Jensen performance brake brands, with competitive prices, rely on Auto Accessories Garage.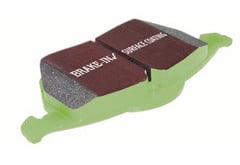 EBC Green Stuff Brake Pads are formulated to meet the demands of the every day driver. These brake pads feature a center-line slot that vents in cool air to prevent thermal cracking and maximize brake power.
From $43.18
Free Shipping
Quick View
EBC Red Stuff Brake Pads provide race-level performance to your street legal sports cars. Red Stuff Brake Pads have 50% less dust than OEM replacement pads and are custom fit to your vehicle.
From $56.00
Free Shipping
Quick View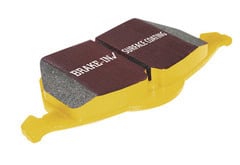 EBC Yellow Stuff Brake Pads give your car or truck high-performance racing power. These brake pads are formulated for track use as well as performance street use, and they're custom fit to your vehicle.
From $60.33
Free Shipping
Quick View
About Brake Pads
At AutoAccessoriesGarage.com, Jensen Brake Pads are easy to purchase. Jensen Brake Pad customer reviews and detailed hi-res pictures on our landing pages supply all the knowledge you need. With the help of totally free shipping included with every order, you are ensured to save plenty of cash. If you need Jensen Brake Pads without cracking open the piggy bank, AutoAccessoriesGarage.com is your resource for Jensen Brake Pads.
More Popular Jensen Accessories: Jensen Car Covers, Jensen Floor Mats, Jensen All Weather Floor Mats, Jensen Exhaust & Jensen Air Filters.