Triumph Brake Rotors
Toss your factory parts and get extra decelerating capacity with Triumph performance brake rotors. Slotted, cross-drilled, and vented Triumph brake rotors stay cooler to boost your braking capacity. Triumph brake rotors are custom-made to your make, model, and year, giving you easy installing and great performance. At AAG it is easy to get better Triumph rotors.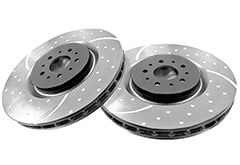 When it comes to maximizing brake performance, it's all about keeping them cool. EBC Sport Rotors are specially engineered to do just that, with wide-mouth slots that pass cool air over the rotor surface to minimize braking temperatures. This improves pad bite, minimizes brake fade, and even keeps the EBC Rotors cleaner for longer pad life and maximum performance.
From $78.09
Free Shipping
Quick View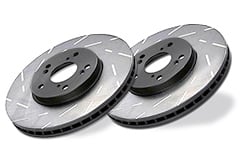 EBC Ultimax Brake Rotors give drivers high-performance stoppage abilities. These brake rotors progressive slotting design to extend the life of your pads and reduce noise. Front and rear brake rotors available.
From $34.47
Free Shipping
Quick View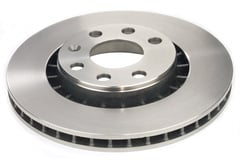 EBC OEM Replacement Rotors provide a size-for-size replacement for your brake rotors. These rotors are an exact OEM replacement, and no modifications or additional hardware are required for installation.
From $20.64
Free Shipping
Quick View