Ferrari Catalytic Converters
Bolting on a Ferrari Catalytic Converter from AutoAccessoriesGarage.com is a real advancement towards huge horsepower enhancements. Maximum power and superior aerodynamics are guaranteed thanks to Ferrari Catalytic Converters' high-flow baffles and louvers. Plus, most Ferrari catalytic converters are designed for trouble-free installation process and a factory replacement fit. You can find a wide array of Ferrari Catalytic Converters with affordable prices with Auto Accessories Garage.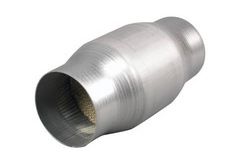 Get a great replacement to your OEM catalytic converter when you go with the Magnaflow 49 State Universal Catalytic Converter. These 100% stainless steel converters feature innovative designs to scrub your emissions clean while maximizing your ride's performance. Smooth airflow and durable construction are both assured with these high-level cat converters, which are not street legal in California.
From $71.08
Free Shipping
Quick View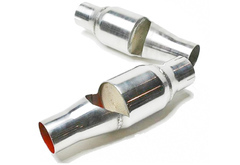 Improve your ride's performance and stay within the bounds of the law with the Bassani Universal Catalytic Converter. Metal substrate materials filter your emissions without sapping any power from your engine. These converters' design allows for enhanced airflow through a smaller package that also reduces noise.
Priced at $160.00
Free Shipping
Quick View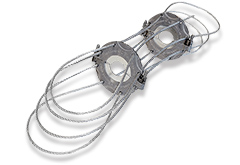 Protect your catalytic converter from theft with a Cat Clamp Catalytic Converter Lock. Airplane wire and split-collar cage ends combine together to form a nearly unbreakable cage around your converter. It's secure, easy to install, and keeps criminals from running off with your valuable catalytic.
From $159.95
Free Shipping
Quick View
About Catalytic Converters