Husky Liners Heavy Duty Floor Mats 51051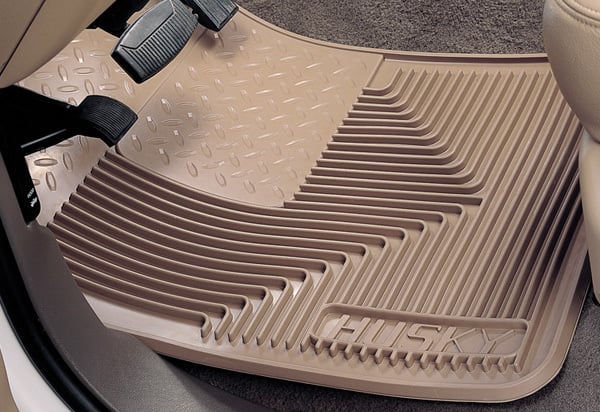 Our Price: $

67.95

Shipping:

FREE SHIPPING

Part Number: 51051
$67.95
Free Shipping
Select your vehicle details above to ensure item compatibility.
Ships by 10/24/16
Same Day Shipping if ordered by 1pm CST*
Nothing else protects your vehicle's interior like Husky Liners Heavy Duty Floor Mats
Extra-thick protection
Rubberized vinyl material withstands years of use and abuse
NOT fully custom fit - Some easy trimming may be necessary
Tall outer rim keeps messes and liquids contained
SPiN Sta-Put grips hold mats onto carpet, keeping them in place
Easy hose-off cleaning
Available in Black, Grey, or Tan
Lifetime Warranty
Sometimes, you have to call in the big guns! Give your interior rugged, durable protection from the elements with Husky Heavy Duty Floor Mats.
These thick, thermoplastic rubberized vinyl mats can handle all the rain, mud, and snow you bring in all year 'round. Your spills and messes are contained within the Husky's tall outer lip, so you won't get anything sloshing over onto your carpet. Best yet, Husky Heavy Duty Floor Mats are super easy to clean - just take them out and hose them off! Their semi-custom, trim-to-fit design makes it easy to get the mats to fit perfectly in your vehicle.Easy to install and available in a variety of colors, convenience is the name of the game with these super strong mats.

Husky Heavy Duty Floor Mats are the perfect vehicle protection for hard-working men and women. Backed by a Lifetime Warranty.


Note: Husky Heavy Duty Floor Mats are NOT fully custom-fit. Some light trimming with household tools may be necessary for a completely custom fit.
*Ships same day unless otherwise noted when you add to your cart. Applies only to in-stock items.
Husky Liners 51051 fits:
1984-1987 Audi Coupe
1973-2005 Buick Century
1959-1996 Buick Electra
1959-2004 Buick LeSabre
1991-2004 Buick Park Avenue
1988-1991 Buick Reatta
1973-2004 Buick Regal
2002-2007 Buick Rendezvous
1987-2001 Cadillac Allante
1953-1994 Cadillac Eldorado
1975-1991 Cadillac Seville
1982-1990 Chevrolet Celebrity
1996-2014 Chevrolet Impala
1996-2000 Chevrolet Lumina
1990-1996 Chevrolet Lumina Apv
2004-2012 Chevrolet Malibu
1995-2007 Chevrolet Monte Carlo
1999-2004 Chrysler 300M
1995-2001 Chrysler Cirrus
1993-2004 Chrysler Concorde
1994-2001 Chrysler LHS
1977-1995 Chrysler LeBaron
1950-1996 Chrysler New Yorker
1995-2006 Chrysler Sebring
1993-2003 Dodge Intrepid
1991-1996 Dodge Stealth
1995-2006 Dodge Stratus
1993-1997 Eagle Vision
1992-2005 Ford Crown Victoria
2010-2014 Ford Edge
2001-2008 Ford Escape
1991-2004 Ford Escort
1989-1997 Geo Metro
1989-1997 Geo Prizm
2007-2011 Honda CR-V
2001-2005 Honda Insight
2001-2006 Hyundai Santa Fe
1988-2005 Hyundai Sonata
2001-2005 Hyundai XG350
2004 Kia Amanti
2004 Kia Optima
2003-2006 Kia Rio
2004 Kia Spectra
1982-2004 Lincoln Town Car
2001-2008 Mazda Tribute
1983-2005 Mercury Grand Marquis
2003-2005 Mercury Marauder
2005-2008 Mercury Mariner
1988-1999 Mercury Tracer
1991-2004 Mitsubishi Diamante
2000-2005 Mitsubishi Eclipse
2004-2005 Mitsubishi Endeavor
2004-2006 Mitsubishi Galant
1982-1995 Mitsubishi Pickup
1990-1996 Nissan 300ZX
2002-2006 Nissan Altima
1981-2004 Nissan Maxima
1982-2009 Nissan Sentra
1954-1999 Oldsmobile 88
1972-1996 Oldsmobile 98
1967-1997 Oldsmobile Cutlass Supreme
1970-1994 Plymouth Duster
2001-2005 Pontiac Aztek
1993-2005 Pontiac Bonneville
2004 Pontiac GTO
1962-2008 Pontiac Grand Prix
2007-2009 Saturn Aura
2004 Saturn Ion
1991-2003 Saturn SC
1991-2002 Saturn SC1
1991-2002 Saturn SC2
2004 Suzuki Forenza
2004 Suzuki Verona
1995-2004 Toyota Avalon
1980-2004 Toyota Camry
1970-2003 Toyota Celica
1985-2003 Toyota MR2 Spyder
1991-1995 Toyota Pickup
2001-2005 Toyota RAV4
2001-2004 Toyota Sequoia
1979-1998 Toyota Supra
1993-1998 Toyota T100
1999-2004 Toyota Tundra
1995-2003 Volkswagen Cabrio
1994-2002 Volkswagen Cabriolet
1976-1998 Volkswagen GTI
1974-1998 Volkswagen Golf
1979-1998 Volkswagen Jetta
1982-1988 Volkswagen Quantum
1998-2000 Volvo S70
Husky Liners Heavy Duty Floor Mats

Customer Reviews
Overall:
Performance:
Quality:
Appearance:
Average Install Time: Instant
Showing 2 of 87 reviews. See All Reviews.
Very nice mats. They are heavy duty mats with deep ridges and keep pant cuffs from getting wet. They fit my car perfectly.
R.Roger M
who drives a
Chevrolet Impala
2013-11-15
Have had the floor mats for a couple of weeks now and am happy with the fit, quality of material, and especially happy with the non slippage as I have had with others. Would suggest a place for the pin in the floor to hold the mat, but so far has not been necessary.
Install Time: Under 30 minutes
Showing 2 of 87 reviews. See All Reviews.