Husky Liners Heavy Duty Floor Mats 51061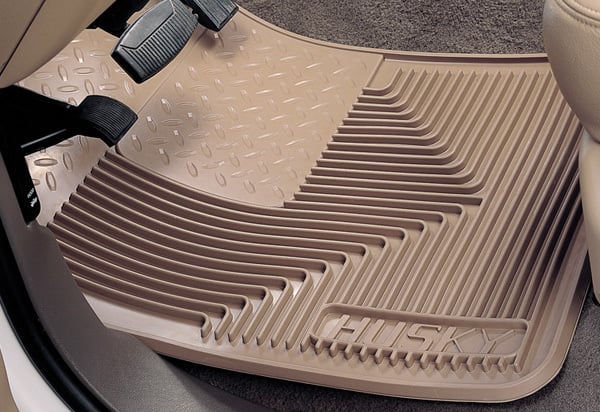 Our Price: $

67.95

Shipping:

FREE SHIPPING

Part Number: 51061
$67.95
Free Shipping
Select your vehicle details above to ensure item compatibility.
Ships by 10/24/16
Same Day Shipping if ordered by 1pm CST*
Nothing else protects your vehicle's interior like Husky Liners Heavy Duty Floor Mats
Extra-thick protection
Rubberized vinyl material withstands years of use and abuse
NOT fully custom fit - Some easy trimming may be necessary
Tall outer rim keeps messes and liquids contained
SPiN Sta-Put grips hold mats onto carpet, keeping them in place
Easy hose-off cleaning
Available in Black, Grey, or Tan
Lifetime Warranty
Sometimes, you have to call in the big guns! Give your interior rugged, durable protection from the elements with Husky Heavy Duty Floor Mats.
These thick, thermoplastic rubberized vinyl mats can handle all the rain, mud, and snow you bring in all year 'round. Your spills and messes are contained within the Husky's tall outer lip, so you won't get anything sloshing over onto your carpet. Best yet, Husky Heavy Duty Floor Mats are super easy to clean - just take them out and hose them off! Their semi-custom, trim-to-fit design makes it easy to get the mats to fit perfectly in your vehicle.Easy to install and available in a variety of colors, convenience is the name of the game with these super strong mats.

Husky Heavy Duty Floor Mats are the perfect vehicle protection for hard-working men and women. Backed by a Lifetime Warranty.


Note: Husky Heavy Duty Floor Mats are NOT fully custom-fit. Some light trimming with household tools may be necessary for a completely custom fit.
*Ships same day unless otherwise noted when you add to your cart. Applies only to in-stock items.
Husky Liners 51061 fits:
1994-2001 Acura Integra
1986-1995 Acura Legend
1990-2005 Acura NSX
1996-1999 Acura SLX
1988-1995 Audi 80
1994-1998 Audi Cabriolet
1994-2001 Audi S4
1995-2002 Audi S6
1963-2001 Buick Riviera
1991-1997 Buick Roadmaster
1997-2001 Cadillac Catera
1995-2003 Cadillac Eldorado
1965-2001 Cadillac Fleetwood
1992-1999 Cadillac STS
1992-2003 Cadillac Seville
1965-2001 Chevrolet Caprice
1992-2001 Chevrolet Metro
1998-2001 Chevrolet Prizm
1989-2004 Chevrolet Tracker
1995-2006 Chrysler Sebring
1995-2001 Dodge Avenger
1966-1987 Dodge Charger
1995-2003 Dodge Neon
2001-2005 Dodge Stratus
1990-1998 Eagle Talon
1986-1997 Ford Aerostar
1994-1997 Ford Aspire
1989-1997 Ford Probe
1955-1997 Ford Thunderbird
1988-2001 Geo Tracker
1996-2001 Honda CR-V
1983-1991 Honda CRX
1994-2002 Honda Passport
1994-2001 Hyundai Accent
1996-2001 Infiniti I30
1992-1997 Infiniti J30
1989-2002 Isuzu Amigo
2002-2004 Isuzu Axiom
1991-2004 Isuzu Rodeo
1991-2002 Isuzu Rodeo Sport
1983-2002 Isuzu Trooper
2003-2004 Jaguar X-Type
1988-2001 Jaguar XJ12
1988-2001 Jaguar XJ6
1988-2001 Jaguar XJR
1954-1983 Jeep CJ5
1976-1986 Jeep CJ7
1997-2006 Jeep Wrangler
1993-2000 Kia Sephia
2003-2004 Kia Sorento
1995-2003 Kia Sportage
1989-2004 Land Rover Discovery
1986-2002 Land Rover Range Rover
1990-1991 Lexus ES250
1992-2004 Lexus GS300
1998-2001 Lexus GS400
2003-2004 Lexus GS430
1996-1997 Lexus LX450
1958-2002 Lincoln Continental
1984-1992 Lincoln Mark Vii
1993-2002 Mazda 626
1979-1998 Mazda 929
1992-1997 Mazda MX-3
1988-1997 Mazda MX-6
1990-2003 Mazda Protege
1995-2000 Mercury Mystique
1986-1995 Mercury Sable
1990-2001 Mitsubishi 3000GT
1991-1999 Mitsubishi Eclipse
2002-2003 Mitsubishi Galant
2002-2005 Mitsubishi Lancer
1985-2002 Mitsubishi Mirage
2003-2005 Mitsubishi Outlander
1995 Nissan 200SX
1989-1995 Nissan 240SX
1975-1978 Nissan 280Z
1986-2004 Nissan Pathfinder
1987-1997 Nissan Pickup
1992-1998 Oldsmobile Achieva
1999-2004 Oldsmobile Alero
1995-2003 Oldsmobile Aurora
1962-1999 Oldsmobile Cutlass
1998-2002 Oldsmobile Intrigue
1996-2000 Plymouth Breeze
1995-2003 Plymouth Neon
2003-2004 Subaru Baja
1997-2004 Subaru Forester
1996-2008 Subaru Impreza
1989-2004 Subaru Legacy
2004 Subaru Outback
1999-2004 Suzuki Grand Vitara
1989-1998 Suzuki Sidekick
2001-2003 Suzuki XL-7
1984-2002 Toyota 4Runner
1964-1997 Toyota Land Cruiser
1994-2000 Toyota RAV4
1978-2001 Toyota Tercel
1980-1993 Volkswagen Cabriolet
1999-2005 Volkswagen GTI
1999-2005 Volkswagen Golf
1999-2004 Volkswagen Jetta
1990-2004 Volkswagen Passat
1993-1997 Volvo 850
1991-1997 Volvo 940
1991-1997 Volvo 960
1997-1998 Volvo S90
Husky Liners Heavy Duty Floor Mats

Customer Reviews
Overall:
Performance:
Quality:
Appearance:
Average Install Time: Instant
Showing 1 of 87 reviews. See All Reviews.
Lori B
who drives a
Isuzu Rodeo
2015-12-29
These floor mats were a Christmas gift for my son. He specifically requested heavy duty mats for his Isuzu Rodeo and was extremely pleased with these.
Showing 1 of 87 reviews. See All Reviews.