WeatherTech Floor Mats W3-W20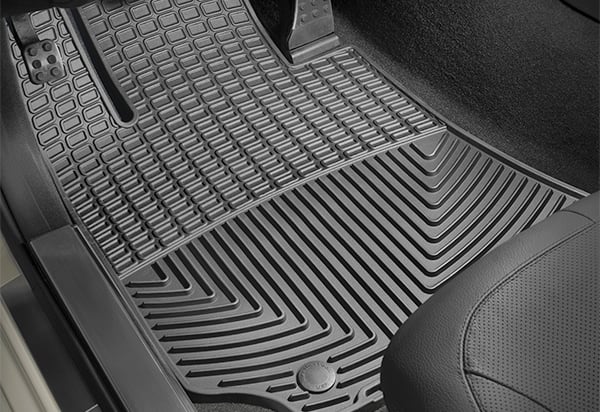 Our Price: $

114.95

Shipping:

FREE SHIPPING

Part Number: W3-W20
$114.95
Free Shipping
Select your vehicle details above to ensure item compatibility.
Order in the next
5 hours 45 minutes for
Same Day Shipping
Great all-season protection for your interior
Thick rubber with a ridged bottom and soft upper tread
Semi-Custom design, you may need to trim the mats with scissors or a utility knife for a precise fit - for a fully custom fit see Weathertech DigitalFit mats

Available in Grey, Tan, and Black
Raised ridge around perimeter prevents debris from getting onto carpet
Easy cleaning
3-Year warranty
Protect your floors with the rugged, durable rubber protection of WeatherTech All-Weather Floor Mats. These floor mats are molded from thick rubber, providing a heavy-duty layer of protection against dirt, mud, water, or anything else that may ruin your carpets. Plus, their Semi-Custom design lets you easily trim them down with household tools for a perfect fit in your interior.
WeatherTech's special ridged underside acts as a gripper, keeping the mats in place through all your kicking and scraping. On top the All-Weather Mats have soft rubber treads which give a great tread without being harsh on your shoes. Around the edge of your WeatherTech Floor Mats is a tall outer ridge, which acts as a wall to keep all that mud and debris from spilling out onto your carpet.
They come in Black, Grey, and Tan, universal colors that will work with nearly any interior. Best yet, cleaning your Floor Mats is as simple as hosing them down! WeatherTech backs your All-Weather Floor Mats with a 3 Year Warranty.
Note: For a perfectly tailored fit, Semi-Custom mats may require simple trimming with scissors or a utility knife.
WeatherTech W3-W20 fits:
1994-2001 Acura Integra
1986-1995 Acura Legend
1996-1999 Acura SLX
1986-1995 Audi 80
1996-2001 Audi A4
1996-2001 Audi A4 Quattro
1997-2003 Audi A8
1997-2003 Audi A8 Quattro
1994-1998 Audi Cabriolet
1996-2001 Audi RS4
1996-2008 Audi S4
1997-2003 Audi S8
1977-2005 Buick LeSabre
1991-1996 Buick Park Avenue
1987-1997 Buick Regal
1995-1999 Buick Riviera
1980-1996 Buick Roadmaster
1980-1998 Buick Skylark
1997-2001 Cadillac Catera
1995-2002 Cadillac Eldorado
1980-1996 Cadillac Fleetwood
1992-2004 Cadillac Seville
1987-1996 Chevrolet Beretta
1967-2002 Chevrolet Camaro
1980-1996 Chevrolet Caprice
1987-1996 Chevrolet Corsica
1980-2005 Chevrolet Impala
1997-2004 Chevrolet Malibu
1998-2002 Chevrolet Metro
1998-2003 Chevrolet Prizm
1998-2004 Chevrolet Tracker
2007-2009 Chrysler Aspen
1980-1993 Chrysler Imperial
2001-2010 Chrysler PT Cruiser
1966-1987 Dodge Charger
1987-2013 Dodge Dakota
1984-1993 Dodge Daytona
2005-2011 Dodge Durango
1994-2005 Dodge Neon
1987-1993 Dodge Raider
1995-2007 Dodge Stratus
1990-1998 Eagle Talon
1994-1997 Ford Aspire
1981-1990 Ford Escort
1988-1993 Ford Festiva
2000-2007 Ford Focus
1979-2004 Ford Mustang
1989-1997 Ford Probe
1983-1992 Ford Ranger
1986-1995 Ford Taurus
1977-2001 Ford Thunderbird
1989-1997 Geo Metro
1989-1997 Geo Prizm
1989-2001 Geo Tracker
1980-1988 Honda Accord
1997-2001 Honda CR-V
1975-1984 Honda Civic
1994-1997 Honda Passport
1980-1984 Honda Prelude
1992-2008 Hummer H1
1995-1999 Hyundai Accent
1992-2010 Hyundai Elantra
1987-2011 Hyundai Tiburon
1991-2002 Infiniti G20
1996-1999 Infiniti I30
1993-1997 Infiniti J30
2003-2005 Infiniti M45
1990-2006 Infiniti Q45
1997-2003 Infiniti QX4
1989-2001 Isuzu Amigo
2002-2004 Isuzu Axiom
1981-1995 Isuzu Pickup
1986-2003 Isuzu Trooper
1999-2001 Isuzu Vehicross
2006-2010 Isuzu i-280
2006-2011 Isuzu i-290
2006-2010 Isuzu i-350
2006-2011 Isuzu i-370
2000-2008 Jaguar S-Type
2005 Jaguar Vanden Plas
1988-2013 Jaguar XJ
1994-1996 Jaguar XJ12
1988-1997 Jaguar XJ6
2008-2009 Jaguar XJR
1971-1986 Jeep CJ5
1976-1986 Jeep CJ7
1980-1991 Jeep Wagoneer
2003-2010 Kia Sorento
2005-2009 Kia Spectra
2005-2009 Kia Spectra5
1995-2002 Kia Sportage
1994-1999 Land Rover Discovery
1987-2002 Land Rover Range Rover
1990-1991 Lexus ES250
1990-1991 Lexus ES350
1996-1998 Lexus LX450
1992-2002 Lexus SC300
1992-2002 Lexus SC400
1980-2002 Lincoln Continental
1984-1992 Lincoln Mark Vii
1993-1998 Lincoln Mark Viii
1995-2013 Lotus Elise
2010-2013 Lotus Evora
1988-1995 Mazda 929
1992-1998 Mazda MX-3
1995-2002 Mazda Millenia
1980-1994 Mercury Capri
1967-2002 Mercury Cougar
1995-2000 Mercury Mystique
1986-1995 Mercury Sable
1985-2003 Mitsubishi Galant
2002-2011 Mitsubishi Lancer
1985-1996 Mitsubishi Mirage
1983-2000 Mitsubishi Montero
1997-2004 Mitsubishi Montero Sport
2003-2006 Mitsubishi Outlander
2006-2012 Mitsubishi Raider
1980-2001 Nissan 200SX
1989-2001 Nissan 240SX
1970-1983 Nissan 280Z
1984-1989 Nissan 300ZX
1993-2001 Nissan Altima
1982-1999 Nissan Maxima
1980-1997 Nissan Pickup
1992-1998 Oldsmobile Achieva
1998-2004 Oldsmobile Alero
1980-2001 Oldsmobile Cutlass
1990-1995 Plymouth Laser
1994-2001 Plymouth Neon
1980-1991 Pontiac Bonneville
1980-2002 Pontiac Firebird
1980-2005 Pontiac Grand Am
1978-1991 Pontiac Grand Prix
1995-2005 Pontiac Sunfire
1999-2002 Saab 9-3
1999-2011 Saab 9-5
1980-1998 Saab 900
1986-1998 Saab 9000
1987-1994 Subaru Justy
1990-2004 Subaru Legacy
2009-2013 Suzuki Equator
1995-2002 Suzuki Esteem
1999-2005 Suzuki Grand Vitara
2005-2011 Suzuki Reno
1986-1995 Suzuki Samurai
1989-1998 Suzuki Sidekick
1989-2001 Suzuki Swift
1999-2004 Suzuki Vitara
2001-2006 Suzuki XL-7
1996-2002 Toyota 4Runner
1980-1999 Toyota Celica
1980-2002 Toyota Corolla
1964-1997 Toyota Land Cruiser
1991-1998 Toyota Paseo
1996-2000 Toyota RAV4
1980-1998 Toyota Supra
1995-2004 Toyota Tacoma
1980-2001 Toyota Tercel
1964-1979 Volkswagen Beetle
1985-1993 Volkswagen Cabrio
1985-1993 Volkswagen Cabriolet
1980-1984 Volkswagen GTI
1980-1984 Volkswagen Golf
1980-1984 Volkswagen R32
1980-1984 Volkswagen Rabbit
1980-1988 Volkswagen Scirocco
1981-1993 Volvo 240
1983-1997 Volvo 740
1983-1997 Volvo 760
1987-1990 Volvo 780
1993-1997 Volvo 850
1985-1997 Volvo 940
1985-1997 Volvo 960
1998-2000 Volvo S70
1998 Volvo S90
2000-2004 Volvo V40
1998-2000 Volvo V70
WeatherTech Floor Mats

Customer Reviews
Overall:
Performance:
Quality:
Appearance:
Average Install Time: Instant
Showing 4 of 1183 reviews. See All Reviews.
Barbara Parker
who drives a
Ford Mustang
2016-05-11
I am truly satisfied with the product and the shipping of the merchandise. I would order from here again and I will tell all of my friends about your web site. Thank you for a wonderful experience.
Install Time: Under 30 minutes
Gary P
who drives a
Dodge Dakota
2016-03-05
I purchased Weather Tech mats for my 2014 Dodge Avenger and was very satisfied with the fit and looks. Easy to clean. That is why I purchased a set for my 1995 Dodge Dakota Sport. They also where easy to install and looks great on the floor.
Steve M
who drives a
Audi S4
2015-10-21
I have a 2005 Audi S4 Avant wagon, but unfortunately neither the front nor back mats fit this car. Not even trimming them would help - so I gave them away. If you're looking for perfect fit all weather mats for your Audi S4, don't get these.
Matthew T
who drives a
Hyundai Elantra
2013-11-16
They are not cut to fit properly. Passenger side and back seat floor fit perfectly. Driver side floor mat does not conform well around the gas pedal and it slides forward constantly.
Showing 4 of 1183 reviews. See All Reviews.