Lighting Accessories & Wiring
Our Wiring & Lighting Accessories help you set your lights up to work for you like they should. Secure your lights with a set of Light Locks. If your lights are mounted above the hood, avoid potentially dangerous glare with Glare Shields. And if you just picked up a set of HID lights, hook them up properly with an HID Wiring Harness. We have the Lighting Accessories & Wiring you need for the best lighting performance and security.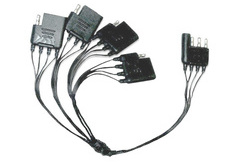 Connect your trailer to your vehicle's electronics without needing to remove your vehicle accessory lights with a PlasmaGlow Trailer Hitch Adapter 4 Way Splitter. Any 4-pin flat trailer hitch adapter will fit this splitter, allowing you to simultaneously power your trailer and up to 4 different other pieces. Forget a complicated re-wiring process and make sure everything gets the juice it needs with this wiring adapter.
Priced at $24.80
Free Shipping
Quick View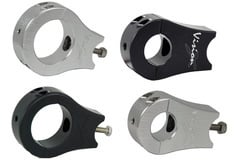 Attach your Xmitter LED lights with Vision X Xmitter Tube Frame Mounts. Made from 6061 aluminum and sold in pairs, these frame mounts are available in 7 sizes and 2 finishes. All mounting hardware is included in each package, allowing you to secure your lights to your vehicle's frame or roll cage easily and get going faster.
Priced at $60.00
Free Shipping
Quick View