Dog Beds
You pamper your dog at home - why not take that luxury on the road, too? These Dog Beds are specifically designed for dog travel, so your best friend can enjoy a comfortable surface on your back seat or in your SUV cargo area. Dog Travel Beds are soft, easy-to-clean, and rugged enough to handle the abuses of travel while protecting your interior from damage. Many also fold up, making these beds portable enough to take anywhere.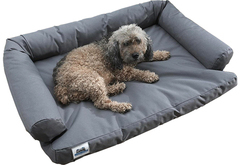 For years, the leading hotels have used the Canine Covers Dog Bed to guarantee comfort, durability, and easy use. Whether in your home or in the back of your SUV or wagon, this dog bed's breathable fabrics will maintain their five-star quality. Available in 4 sizes, 3 fabrics, and 17 patterns and colors, easily remove the outer shell to wash in your washing machine when it gets dirty with no threat of permanently damaging its integrity.
From $97.42
Free Shipping
Quick View
The Classic Accessories Heritage Kennel Mat lets your dog travel in comfort on long trips. This quilted dog kennel mat is perfect for both pet travel and in-home use. The mat measures 34"X26" and is backed by a 1-Year Warranty.
Priced at $35.23
Free Shipping
Quick View