Smart Leaf & Coil Springs
Smart leaf springs & coil springs from Auto Accessories Garage give yourself an aggressive look and amazing performance. Whether you are after a meaner style or simply more height, Smart leaf springs & coil springs are ready for anything. Smart leaf springs & coil springs also keep your factory performance to ensure great comfort and handling. For every style of Smart coil springs & leaf springs at competitive prices, go with Auto Accessories Garage.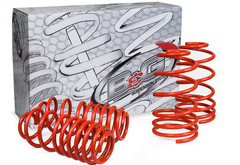 B&G S2 Sport Springs are expertly engineered and designed to improve your vehicle's handling without compromising safety and ride quality. Depending on the application, S2 Sport Springs lower your ride's center of gravity by 0.5-2.5 inches, significantly improving your handling. Expect tighter control of your vehicle, as well as maintained comfort and safety. More...
From $119.04
Free Shipping
Quick View
About Leaf Springs & Coil Springs