Smart Shocks & Struts
Set your Smart up with superior suspension performance and cornering with the help of a kit of performance shocks from AutoAccessoriesGarage.com. Smart performance struts are available in an array of styles such as dual-tube and monotube. Smart performance shocks enhance ride feel to guarantee great turning and comfort. When you rely upon Auto Accessories Garage it's simple to get the best Smart struts and shocks.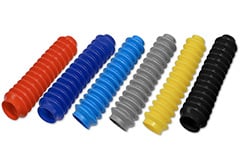 Guard your shocks from dirt and corrosion and add a custom look underneath with a pair of Tuff Country Shock Boots. These universal boots fit steering stabilizers and shocks and keep dust and grime out of the pistons. Choose from six different colors to suit your looks.
Priced at $15.61
Free Shipping
Quick View
About Performance Shocks
Shopping for the driver-tested Smart Shocks & Struts brands is easy when you browse Auto Accessories Garage. Choose your Smart with the help of our make/model picker and we will only show you the Smart Shocks & Struts that fit. Additionally, for big savings Smart Shocks & Struts come with unbeatable prices and Free Shipping. That's what makes AutoAccessoriesGarage.com your Shocks & Struts retailer.
More Popular Smart Accessories: Smart Brakes, Smart Trailer Hitches, Smart Air Filters, Smart Dashboard Covers & Smart Brake Pads.