BakFlip MX4 Tonneau Cover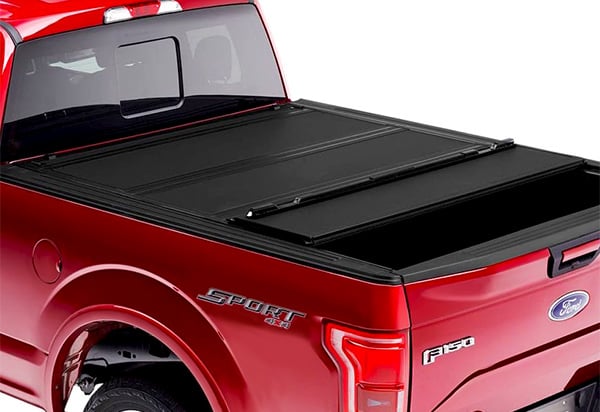 Regular Price:

$1,325.50-1,839.60

Our Price: $

899.88

-

1,248.88

Shipping:

FREE SHIPPING
Bring both style and function to your truck with the durable and lightweight BakFlip MX4 Aluminum Tonneau Cover
New and improved universal rear seal – closes with tailgate in the open or closed position
Fully opens for complete, 100% bed access
Standard model available, or choose to add the BakBox folding truck toolbox (not available for all vehicles)
Enhanced heavy-duty Aluminum construction – resistant to scratching and UV radiation
Injection molded latch housing for superior durability
Attractive Black flat matte finish
Made in the USA
Backed by a 3-Year Warranty
Whether you're loading your truck up with sand, cement, or concrete, or packing up for a weekend camping trip, your cargo needs to be protected, and your truck deserves to look good. If you want to add all the convenience of a locking trunk to the style and function of your pickup, equip your rig with the BakFlip MX4 Aluminum Tonneau Cover.
Not only do the enhanced heavy-duty aluminum panels look great in their flat matte finish – they also provide incredible resistance to scratches and UV rays. In addition, the premium density foam core stands up strong to heavy use and abuse. The newly upgraded rear seal is universal, and allows you to close your cover while the tailgate is in the open or closed position - no need to worry about damaging your cover when you close the cover in a hurry.
Your BakFlip MX4 Aluminum Tonneau Cover is rated to hold up to 400 lbs of evenly distributed weight right on top. The latch housing is injection molded, for supreme durability that will last for the long haul. This cover is made in the USA and backed by a 3-Year Warranty.
Optional Upgrade: Choose the Standard BakFlip MX4 model, or maximize your truck bed's functionality by adding the optional BakBox Folding Toolbox. This truck toolbox is strong, lightweight, easy to handle, and works seamlessly with the BakFlip MX4. (BakBox not available for all vehicles.)
BakFlip MX4 Tonneau Cover

Customer Reviews
Overall:
Performance:
Quality:
Appearance:
Average Install Time: 30-60 minutes
Showing 10 of 44 reviews. See All Reviews.
Ron D

who drives a

GMC Sierra



2017-03-18
Easy to install. Looks good. Driving on wet roads and all is dry inside.
Jeff B

who drives a

Chevy Silverado



2017-03-18
The Bakflip took me a couple of hours to install… But if I had to install another one I could probably do it in 45 minutes now! Great product, low profile, very clean,I love it!
Shane H

who drives a

Dodge Ram 1500



2017-03-16
The new MX4 is so easy to install and the quality of it way better than its earlier versions. When I stated looking for a bed cover I knew I liked the bakflip covers, but with the new seals they really got it right this time.
Install Time: 30-60 minutes
Kenneth C

who drives a

Honda Ridgeline



2017-03-15
It took 4 hours to figure out we had the rails facing the wrong way then it went on in about 20 Minutes. It was not the product but the instructions weren't clear so it took someone walking by to actually say hay the seal goes on the outside. All good and it works perfectly.
Install Time: Under 30 minutes
Shawn M

who drives a

Toyota Tacoma



2017-03-11
Shipping was prompt, receiving the MX4 4 days after placing the order. I installed the cover earlier this week. Installation was straight forward, although I would say it was very helpful to watch installation videos prior to installing. The quality of the product is excellent. It looks great and works like I expected.
Les S

who drives a

Dodge Ram 3500



2017-03-10
I'm 69 years old with a bit of arthritis, so layin on my back in the bed was not to easy, but got it done. Followed the directions to the letter. Worked great.
Mike B

who drives a

Toyota Tacoma



2017-03-04
BAK quality control appears to have some real issues, so I would recommend staying away from this company, especially if you drive a Toyota Tacoma. I'm in the process of returning it. Complete waste of time so far.
Dennis D

who drives a

Ford F150



2017-03-02
Cover was ordered and delivered on time and in good shape. It installed easily and looks great on my truck, already had people ask where I got it from and I tell them AutoAccessoriesGarage.com.
Install Time: 30-60 minutes
Mark H

who drives a

Chevy Silverado



2017-02-26
Inside the packaging the cover had metal shavings all over it from the manufacturer process. Took a while just to clean this up. Shim instruction sheet showed these Chevy's needed shims to install but none included. The cover looks nice and install was straightforward. The bed rails seem to have a slight angle to them without shims installed. The bumpers that rest against the back window when folded up only touch in the middle. The curve of the window prevents the outer bumpers from touching.
Mark B

who drives a

Nissan Titan



2017-02-24
I am giving this product a 4 star rating because the instructions told me nothing about the extra steps needed to install it on my 2017 Nissan Titan Pro4x with the 5 1/2 foot box. This is a quality built item and the second one I have owned. I installed one on my Toyota last year, but sold the truck after 10 months, so I cannot give a rating on its durability. I will say that their claim that it is 100% waterproof is only partially true. Heavy driving rains and car washes penetrated my last cover, but not a deluge. I believe this will last for years the way it was built, but like anything else, only if you take care of it. Back to the install. If you have the factory bed rail system, you will have to remove the rails and reinstall them upside down. The heads of the stainless bolts on these rails strip easily. My truck is brand new and I still manage to strip several of them, adding to the headache. They were really tight from the factory. No where in the directions or on the web page listing does it tell you have to do this. I had to call customer service (very friendly and helpful) to get it figured out. I have the factory bed extender, which rides on the bed rails. By reversing the bed rails for installation, the factory bed extender will still work, but it is on a funny angle, but still functional. Plus, make sure you have the bed extender brackets in the rear rails (near the tailgate) before you tighten the screws after flipping (reversing) the rails. If you don't, you will not be able to get the bed extender brackets back on and will have to remove the rail screws again to do that. Again, not in the instructions. Recalling my previous install, I will say the instructions are good, but some pictures are confusing. But, because I installed one of these within the last year, the install for me was easy (again, except for the extra steps not in the instructions). I purchased this from Auto Accessories Garage and got a 10% discount. It arrived quickly and in perfect condition. All the parts were in the box. There was a slight mix-up with the order (my fault), but Auto Acc Garage helped me to correct it right away. You can't go wrong with this cover. Built solid, it gives you confidence that you made a good investment. One other point of note any of you 2016/2017 Titan owners might want to know. You probably realize how tremendously high the box is in the new Titans. This tonneau cover folds back when you release the locking clips by pulling on a cable that runs across from side to side. You have to do this for each fold. But, with the height of the truck bed, I have trouble reaching the two cables from the middle and front fold. You will understand what I mean when you get your tonneau. I am 5' 10" tall and have to get into my truck bed to reach the middle cable and the cable nearest the cab to fold the cover. This in no way reflects on the quality of the cover, just something to think about for us shorter guys that have these monster Titan truck beds.
Showing 10 of 44 reviews. See All Reviews.