Jeep Headache Racks
Protect your Jeep from damage, and get extra style while you're at it. Jeep Headache Racks bolt to your bed in just minutes, and they come in a variety of finishes to give you a sweet new look. Plus, they're custom designed so they'll line up perfectly with your bed rails and cab. Get great prices and Free Shipping on all Jeep Headache Racks.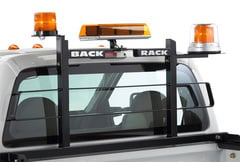 Find the right configuration for your utility, warning, universal and spot lights with Backrack Accessory Brackets. Made specifically for use with Backrack Headache Racks and Backrack Safety Racks, these brackets attach to mounting positions along the top of your rack and provide a sturdy anchor point for your lights. Easy to install, a variety of sizes and configurations are available for whatever you need.
From $32.16
Free Shipping
Quick View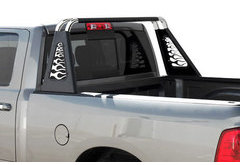 Add Go Rhino Thunder Sport Bar Inserts to your Thunder Sport Bar-equipped truck for an extra kick of hot style. These roll bar inserts are crafted from tough steel and come in an eye-catching Polished Stainless finish. The flame design gives your truck a sweet hot-rod look.
Priced at $119.00
Free Shipping
Quick View
About Headache Racks
Jeep truck headache racks provide a attractive and helpful accessory to your bed. Jeep truck headache racks prevent shattered windows - and look good as well. They're offered in a variety of finishes, such as black powdercoat, chrome, and stainless steel. To shop Jeep pickup truck headache racks at the lowest cost, stick with AutoAccessoriesGarage.com.
Buying the most trusted Jeep Headache Racks brands is super easy with AutoAccessoriesGarage.com. We make sure we carry simply superior Jeep Headache Racks brands. With the help of completely free shipping included with every order, you are bound to save tons of dough. When you want the most competitive prices on Jeep Headache Racks with top-notch customer service, choose Auto Accessories Garage.
More Popular Jeep Accessories: Jeep Brakes, Jeep Air Filters, Jeep Air Intakes, Jeep Fender Flares & Trim & Jeep Heavy-Duty Bumpers.