Truck Tents
Pickup Truck Tents let you take the comforts of home with you, even when you're sleeping under the stars. They're specially designed to mount to your pickup bed, providing shelter from the elements while hoisting you up off the cold, muddy ground. With a Truck Tent (and a Truck Bed Air Mattress) you can say farewell to aching backs and restless nights. Many of our Truck Tents also convert into standalone tents, so you can also easily camp where your pickup can't go.
Our

11

Truck Tents

reviews have an average rating of

4.2

out of

5

stars.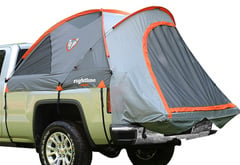 Maximize your camping comfort and fun with the Rightline CampRight Truck Tent. This truck bed tent is loaded with handy features and sets up easily without the tarps, stakes, and hassles of standard tents. Best yet, CampRight Truck Tents have the largest interior space of any pickup bed tents available.
Priced at $179.95
Free Shipping
Quick View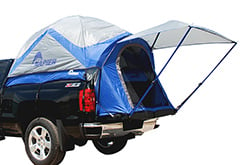 The Napier Sportz Truck Tent III turns any truck bed into a fully functioning campsite. This pickup tent runs the full length of your cab to provide you and your gear with protection against the elements. Custom fit to your vehicle.
Priced at $259.99
Free Shipping
Quick View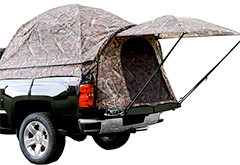 Dig your preferred style and bring your campsite with you thanks to the Sportz Camo Truck Tent. Polyester taffeta construction keeps the rain and dew out while large windows and vents provide ventilation while you sleep. Big enough to fit two adults, set-up is easy and an adjustable awning provides all the shade you need.
Priced at $319.99
Free Shipping
Quick View
About Truck Tents
A pickup Truck Tent is as convenient as camping accessories get. You are never more versatile in your Colorado than when you simply pull up to a campsite and toss up your Chevy Colorado Tent. Truck tents like a Dodge Dakota Tent or a GMC Canyon Tent keep you from having to sleep on the cold, uncomfortable ground. They are waterproof, too, to keep your gear and supplies dry. A Truck Bed Tent like the Dodge Ram 1500 Tent works with an air mattress to ensure that no matter where your adventures take you, you'll always have a dependably comfortable place to sleep.
It's a breeze to shop for the perfect Ford Ranger Tent for your needs at AutoAccessoriesGarage.com. You'll see every tent we have in stock offered with full color photography and detailed product descriptions. When questions arise, we have both a dedicated Customer Service staff and a helpful Learning Center, and when the time comes to buy something it ships to you for free. Never fear when shopping for Truck Tents, not when AAG is here.
More Popular Truck Tents Vehicles: