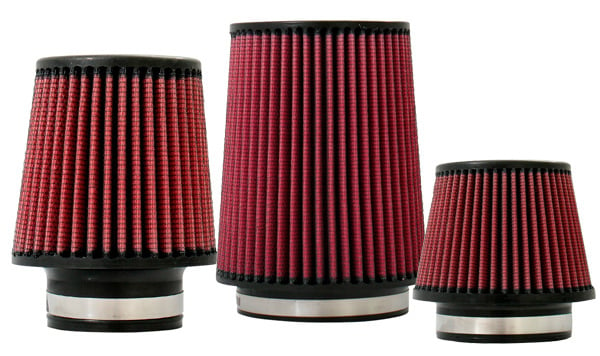 Replacing your stock air filter with a Performance Air Filter improves both your engine's functionality and its performance. You'll enjoy torque gains and horsepower increases, as well as the sort of gas mileage enhancement that makes a difference in your monthly bottom line. Removing your stock filter and replacing it with a higher performing one is an easy way to get the sort of engine you've always wanted, both more powerful and fuel efficient.

While similar in many ways, the one major area in which a Performance Air Filter vastly differs from stock counterparts is that performance air filters need to be regularly cleaned. Instead of simply being replaceable, as is your stock air filter, a performance air filter is guaranteed for thousands and thousands of miles, provided that you take the necessary steps to properly clean it when it gets clogged with dust and debris. Many merchants, professionals, and enthusiasts recommend you do so at least every other oil change, somewhere around every 8,000 to 10,000 miles.
For the uninitiated, the idea of cleaning a performance air filter might seem odd or difficult, but it is a relatively easy job that can be completed in as little as 45 minutes, with the proper amount of time given for everything to soak in and dry. As a matter of fact, it is the perfect side job to take your time with while in the midst of a larger job elsewhere on your vehicle, one that only requires patience and the proper cleaning solutions.
Cleaning a Performance Air Filter
Please Note:It matters how you set down your filter after the various soakings and rinsings that follow. When soaking your filter with cleaning solution, rest it on its top; after rinsing off all the cleaning solution, rest it on its base to dry. The differences, while seemingly minimal, affect how the solution is distributed and, later, how the filter dries.

At AutoAccessoriesGarage.com, as well as any other reputable auto parts store, you can find an Air Filter Restoration Kit or an Air Filter Cleaning Kit to match your performance air filter. Be sure to find the proper solution for your brand of filter, as they will be specially designed to clean your particular Ford Ranger Air Filter. Included in the kit you will find two bottles: one of Cleaning Solution and one of Air Filter Oil.
To get started, tap out your filter to remove any loose dirt and dust. Following this, liberally apply the Cleaning Solution to the outside of your dirty Hyundai Elantra Air Filter. Don't hold back, now: you want to really soak it. Once the outside is coated, spray the soultion on the inside of the air filter. Again, really soak the filter with the Cleaning Solution. When the inside and outside are properly coated, let the filter sit in a basin or sink for ten minutes, allowing ample time for the cleaning agents to work their magic on your filthy filter.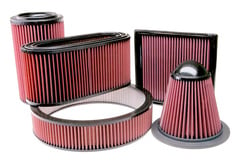 After ten minutes have passed, run cool, low pressure water, either from a faucet or a hose, over your filter. It is very important in this step that you take great care to completely wash all of the cleaning solution off before proceeding to the next step. You won't need to run the hose or faucet inside the Volkswagen Jetta Air Filter itself, as the water will seep through your filter, but make sure to wash every inch of the outside thoroughly.
When you're sure the filter is clean, shake off any and all excess water. Once again set your filter in a sink or basin and allow it to dry. This should take about 15 minutes. It is important here that it dries completely. You filter should be a drab gray color at this point.
Helpful Hint:A hair dryer or small household fan can be used to speed up the drying process if you are short on time after rinsing off the cleaning solution. Be very careful to use moderate heat at most when using such devices, but when used correctly they can expedite your drying process. It is not recommended to use either when waiting on your oil to soak in.

Now you'll need the Air Filter Oil. Evenly apply this substance, which should go on pink when applied to the outside of your Ford Taurus Air Filter. Try to get it into every crack and crevice, as it is this oil that will attract dust and dirt and keep these and other engine-harming particulates out of your intake tube. Thoroughly coat your filter, but do what you can to not overapply this oil, as it can affect the way your engine receives air. When done applying the oil, which should leave your filter a dusky pink color, be sure to wipe any excess oil off the cap and bottom lip of your filter. After wiping off the excess oil, let the filter sit for 20 minutes. This will allow the oil to absorb into the filter.
Twenty minutes later, upon oil absorption, reinstall your Ford F250 Air Filter at the head of your intake tube. You're all set. Even with your increased performance capabilities, go easy on the other drivers. It's only polite.
Below, you will find a video detailing how to restore an S&B Peformance Air Filter:
Conclusion
This is one job that you definitely do not need a professional to do for you. Save yourself on labor costs and know the satisfaction that comes with doing for yourself what you'd have to pay someone else to do instead. If you have any questions as you go through the process of cleaning your filter, do not hesitate to call our helpful and friendly Customer Service team at 800-663-1570.