BBK Cold Air Intake System 17385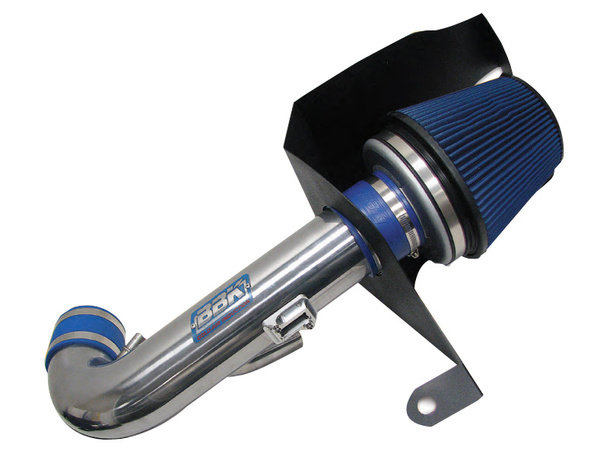 Our Price: $

309.99

Shipping:

FREE SHIPPING

Part Number: 17385
UPC: 197975173850
Blackout Series Cold Air Induction System
Part #:

17385
Black Powder Coat
Black Powder Coat
$309.99
Free Shipping
Select your vehicle details above to ensure item compatibility.
Ships between 12/13/17 - 12/21/17
Custom-designed performance increases are available when you upgrade to a BBK Cold Air Intake System
Manufactured to work with specific Dodge, Ford, and GM vehicles
Draws colder air through high-flow filter for better combustion
Wide range of horsepower increases, depending on specific application: from 7-10 hp increase to a whopping 25 hp
Every system designed to work with specific engine configurations in the name of more efficient operation and greater power
Simple bolt-on installations
Reusable filter: clean and oil every few thousand miles
Designed to work with both stock and aftermarket tuners
Available with chrome, titanium powder coat, and charcoal powder coat finishes, depending on application
All necessary installation hardware included
Made in the USA
1-Year Warranty
Standard performance is fine for most car owners, but it just won't do for you. Get more horsepower, and a more efficiently-running engine, with a BBK Cold Air Intake System.
This intake system has been rated the #1 Mustang air intake kit for two decades, and is the top-selling system in some markets. Available for a variety of GM, Dodge, and Ford engines, including Hemis, GTs, and C5/6 Corvettes, every BBK Cold Air Intake System has been engineered for fantastic looks and maximum horsepower. A more efficient engine is a more powerful engine, and these air intake systems can increase your engine's output by as much as 25 horsepower by using cooler air through a much larger filter than stock. These intakes are geared to work with both factory and aftermarket tuners, and depending on which vehicle you have, a variety of finishes may be available to further augment your ride's good looks. Proudly made in the USA, every BBK cold air induction system comes with all the hardware needed to get maximum gains from your new system.
You can save money on a cheaper system, but in doing so you would deprive yourself and the best possible performance. Invest in a BBK Cold Air Intake System, and the highest-quality American engineering will be available with every gas pedal depression. Backed by a 1-Year Warranty.
Note: Thanks to the Magnuson Moss Warranty Act: US Code - Title 15, Chapter 50, Sections 2301 - 2312, the factory warranty of your vehicle is protected by law, even after the addition of aftermarket parts.
BBK 17385 fits:
2005-2012 Chrysler 300
2008-2013 Dodge Challenger
2006-2013 Dodge Charger
2005-2008 Dodge Magnum