Cold Air Intakes Reviews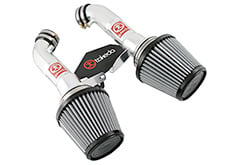 Cold Air Intakes and Ram Air Intakes facilitate better air flow through an engine cavity. By installing a performance intake system, owners give themselves better acceleration, better gas mileage, and a better looking engine. Some customers complain that promised performance upgrades don't materialize, while others don't enjoy the increased engine noise that comes with removing a stock air filter. Even so, everybody enjoys the feel of hitting the gas on the open road with a performance air intake.
This is the first accessory I've bought and installed on any car. It was very easy to install and the directions couldn't be more clear. You really do feel the difference when you hit the pedal, especially on the on-ramps. Shipping was much faster than I expected, and it looks really cool under the hood too!
Todd R. from Champaign, IL - Chevrolet Corvette
You'll notice power gains immediately and if you don't get too overly excited with the accelerator I've noticed about 2 mpg increase with the new system. Even though you read it everywhere, this air intake really is one of the best bang-for-your-buck additions you can make to your truck.
Craig Olson from Columbus, OH - Chevrolet Silverado Pickup
Throttle Body Spacers Reviews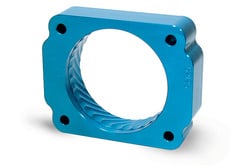 A throttle body spacer (aka TBI spacer) acts as a sort of wind tunnel through which air is spun into your engine cavity, increasing combustion volume and efficiency. When paired with a cold air intake system, a throttle body spacer can augment all performance gains, including horsepower and gas mileage. Certain customers have felt their particular throttle body spacer did not increase performance as it should have, while other customers enjoy the modest performance gains and interesting whistling sound.
This spacer seems to definitely make a difference in throttle response and low end torque. I did do an actual odometer check on mileage and it seemed to be higher then previous checks. I really like the whistles, it wasn't as loud as I planned. My family owns a local mechanic shop and I have recommended to many customers. I think it also helps fuel combustion. I hope that I can get some customers to order one and see what they think.
Buscher from Morgantown, WV - GMC C/K Pickup
Very good product. Easy installation. Seems to make a difference low to mid-range acceleration. Noticeable decrease in the fuel consumption, but won't know particulars about gas savings until more miles driven. The increment of the HP was slight.
Bati A. from Pierre, SD - Toyota Tundra