Code Readers & Diagnostic Tools
You can rely on your senses to check for car trouble - the sound of a slipping belt, the smell of a burning oil, the sight of smoke under the hood - but there are some issues you can only detect with special tools. Luckily, we offer a full line of OBDII Scanners, Auto Code Readers, and Engine Computer Diagnostic Tools that give you a closer look at your engine's stats. We also offer tools like multimeters, timing lights, and thermometers that let you easily track down any potential problems. With our OBD2 Scanners, Engine Code Readers, and other Diagnostic Tools, you can keep track of all the ins and outs of your vehicle.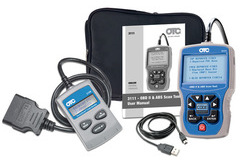 The OTC ODB II Diagnostic Tool provides you with accurate readouts of your DTCs, VIN #, and I/M Monitors. It also comes pre-loaded with repair suggestions for common malfunctions to help you better pinpoint problems in your engine. Two models available.
From $301.14
Free Shipping
Quick View