Hauling your 2-wheelers on your vehicle with a roof or hitch-mounted bike rack is the best way to take all your outdoor fun with you. When you mount your bikes on one of our racks you can hit the park's trails, go on mountain biking excursions, or work on shaving seconds off your track time. Whatever you do with your bikes, and no matter how many of them you need to take with you, there's a car bike rack to suit your needs. And the best part is, installing a bike rack is quick, simple and secure.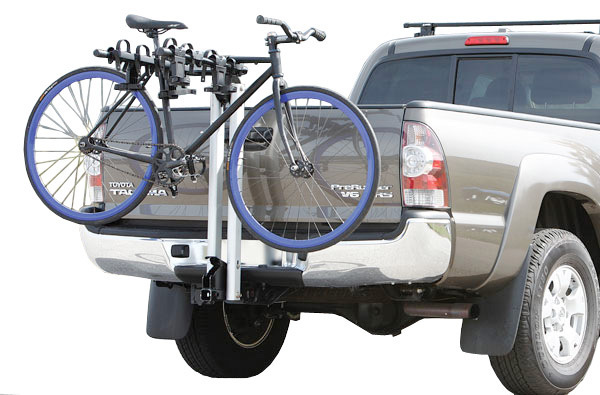 There are a few different designs of car bike racks and truck bike racks out there, each one optimized for different vehicle types. If your road trip vehicle is a car, a standard roof bike rack is the way to go. These carriers, like the Rhino-Rack Discovery Bike Rack or Thule Criterium Bike Rack mount to your vehicle's roof rack crossbars for overhead access. Another option for cars is a trunk-mounted bike rack, such as the Yakima SuperJoe Bike Carrier or the Thule Archway Bike Rack.
Trucks and SUVs have a couple more options for bike hauling. The most popular method by far is hitch-mounted bike racks, like the Yakima DoubleDown or the Thule Helium Bike Carrier. These haulers are easy to install and can carry many more bikes than a roof rack. If your SUV has a spare tire on the back, you can mount a rack like the Thule Spare Me Bike Rack to maximize that space. And finally, if you've got an open truck bed, don't just toss your bikes in there - keep them organized with a truck bed rack like the Thule Bed Rider or Advantage BedRack Bike Rack.
Installing Your Bike Rack
With so many different bike rack types out there, we won't get into all the installation details for each style - but here are some general guidelines for installing your bike carrier:
Roof Mount Bike Racks
In order to mount a roof bike rack, you first need to have a roof rack installed on your vehicle. Each bike rack is slightly different, but generally they attach to the roof rack crossbars with clamps or rugged straps. Note that you'll need one carrier for each bike you want to carry overhead, and you may be limited to just 2 bikes.
Hitch Bike Racks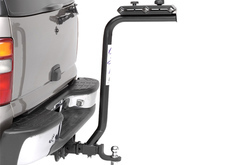 Hitch-mount bike racks are probably the easiest carriers to install. Simply slide the carrier into your hitch receiver and secure it with the pin or a hitch lock. Many of these racks also include hinges so you can tilt or swing the carrier away from your tailgate or cargo door. This gives you full access to the rear of your vehicle so you can get to your cargo.
Trunk Bike Racks

Most trunk-mounted bike racks connect to your trunk lid with a system of straps and hooks. They can carry up to 3 bikes, and their carefully-placed foam or rubber pads rest gently on your finish to prevent nicks and scratches. Because the straps secure to the underside of your trunk lid, the carrier is instantly locked up once you close your trunk.
Truck Bed Bike Racks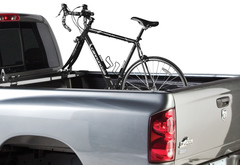 Truck Bed Bike Racks themselves mount in a variety of ways. Some holders incorporate a crossbar that secures to the sides of the bed, while multi-bike racks strap to the front of the bed. Most also utilize a wheel strap or bar to keep your bike(s) standing upright safely.
This page was written by Packy AutoAccessoriesGarage