Brake Caliper Covers
Unfinished, dusty factory brake calipers aren't exactly a pretty sight. Fancy oversize rims may look great on their own, but they expose those ugly brakes even more. Drop in a set of Caliper Covers and get your whole wheel wells looking great. These covers come in a variety of finishes for a truly custom look, and they're easy to install.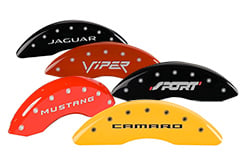 Don't let your ugly factory calipers ruin the look of your rims. MGP Caliper Covers are tough, easy to install, and come in a wide variety of finishes and engraved styles. Crafted from aerospace-grade aluminum, these covers are built to last and are custom designed to your exact vehicle.
From $172.00
Free Shipping
Quick View
Want to learn more? Read our:
About Brake Caliper Covers
You've invested in some hot new rims, you bolted them on and they look great. Stand back to take in the beauty, and what do you see? Greasy, ugly brake calipers throwing off your whole game. This simply will not do.
So what are your options? You could spend a fortune on a whole new brake system that you don't need, or you could spend a whole messy weekend trying to paint your calipers, only to see them get dusty and gunky again. Why not ditch the expense and hassle and simply pop on a set of Ford Mustang caliper covers?
Our covers are custom-designed to your exact vehicle for a right-on fit. They're built from tough materials and feature rugged and reliable mounting systems so you know our Chevy Camaro caliper covers are in it for the long haul. Plus, you can choose from a variety of colors and engravings for fully custom looks. Count on AAG to get the best deals, great service, and Free Shipping on the best caliper covers for your ride.
More Popular Caliper Cover Vehicles: