Brake Lines
Upgrading your Brake Lines is a great idea, whether you are looking to enhance your pedal feel, boost your stock brakes' performance, or compensate for the extra height of a lift kit. Our quality Brake Lines from Goodridge are custom-designed for your system, with top-notch components for a lifetime of reliability. You'll experience firmer braking, shorter stopping distances, and overall better control over your vehicle and the road.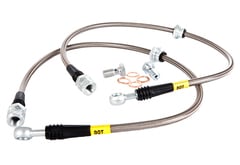 Upgrade your vehicle's stopping performance and safety with the StopTech Stainless Steel Brake Line Kit. StopTech Stainless Steel Brake Lines help provide consistent brake pressure and improve the feel of your pedal for precision braking. Stainless Steel Brake Lines by StopTech are made from tough Teflon and lined with a stainless steel woven braid that won't expand under pressure.
From $54.07
Free Shipping
Quick View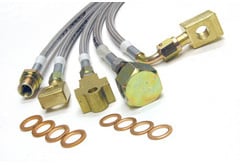 Skyjacker Stainless Steel Brake Lines are custom-made for your exact vehicle. They're elongated to close the gap that forms between your master cylinder and your brakes when you add a lift kit to your ride. They're crafted from durable braided stainless steel for unmatched strength and boast rugged factory-fit connectors.
From $66.08
Free Shipping
Quick View
Want to learn more? Read our:
About Brake Lines
Once you're done tricking out your ride, it's a good idea to replace the Brake Lines, too. Especially on lifted trucks and with performance brake replacements, a new set of brake lines is often the only way to assure yourself of the braking performance you need to safely operate your vehicle. As an example, if you're tightening everything up with a new set of Volkswagen Jetta brakes, you'll instantly see the difference fresh lines can make with relation to stopping distance, control, and pedal feel among other factors. At AAG, it's easy to get new brake lines made specifically for your vehicle, and once you've decided on a set they'll ship to you for free. Shopping doesn't have to be a pain, and it won't be when you update yours with us!