Brake Rotors are a key component of your brake system, providing a surface upon which your Brake Pads create the friction that slows your wheels and lets you stop safely. Though essential to safe vehicle operation, many factory rotors don't offer much in the way of race-quality performance. Sure, they're perfectly functional, but they aren't particularly innovative and they're not designed to last long, especially if you take your vehicle to the track. Aftermarket upgrades offer a variety of solutions to combat the most common causes of rotor problems, such as accumulated dust, high temperatures, and inclement weather.
The most popular designs in aftermarket rotors are Drilled and Slotted. Let's take a look at these two design types and figure out what are the optimal Brake Rotors for your car.
Drilled Brake Rotors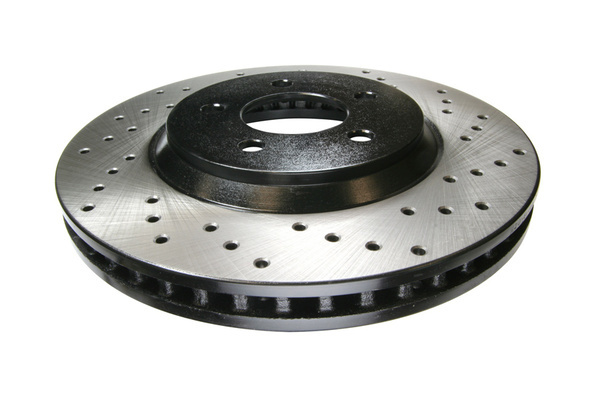 As you might imagine by the name, Drilled Brake Rotors have been drilled to create a series of holes on their surface. This innovation has allowed for manufacturers to go well above the standard performance customers expect from factory brake rotors.
These rotors allow for the venting of brake dust and/or gas off the surface of your rotors, leading to better contact with the pads, while also absorbing precipitation like rain or melted snow and expelling it through the bottom of the rotor. Both moves allow for sharper pad contact. For daily drivers, these are a fantastic option. They look cool, bite hard, and give you a leg up over your factory set-up.
Slotted Brake Rotors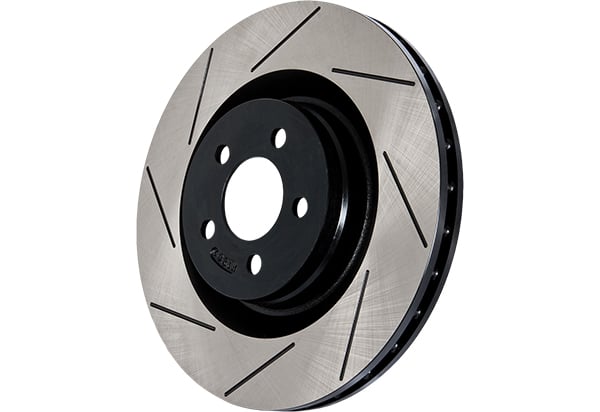 A series of slots and/or ridges are molded into or cut out of the surface of Slotted Rotors. As a result, nothing stays on the surface for very long. Be it brake dust or gases or rain water, the slots work quickly at expelling the contaminant.
Where these rotors shine comes with heavy-duty towing and high-performance racing applications. Due to their thicker, non-porous surfaces, there is less risk of cracking or rotor surface damage. For a driver that really puts his or her ride through the ringer and needs high-temperature stopping power, they can't be beat. Perfectly suitable for street use, these are still maybe an option better suited for when you're ready to take things up a level.
Cross-Drilled & Slotted Rotors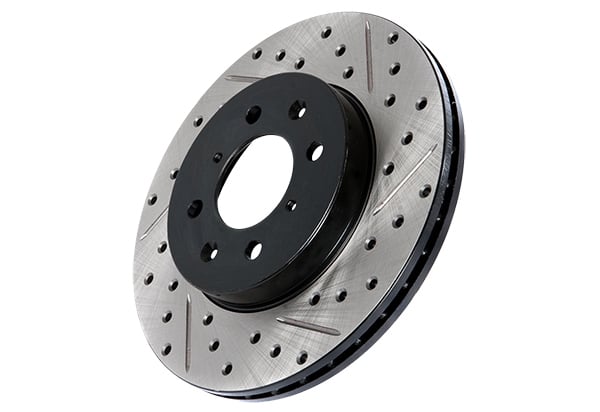 Or you can have the greatest of both worlds! Sort of. 
Cross-Drilled & Slotted Rotors offer the functionality of both kinds of aftermarket brake rotors in one package. There is a catch, though: because they offer a combination as opposed to one or the other, neither function works as well together as it does separately.
That said, if convenience and performance are the names of the game, you'll find both here. Many complete brake kits also come with these rotors, figuring that most customers simply want a major improvement over and above OEM applications. Designed to please all comers, these just might be the perfect rotors for your vehicle.
What Are The Right Brake Rotors for Your Vehicle?
It's all up to you, so do some research before upgrading. The premier manufacturers offer fully-custom designs for each and every car or truck they service. Based on your driving style and vehicle type, it should be easy for you to find the right Ford Brake Rotors or Toyota Brake Rotors to suit your ride. Once you know what you're looking for, check out AAG. We pride ourselves on our close relationship with many manufacturers, and our dedicated Customer Service team is available at 800-663-1570 to answer any questions you may have. 
Good luck to you, and Happy Shopping!