Based out of England, with a plant in Cleveland, British steel infuses EBC Brakes products with much higher strength than stock parts. We don't expect you to simply take us at our word, though: below, you'll find a variety of EBC Brakes customer reviews. These are actual EBC reviews from actual EBC customers.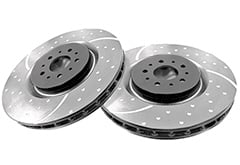 Custom-designed to your specific vehicle, EBC Sports Rotors are pre-balanced for smooth, wobble-free performance. No modifications will be necessary, and these rotors will maintain their structural integrity longer than stock. Gold- or black-anodized zinc wards off corrosion, and precisely bored dimples vent gas pads to protect against brake fade.
I really like these new rotors. Much better braking than with the stock rotors. The dimples and slots look really cool. The plating will keep the rotors from rusting. High performance rotors at a lower cost than stock.
Jnsluft from Miami, FL - Audi 90 Quattro
I read some reviews about "humming" & "squeeling" which had me a little nervous at first, but I wanted something better than stock.I installed these myself in about 2 hours...not bad considering some of that time was running to the store to get a 19mm wrench. I used the shims & also put on some (anti-squeal) compound. The brakes are quiet as could be! There is a slight whooshing sound when braking from high speed which isn't bad.
Max from Evansville, IN - Nissan Altima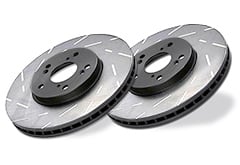 High quality copper-inclusive gray iron provides hearty construction for EBC Ultimax Slotted Rotors. It's progressive slotting design enhances longevity and performance, and this rotor is specifically designed to resist ridge formation on pads and discs. EBC Ultimax rotors are an excellent choice, both for drivers who demand high performance and drivers who need a simple, durable stock replacement.
I have used ebc rotors in the past but have never used the ultimax ones. After 600 miles the rotors feel awesome. Very solid feel and I am detecting zero vibrations or fade with my new rotors and pad setup. EBC makes great rotors and will continue to upgrade all my cars with ebc rotors. Best bang for your buck guaranteed. Couldn't be happier with my purchase.
Thomas S from Davis, CA - Honda Accord
The stock rotors and brakes were not cutting it in the stop & go traffic around here. I'd had them turned twice so it was almost time to replace them anyways. Brake shimmy sucks. Excellent price on slotted rotors, considering stock blanks cost $70-100. Upgraded to EBC Ultimax rotors and Ceramic Pads. There is a huge difference between this setup and the stock setup. Great braking, Smooth Stops. Let's see how long they last.
SpectralKinesis from Boston, MA - Chevrolet Cobalt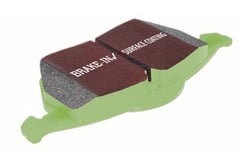 Formulated for everyday street driving, EBC Green Stuff Brake Pads feature beveled edges and center line slotting to minimize squealing. These pads produce 30% less brake dust than does stock equipment and are Green Powder Coated to ensure a lifetime of rust-free use. That center line slot also allows in cool air to prevent cracking, and EBC Green Stuff pads are designed for rapid bedding.
Still in the 500 mile "break-in" stage but you surely feel the difference right out of the box. The anti-vibration pad they include is impressive, alot nicer than the gel i've used from other companies. A friend of mine complained about brake dust on his greens, but I don't seem to notice it at all. These pad's are worth their money x2!
Christopher P from Charleston, SC - Volkswagen Passat
I have used green stuff brake pads on my 2000 Miata for several years and have been very pleased with their performance.
Jim Ford from Minneapolis, MN - Toyota Celica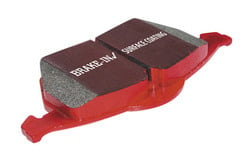 For the race track or the street, EBC Red Stuff Brake Pads are the most versatile of EBC's brake pads. Custom-built to replace your particular year, make, and model vehicle's stock pads, EBC Red Stuff pads are ultra-quiet, thanks to beveled edges and a slotted center line. Producing 50% less dust than OEM replacements keeps your wheels clean while delivering measurable performance braking gains.
The brakes pads are still bedding in yet as I only have about 1,000 miles on them and they are great. I have not really gotten into the brakes real hard yet, but from pedal pressure, I can tell they have slightly more bite than the factory pads when cold. I have not heated them up yet, so I can't comment on hot performance, but I suspect from previous history with EBC brakes that they will brake even better when Hot!
Ghostrider from Philadelphia, PA - Chevrolet Impala
these are great pads. once i got them bedded in they worked like a charm and i could really tell that my stopping distances were much shorter than before
ToneBone88 from Oak Park, IL - Honda Prelude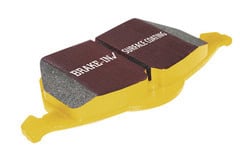 Even the fastest race car eventually has to stop. Make sure your brake pads can handle it with EBC Yellow Stuff Brake Pads. EBC's highest-gripping pads offer performance braking ability with nearly silent operation whether cold or fully warmed up. Treated to have rapid bedding and strong braking power right out of the box, these pads are Powder Coated for long, rust-free life.
Excellent Stopping Power, even when cold. I have not bedded them in properly yet so there is very light squealing every now and then. However, I expect that to go away shortly. Dusting is about the same as stock, but the superb stopping negates any concerns of dust. Even though its considered a race pad, I find it's highly suitable for the street.
Vintron from Detroit, MI - Audi A6 Quattro
Installed on the front of a 91 RX7. Hydraulic problems at the track kept me from giving these pads a serious workout, but they did have a good initial bite and maintained friction even though I could smell them towards the end of every session. Overall friction level was still not in "track pad" territory, but these seem like they will be good ultra high performance street pad. Dust was seriously easy to clean off too.
Andre from Mobile, AL - Mazda RX-7