EBC Ultimax Slotted Rotors USR7559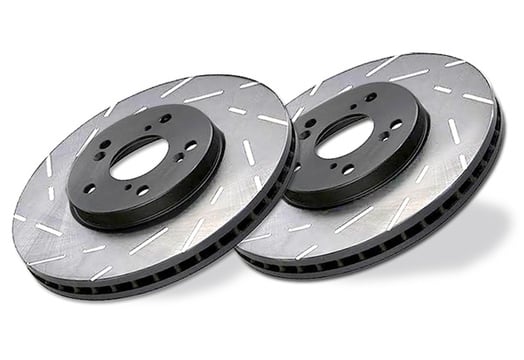 Our Price:

$339.97

Shipping:

FREE SHIPPING

Part Number: USR7559
UPC: 847943026557
Ultimax Slotted Rotors
Part #:

USR7559
12.8 In. Diameter
$339.97
Free Shipping
Ships between 09/28/22 - 09/29/22
EBC Ultimax Brake Rotors are designed for solid, quiet, and cool braking
Direct replacements for your stock brake rotors
EBC Ultimax Rotors are an excellent choice in high-performance driving situations
Top-quality copper-inclusive grey iron
Progressive slotting design enhances longevity and performance, and promotes even pad wear
Unlike other drilled rotors, the Ultimax design resists forming ridges on pads and discs
Slotted Ultimax EBC Rotors maintain their structural integrity longer and resist cracking better than drilled rotors
Made in Britain
Choose Front or Rear pairs
12 Month/10,000-Mile Warranty
Don't let squeaking, squealing brakes ruin your performance driving experience. EBC Ultimax Brake Rotors deliver race-worthy braking without the ear-splitting noise of other performance rotors. Their slotted design is specifically engineered for top stopping power, long life, and smooth, quiet operation.
EBC Ultimax Slotted Brake Rotors are crafted in Britain from the finest quality steel. Their progressive-slotting design vents brake fade-causing debris, moisture, and gases away from the rotor surface. Because they're slotted, not drilled, Ultimax Rotors aren't susceptible to cracking and losing their structural integrity. The angle of the slots is specifically set to minimize noise for a quiet, smooth ride.
EBC Rotors are crafted for consistent braking power with even pad wear. They're also direct replacements for your stock rotors, for an easy bolt-on installation. Plus, your EBC Ultimax Brake Rotors are backed by a 12 Month, 10,000-Mile Warranty.
EBC USR7559 fits:
2011-2018 Ford Explorer
2011-2018 Ford Flex
2011-2018 Ford Taurus
2011-2012 Lincoln MKS
2011-2018 Lincoln MKT