The key to upgrading your vehicle's stopping force is by stepping up to a set of performance brake rotors. Our rotors come in all kinds of designs that include drilled holes, slots, and vents to deliver braking power that's counted on by even the most demanding racers. They're also formulated to work better with our brake pads, brake lines, and other components. The best part is, with a little bit of know-how you could even install a new set of rotors yourself. Read on and find out how you can save a ton on labor costs by installing your own brake rotors.
Choose The Best Brake Rotors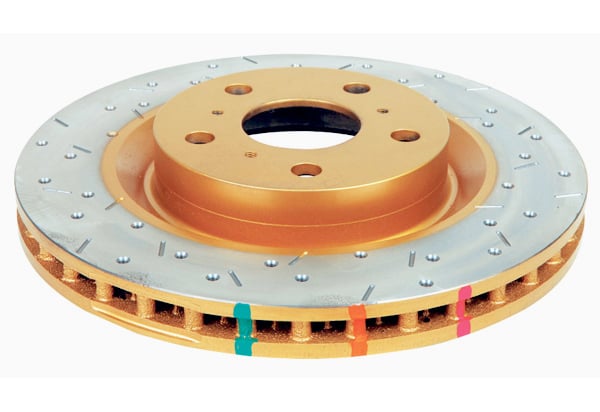 Before you jump ahead to installation, it's crucial that you pick up the best rotors for your vehicle and your driving needs. If you're just looking for a simple stock replacement, check out our OEM-style EBC Rotors. Or, if maximized track performance is what your after, DBA Brake Rotors might be the better choice. Cross-Drilled and Slotted Rotors from Power Stop Brakes provide awesome gas and heat dissipation for consistently cool braking. Or, if you're looking for a smoother and more silent ride, Hawk Quiet Slot Brake Rotors feature specially-designed surface slots for quiet performance. Be sure to read our Brake Rotors Reviews to get more detailed info from your fellow drivers and performance enthusiasts.
No matter the rotors you choose, at AutoAccessoriesGarage.com we make sure you'll only order the brake parts that are custom-designed to your exact year, make, and model. This ensures your Ford F-250 Brakes or Honda Civic Brake Rotors will fit perfectly, install easily, and perform to their maximum capabilities.
Installing Your Brake Rotors
By installing your brake rotors yourself, you can save a ton of dough on labor costs. Plus, the satisfaction of doing your own auto repairs simply can't be beat. We do have to make one thing very clear, though: Your brakes are your vehicle's most important safety feature, so do not perform a rotor installation haphazardly. If at all possible, have a mechanic friend on call to help you out if you hit any snags. Also, if you're going to replace your rotors it's also highly recommended that you replace your brake pads at the same time to ensure the best possible performance and longevity for your rotors.
Jack up your vehicle and remove the wheel. A jack stand is highly recommended to provide extra safety.
Remove about 1/3 of the brake fluid with a siphon.
Compress the brake caliper with a C-clamp, loosen the brake caliper's slider bolts, and slide the caliper off the disc.
Pull the old rotor straight off the bolts and slide the new one in place.
Reverse the process to place the caliper back over the rotor.
Once the new rotors are in place, refill the master cylinder and bleed your brake lines to remove lingering air.
That's it! Before long you'll be stopping and cornering with the best of 'em, and your vehicle will be safer than ever. If you have any more questions about our brake rotors or brake kits, feel free to give us a call at 800-663-1570.