Power Stop's mission is to provide affordable solutions to the brake challenges facing performance drivers today. They are one of the best companies in their industry, but we don't expect you to simply take us at our word. Below, you'll find a selection of reviews covering different Power Stop Brakes. We hope these actual Power Stop reviews from actual customers help you with your purchasing decision.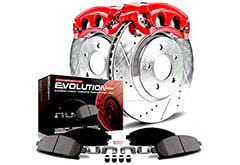 A combination package of Power Stop Cross Drilled and Slotted Rotors and Power Stop Evolution brake pads gives you all the performance braking capability you will ever need. Available for your front wheels, back wheels, or all 4 wheels, this kit works flawlessly with stock calipers and is specially designed to vent gases, dust, and hot air for a clean rotor surface and lower rotor temperatures.
The rotors and pads were easy to install and looked great once I had them on my truck. They improved my stopping distance. Overall the Power Stop brakes are great and with the evolution ceramic pad have little to no dust. I would recommend this kit to anyone.
Daytona05 from Daytona Beach, FL - Dodge Ram 1500
Easy to install, look great and work great. I bought the kit for all 4 wheels and had it installed in one and a half hours. Pretty good considering i'd never done brakes or rotors myself before. Big improvement from the factory set.
Ubu125 from Compton, CA - Jeep Grand Cherokee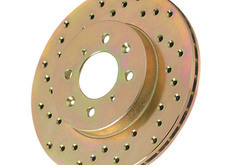 The precision-bored holes in Power Stop Cross Drilled Rotors keep your brakes cool and performing at a high level. Venting gas build-up and moisture eliminates brake fade and enhances wet weather braking. No modifications will be needed to install these rotors, and all holes are custom-patterned to your exact vehicle, engineered to match closely-analyzed vane structures. 
This is my second set of Power Stop rotors. I got 220,000 on the first set and I am very happy with them.
Allenc229 from Fort Worth, TX - Toyota Tundra
great looking, work great, no problems, what else could you want?
Mjeckel from Branson, MO - Chevrolet Cobalt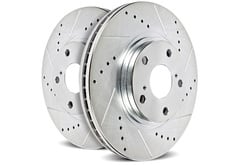 Keeping your brakes cool allows them to last longer and perform better. Power Stop Cross Drilled and Slotted Rotors are optimized for stop-and-go traffic, emergency braking, and spirited driving. Custom-designed drill holes are patterned specifically for your vehicle to funnel gases and high temperatures away from the rotor, prolonging brake pad and rotor life while optimizing performance.
I am happy with my new rotors. Great quality, and look great too. After the initial break-in period the stopping power is much better than Nissan OEMs.
Jake B from Newport, OR - Nissan Titan
Great product at a fair price. I am very pleased.
Thomas O from Burlington, VT - Chevrolet Cavalier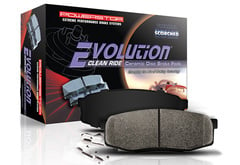 Engineered for minimum noise and reduced brake dust, the Power Stop Evolution Brake Pad is made of 100% non-ferrous Kevlar-enhanced ceramic. A thermal-scorching process rids each individual pad of gases and resins, improving stopping power, break-in time, and durability. Perfect for peformance street driving, the Evolution is one component of Power Stop's top-of-the-line braking system.
I have these pads paired with Powerstop cross-drilled rotors, and I can stop on a dime and get 9 cents change. They are a clean and quiet brake pad. Highly recommended!
Tom B from Duluth, MN - Ford F-150
They installed easily and work great so far, they do have significantly less "meat" on them than another sets of ceramics I purchased which I hope will not translate to less life.
Al H from Palm Beach - Nissan 300ZX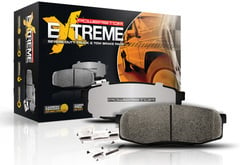 Power Stop's Extreme Truck & Tow Brake Pad wears 40% better than standard OE pads. Designed for minimum dust production and whisper-quiet operation, the Extreme truck pad is also custom-fit to your exact year, make, and model vehicle specifications. With the highest pad bite through any pedal pressure range, these Power Stop brake pads are among the toughest on the market today.
It's been about a month since I installed them and I've had excellent performance. I followed the seating instructions from PowerStop's website and haven't had a problem one. They're very thick and should last a long time! I have great stopping power and they're paired with PowerStop's slotted rotors.
Connie from Waterloo, IA - Ford F-100
Ordered These pads for my 2002 Chevy Silverado 3500 Dually, had my doubts at first but doubts removed.very easily installed (myself) road tested and a truly significant difference in stopping power.
David from Franklin, TN - Chevrolet Silverado