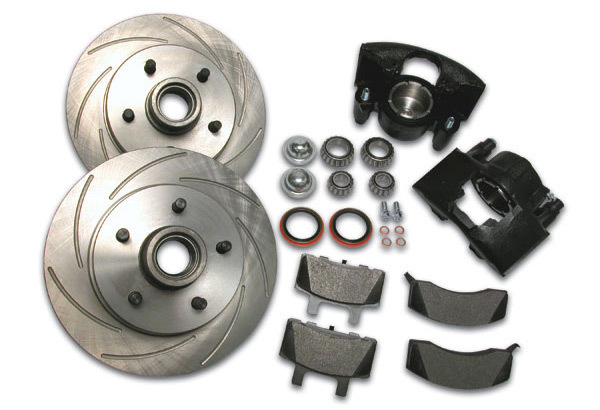 You've got enough horsepower, torque, and speed to tear up any highway or race track, but how well can you control your vehicle when it matters most? Your souped-up ride might be faster than the rest, but you need to match that intense going power with some serious stopping power. The way to get that is by installing a set of Performance Brakes.
At A Glance:
What do Performance Brakes do for my vehicle?
Street Safety
Your brakes are your vehicles most important safety system. Whether you use your car or truck for a daily commute or for epic road trips, you need reliable, consistent brakes. Stock brakes are fine for normal use, but our performance brake pads and rotors provide extra friction that shortens your stopping distance for safer road and highway driving. Performance brakes also typically last longer than your stock pads and rotors, giving you more reliable performance with less frequent replacing.
Racing Performance
Sure, you need one of the fastest cars on the track to take the checkered flag, but even more importantly you need to keep your vehicle under control on those hairpin turns. Racing vehicles need serious friction to handle the high speeds and high stress of racing. Plus, braking at race-level speeds generates a ton of heat, which leads to diminished performance and a higher chance of warped and damaged rotors. Many of our performance rotors and pads are specially designed to withstand the intense demands of racing and are engineered to dissipate heat better than stock brakes, giving you maximum control over your racing vehicle.
Helpful Tip: If you're looking to upgrade your racing vehicle's brakes, check out our Big Brake Kits and take your stopping power to the next level.
Minimizing Brake Fade
Big rig drivers and racers of all kinds are perpetually concerned with a phenomenon known as brake fade. Brake fade occurs when brakes get too hot and lose their stopping power.
The First Law of Thermodynamics states that energy is never made or lost - it merely gets converted into different forms. Your brake pads apply friction to the rotors, which converts the kinetic energy of your wheels into heat and slows your vehicle down. 
When you use your brakes heavily and frequently, such as when racing or driving down a steep decline with a heavy load, your pads and rotors can get extremely hot. Once they reach a certain temperature your brake components can't absorb any more heat and they lose their wheel-stopping properties. Plus, at these temperatures the resin that holds your pads together begins to vaporize into a gas. This gas forms a thin layer between the pad and the rotor, creating an effect similar to hydroplaning. The pads can't make contact with the rotor, and you lose your braking abilities. All these effects are commonly known as brake fade.
Brake fade is clearly a serious and dangerous phenomenon. Luckily, with performance brakes you can minimize the possibility of brake fade. Our performance brake parts feature advanced materials and designs and that ensure maximum heat dissipation and help expel brake gases to give you maximum friction and optimal control over your vehicle in even the most demanding situations.
Brake Pads
Brake pads bite down on your rotors to provide the friction needed to come to a stop. They come in a variety of styles and designs, and are made from a wide range of materials and formulas to satisfy different drivers' needs. Let's look at the different materials and design features you'll find when looking for brake pads.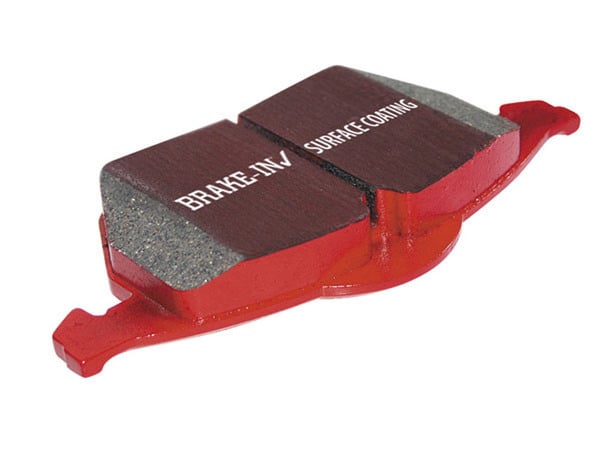 Brake Pad Materials
Ceramic is one of the most common brake pad materials. Ceramic is typically used for street use on less demanding applications like daily drivers and light-duty trucks. One reason for ceramic's popularity is its quiet braking. Brake pads do make sound, but they generate a frequency that's higher than the human hearing range - bad news for the neighborhood dogs, but good news for you and your fellow drivers. Ceramic also generates less dust, keeping your wheels clean and shiny, and it slows the onset of wear for both your pads and rotors.
Race enthusiasts don't need their brakes to be as quiet or clean as daily drivers, so their pads are formulated with maximum friction in mind. Racing brake pads feature a variety of materials including semi-metallic and organic formulas. Semi-Metallic brake pads contain anywhere from 30 to 65 percent metal (bits of steel wool or wire, copper, iron powder) mixed with synthetic fillers and bonded with friction modifiers. EBC braks are extra durable and have superior heat transfer, but their high strength also means they wear your rotors down faster and can be noisier than ceramic pads. They also typically need to be warmed up a bit for optimal performance, making them more appropriate for racing use.
Brake pads are also available in organic and low-metallic formulas. Low-metallic brake pads feature between 10 and 30 percent copper or steel to provide extra friction and heat transfer without wearing on rotors as hard as semi-metallic pads. Due to their metal content, low-metallic pads will be slightly noisier and generate more dust than ceramic or organic pads. Organic brake pads are made from natural fibers like glass, carbon, rubber, or Kevlar and are held together with high-temp resins and filler materials. They're quieter than metallic formulas and softer on your rotors, and they work well when cold so they're a great choice for daily drivers. Organic pads don't bite as hard when they get hot, so they're not ideal for racing.


Design Features
Brake pads are manufactured with a variety of different design features to improve your stopping power, minimize noise, and extend the life of your rotors and other brake components. Most performance brake pads are built with a combination of these features:
Slots on the friction surface provide a path for gas and brake dust to escape
Metal plates or shims are placed on the back side of the pad to minimize brake squeal
Clips and springs reduce rattle and brake noise
Pad wear indicators - when your pads wear down to a certain thickness the indicator contacts your rotors, producing a high-pitched screeching noise to alert you that you need to replace your pads
Pad wear sensors - some high-tech pads include a piece of metal inside the friction material that brushes against your rotors once the pads wear down, tripping a sensor and activating a "replace brake pads" light or notice on your dashboard
Compare our Most Popular Brake Pads
 
Price
$71.64 - $89.83
$41.22 - $52.13
$60.25 - $83.00
$83.00 - $101.20
$68.51 - $81.77
Shipping
Free Shipping
Free Shipping
Free Shipping
Free Shipping
Free Shipping

Rating

Overall:
Performance:
Quality:
Appearance:

Install Time
30-60 minutes
30-60 minutes
30-60 minutes
30-60 minutes
Under 30 minutes
Fit
2002 Acura CL
2002 Acura CL
2002 Acura CL
2002 Acura CL
2002 Acura CL
Key Features
Low Dust

---

Low Noise
Low Dust

---

Low Noise

---

Quick Bedding

---

Thermal Scorching
Low Dust
High Heat Resistance

---

Quick Bedding
Low Noise
Material
Ceramic
Kevlar-Enhanced Ceramic
Semi-Metallic
Aramid Fibre
Semi-Metallic
Recommended Use
Race-Inspired Performance
Daily Driving for Cars

---

Race-Inspired Performance
Daily Driving for Cars

---

Trucks/SUVs
Daily Driving for Cars

---

Racing
Daily Driving for Cars

---

Muscle Cars

---

Sport Compacts
Warranty
12-Month/10,000 Mile Warranty
3-Year/36,000 Mile Warranty
12-Month/10,000 Mile Warranty
12-Month/10,000 Mile Warranty
Lifetime Warranty Against Defects
 
More Details
More Details
More Details
More Details
More Details
Brake Rotors
Helpful Tip: If you're going to replace your rotors, be sure to change your brake pads as well. Using old brake pads on new rotors causes premature rotor scoring and negatively impacts your vehicle's performance and safety.
brake rotors (also known as brake discs or disc rotors) are what your brake pads bite down on to provide the friction needed to stop your vehicle. Just like pads, rotors are formulated and engineered to provide high heat dissipation for maximum friction. Brake rotors are generally made from cast gray iron, and are available in a variety of designs suited to different vehicles and driving styles. This means you have many options when looking for the right rotors to satisfy your needs.
Cross-Drilled & Slotted Rotors

Rotors on stock vehicles tend to have a solid 1-piece design, with a completely flat friction surface. This simple design provides enough friction, strength, and temperature management for regular driving conditions. Racing vehicles are much more demanding on their brakes, so performance brake rotors usually feature grooves and cross-drilled holes to improve overall performance.
One simple way to improve braking performance is by cutting grooves or slots into the rotor surface. Slotted rotors provide extra bite and friction to your pads. The grooves on the rotor face also allow gas to vent and escape from between the pad and the rotor, keeping the friction surfaces clean and minimizing the chance of brake fade. Power slot rotors feature unique Vac-U-Slots to keep them cool and dry.
Another method used to enhance braking is drilling holes through the rotor. The holes in Cross-drilled rotors also provide more bite and they allow air to blow through the disc, helping to keep the rotors cool and vent even more brake gas. Stoptech brake rotors and EBC rotors place the holes in a spial design to promote better venting.
Drilled rotors are generally used on race cars and high-performance vehicles. Drilling provides tons of benefits but they can be vulnerable to cracking around the holes, so be sure to examine your drilled rotors often. Many EBC rotors minimize cracking by only drilling partially into the rotor, so you get some of the benefits of drilled holes with the excellent structural integrity of a solid rotor.
To paraphrase an old saying, two performance features are better than one. That's why you'll often see rotors that are both drilled and slotted. This combo provides an excellent combination of cooling, gas venting, and friction.
Vented Rotors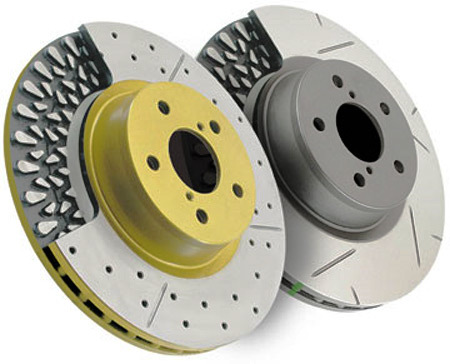 Brake rotors don't just come in one-piece designs. Most vehicles use solid rotors on the rear wheels and vented rotors at the front. Vented rotors feature two separate friction surfaces sandwiched together with a network of vanes and posts between them. This design lets air flow freely inside the rotor, and the vanes are specially designed to create a vortex that sucks hot air and gas away from the pads. Vented rotors make for even cleaner, cooler braking, and these rotors provide tons of bite when the surfaces are also drilled and slotted.
Helpful Tip: Most drilled or ventilated rotors are areodynamically designed specifically for the left or right side of your vehicle. When ordering a pair of vented rotors, make sure you choose one for each side. Different brake manufacturers have their own unique vent designs, each with the goal of maximizing air flow and gas evacuation. Rotors are available with straight vents, spiral vents, and in the case of DBA brake rotors, a unique "Kangaroo Paw" shape that is designed to promote even better cooling and structural strength.
Compare our most popular Brake Rotors
 
Price
$210.81 - $213.40
$186.66 - $190.94
$59.56 - $59.61
$85.58 - $105.54
$242.93 - $269.92
Shipping
Free Shipping
Free Shipping
Free Shipping
Free Shipping
Free Shipping

Rating

Overall:
Performance:
Quality:
Appearance:

Install Time
30-60 minutes
1-2 hours
30-60 minutes
1-2 hours
30-60 minutes
Fit
2002 Acura CL
2002 Acura CL
2002 Acura CL
2002 Acura CL
2002 Acura CL
Key Features
 
Progressive Slotting
Vehicle-Specific Hole Patterns
 
 
Material
Alloy Blend

---

Anodized-Zinc Coating
Copper/Grey Iron Blend
Anodized-Zinc Coating
Cadmium Plating
Iron Blend
Recommended Use
Daily Driving for Cars

---

Muscle Cars

---

Trucks/SUVs
Daily Driving for Cars

---

Muscle Cars

---

Trucks/SUVs
Daily Driving for Cars
Daily Driving

---

Race-Inspired Performance

---

Wet Weather
Daily Driving for Cars

---

High Horsepower

---

Trucks/SUVs
Style
Drilled and Dimpled
Slotted
Drilled and Slotted
Slotted
Drilled and Slotted
Warranty
12-Month/10,000 Mile Warranty
12 Month/10,000-Mile Warranty
3-Year, 36,000-Mile Warranty
3-Year, 36,000-Mile Warranty
3-Year Warranty
 
More Details
More Details
More Details
More Details
More Details
Big Brake Kits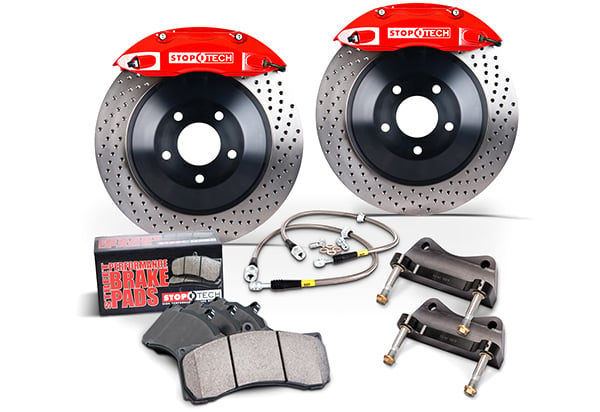 Slotted, drilled, and vented rotors give you excellent braking performance, but sometimes bigger really is better. Big Brake Kits have an advantage that average-size brakes simply cannot provide: their larger-diameter rotors put the pads farther away from the axle, giving them more leverage for stronger stopping power.
Picture a metal disc on an axle spinning vertically in front of you. If you were to try to stop the disc by pinching it close to the axle you would have to use a lot of force and your fingers would get hot from the friction. If you pinch the disc towards the outer edge you don't need to use as much effort and the disc stops much more quickly, without burning your fingers. Big Brake Kits provide that mechanical advantage due to their large-diameter rotors. Plus, because there's more material in each rotor and pad, big brakes can absorb a lot more heat and therefore stand up to much more demanding situations than stock brakes.
Oversize Wheels
Helpful Tip:When shopping for brakes, be sure to check out our brake pad reviews and brake rotor reviews, written by drivers just like you!
Maintaining brake performance is a big concern when upgrading to oversize wheels. Whether you're bolting on larger wheels for racing, installing big knobby tires for off-roading, or just tricking out your looks with huge rims, those wheels put extra stress on your brakes. Their larger diameter increases your wheels' rotational speed, requiring extra force to bring your vehicle to a halt. Big Brake Kits from SSBC and StopTech brakes counteract this problem with their wide-diameter rotors. Big Brake Kits don't have to be a huge expensive overhaul, either - some Big Rotor Kits let you keep your stock calipers, so you don't have to spring for a completely new system.
Brake Lines
Most cars and light trucks have hydraulic brake systems, meaning they use fluid to transfer braking power from your pedal to the brakes. When you step on the brake pedal, fluid gets transfered from the master cylinder to the calipers, which then push your pads into the rotors. This fluid gets where it needs to go through a series of brake lines. They may seem like a minor component, but brake lines are an essential component of your braking system. When brake lines leak or snap, your system loses braking fluid and before long you lose most or all control over your brakes. To put it simply, brake lines should not be overlooked when upgrading your vehicle.
Stainless Steel Brake Lines
Many vehicles are equipped with soft rubber brake lines. Rubber lines might be fine for the daily commuter, but they don't hold up well for performance and off-road drivers. For one thing, rubber lines are vulnerable to getting punctured or broken when hit by sharp rocks or sticks. This makes them unsuitable for most trail-bound off-road drivers. Rubber brake lines also get stretched out after frequent or intense use, an effect known as brake line swelling. Swollen brake lines don't maintain pressure well, so your brakes lose their performance and your pedal feel becomes soggy or spongy. To avoid swollen or fragile lines, racers and off-road enthusiasts in demand of better brake performance often upgrade to stainless steel brake lines.
Stainless steel brake lines are designed with a soft rubber brake line wrapped by a braided mesh of thin steel strips. The steel doesn't give like rubber does, so you don't experience the weak braking and spongy pedal feel you get with swollen rubber brake lines. Plus, the steel mesh protects the lines from tears and impacts, making them suitable for rugged off-roading. Braided lines like Stoptech brake lines also give you all the protection and strength of steel while maintaining proper flexibility at the connections. And whatmore, they look really cool under your hood and in your wheel wells - that's a plus no matter what you drive.
How to pick the right Brakes for your vehicle
With all the Power Stop brake kits and brake parts available these days, you have more than enough options when it comes to upgrading your brake system. Don't stress, though - If you properly account for your vehicle, driving style, and budget, you'll more easily find the right brakes for your car, truck, or SUV. Before you start shopping around, think about some of the following factors:
Vehicle Type
Whether you drive a Mini Cooper or a minivan, there's a set of brakes out there designed just for you. Brake pads are formulated for specific applications and vehicle types to ensure fine-tuned performance. For example, EBC Greenstuff pads are designed to provide excellent braking while keeping your wheels clean in normal driving conditions. On the other end of the scale, EBC Yellowstuff pads are specially treated for maximum bite for use on the race vehicles or high-performance road cars.
Driving Needs
Brake rotors and pads are designed not only for your exact vehicle, but also for how you use it. A full line of Hawk brake pads and EBC brake rotors are available for daily motorists, racers, and spirited drivers who treat the highway like a track. Power stop brakes also offers a set of high-friction pads made specifically for heavy-duty towing and trucking applications. Read closely when shopping for brake parts to make sure you purchase a set that's right for your driving habits.
Budget
Your fantasy car may be decked out with the most high-tech, top-shelf upgrades, but your real-life budget probably forces you to make some compromises here and there. Luckily brake manufacturers know the importance of value, and they offer several levels of performance to fit any driver's budget. For daily drivers, EBC offers OEM replacement rotors that give you OE-quality performance and direct-replacement installation at an affordable price. Of course, the sky's the limit if you aren't concerned about cost. DBA rotors feature state-of-the-art designs and superior performance on the street and the track. If you wan't to go for a full-blown upgrade, a performance brake kit is an excellent option. High performance often comes at a high price, but you definitely get what you pay for.
In Conclusion
Brakes are an often-overlooked part of a vehicle, but quality brake parts are essential for safe driving and awe-inspiring performance. We hope this research guide and our brakes reviews will help you choose the right brake pads and rotors for your vehicle. If you have any other questions or suggestions about the information in this research guide, feel free to call our experienced Customer Service Representatives at 800-663-1570.