Brake Pad Reviews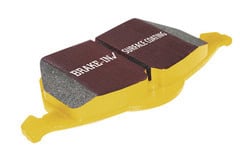 The main complaints we get from customers about their stock brakes are about 2 annoyances: noise and dust. You won't be able to completely eliminate these problems, especially if you're more concerned with performance than convenience, but many of our performance brake pads are specially formulated to minimize dust and squeaking (after a proper bed-in period, of course). Check out our brake pad reviews to find the pads that match your driving style and braking needs.
Had my brake pads for about a month and I must say I am very pleased with the stopping power. It has a lot of initial bite, way better than the OEM Honda brake pads. There is a little break-in brake dust, but if you properly bed in your pads you shouldn't have a problem!
Chris N. from Matthews, NC - Honda Accord

I just put these on my 07 Dodge Charger SRT8 Super Bee and they are super loud. I am going to grin and bear it until the brake in period is over. I have 150 miles on them right now and they are getting better. Awesome bite and great performance. The hotter they get the better they perform but even cold they bite right into the rotor. I do notice a little more dust compared to my previous pads but less than the horrible OEM Charger pads. I put these on my wife's RT charger also. Great pads and I will stay with these forever, once the noise dies down.
Doug J. from Salem, OR - Dodge Charger

Brake Rotor Reviews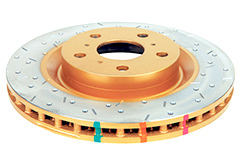 A good set of brake rotors can make a huge difference in your stopping performance. Many customers tell us that performance rotors blow stock parts out of the water, with longer-lasting construction and advanced designs that promote cooler, faster braking. Whether you're looking for racing performance or optimized daily safety, read our brake rotor reviews and find a set that's right for your needs.
All the problems I had with the front brakes causing a harsh wobbling in my Jeep due to rapid warping of the stock rotors seems to have completely disappeared. I installed these rotors after talking to a rep and being a mechanical designer myself, was convinced that the heating and cooling cycles of the rotors were the issue at hand. These drilled and slotted rotors have done a great job and with the heat paint markings, I can see where my limits are with them. Approximately 5000 miles on them so far with no issues as opposed to the stock rotors that warped within the first 1000 miles. Great Product. Great for Jeep safety.
Wesley F. from Gardiner, WA - Jeep Wrangler
This is my second set for my 2000 Impreza RS. The installation is simple and quick. The performance is amazing and they look awesome too! The drilled brake rotors still bite in rain and in just about all situations. Also, I have to admit, these rotors greatly reduce brake fade. I bought the cheapest pads the local store had (VERY temporary replacements), and to my surprise the pads were still in almost BRAND NEW condition 4 MONTHS later!!! All in all, great rotors for a GREAT price!
Brad K. from San Jose, CA - Subaru Impreza RS
Brake Line Reviews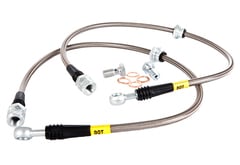 It appears that, aside from rare issues about mounting hardware, our drivers love their stainless steel brake lines. These lines provide stiffer braking with a more responsive pedal feel, improving your vehicle's performance and safety while helping to minimize the chance of brake fade. Plus, they're direct replacements for your stock lines for a relatively simple installation.
These lines don't come with brackets to mount to the control arm or mount the ABS wire. They should be made to fit factory mounts, and ties are not the way to go. I fashioned some mounting hardware, and once installed they perform really well. Despite mounting issues these are a great product, especially for the price.
Paula B. from CITY - Chevy Silverado

These stainless steel brake lines are seriously heavy-duty. I immediately noticed more stiffness in my braking. You'll see and feel the difference in quality right out of the box. If you haven't installed brake lines before make sure you follow the directions and it'll be straightforward. These lines are really one of the best upgrades you can make to your braking system.
William F from Providence, RI - Ford F-150

This page was written by Packy AutoAccessoriesGarage