Your truck looks good, but it could look better. Tougher. Harder. Grille guards and bull bars bring a rugged look to any vehicle while simultaneously keeping surface-damaging annoyances at bay. As you go about the process of researching these vehicle additions, please consult the following common customer questions, and their answers. Your truck deserves a tougher look and extra protection; together, we can give it both.
Bull Bars & Grille Guards Frequently Asked Questions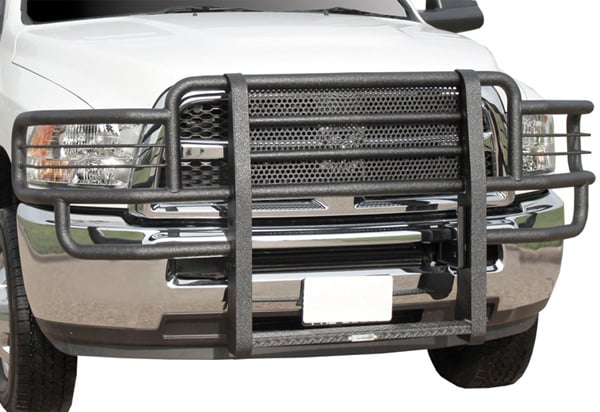 Bull Bars & Grille Guards FAQS Answers
What is a grille guard?
A grille guard protects your vehicle's front end from scrapes and grille detail damage caused by high grass, rocks, and various other degrading elements that can be kicked up by other vehicles. These products, a sort of durable fence for a truck or SUV's front end, also add a desirably rugged look.
How does a grill guard mount to a vehicle?
A grille guard uses factory mounting positions located below the front bumper, bolting on easily with no cutting or drilling required. A bull bar or grille guard is custom-designed for a particular vehicle, meaning that not only will they match up specifically with factory mounting positions, they will also fit precisely to a vehicle's front end. Use Auto Accessories Garage's handy "Choose Your Vehicle" identifier to pick your exact year, make, and model truck, and all grill guards and bull bars available to fit that vehicle will be displayed on our "Bull Bars" or "Grille Guards" product pages.
How are grille guards, bull bars, and brush guards different?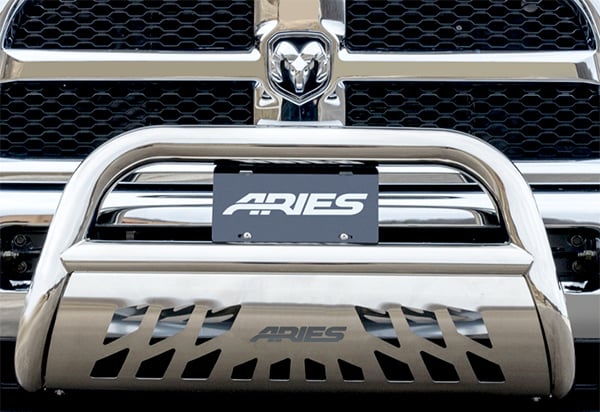 By the original definition, a grille guard and a brush guard are the same thing. As the story goes, the original designers created grille guards to prevent front-end scratching caused by driving through high brush, hence the synonym "truck brush guard". In recent years, however, the term "brush guard" has been repurposed to apply to the headlight-covering portion of the larger grille guard.
A bull bar is something else entirely. The term "bull bar" refers to a single metal bar that protects your bumper and grille details without dominating focus in the way a grille guard can. They will also routinely (though not always) come atop a skid plate to further protect your front end, and they usually feature light mounts. Whereas the grille guard offers full frontal protection, a bull bar is more focused on protecting one particular area, with no headlight coverage.
Can I use tow hooks in tandem with a grille guard?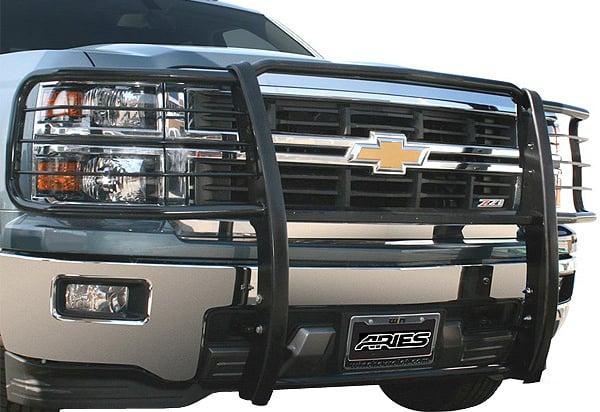 Yes, tow hooks can be used with grille guards. The custom design of grille guards allows for maximum functionality with your existing system. Factory equipment will be accounted for, and so most of our grille guards allow for the use of tow hooks. One caveat: due to their strength, sometimes tow hooks act as the mount for bull bars and grille guards. In these instances, manufacturers will often include new tow hooks for use with their guards.
Is it difficult to add lights to a grille guard?
Nearly every grille guard features pre-drilled holes or tabs to accommodate the addition of fog, driving, and off-road auxiliary lights. Be sure to check the product descriptions of each individual product to ensure it possesses the features you need. If you have any further questions, please feel free to call our helpful Customer Service staff.
Will a grille guard or bull bar affect air bag deployment?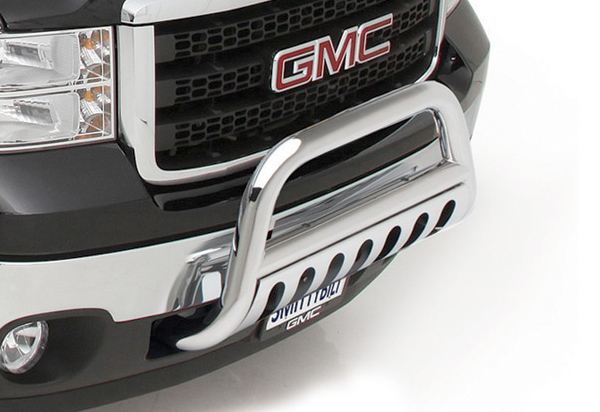 Most airbags are triggered when sensors notice abrupt forward deceleration of approximately 50 Gs. These sensors are generally located under the hood, so it stands to reason that they will be unaffected by grille guard or bull bar installation. That said, there is no conclusive data regarding how these products affect air bag deployment. It's important to read the manufacturer's instructions prior to installation for any definitive statements regarding sensor location and potential interference.
Will a bull bar or grille bar protect my vehicle in an accident?
In a low-speed, low-impact crash, a grille guard or bull bar will modestly protect your front end bumpers, lights, and grille details from damage. In some cases, a brush guard for jeeps and other vehicles can even push a sedentary object for a short distance at a low speed (though this could scratch or mark your guard's finish). Bull bars, especially those with skid plates, can provide solid protection for a vehicle's lower front bumper in low-speed collisions.
In a high-speed, high-impact crash, on the other hand, these products will be crushed back into your grille, possibly increasing damage costs. The point of these products is not to allow you to drive around slamming into things, nor to feel impervious to the laws of physics and nature. They are designed to look tough and protect your vehicle from glancing damage. Your rig will not become a battering ram, no matter how big and bad a grille guard or bull bar makes it look.
Will a grille guard protect my vehicle in a collision with an animal?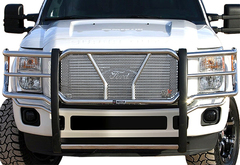 Studies have shown that a grill guard can prevent major structural damage depending on the speed traveled and a particular animal's size (for instance, one normal-sized deer struck at a moderate rate of speed). In such unfortunate circumstances, certain protection gains can be found. It's important to note that larger animals (such as moose, buffalo, or elk) will do serious damage to any vehicle, regardless of aftermarket modifications. Even with a bull bar or grille guard, keep your eyes peeled whenever these animals may be present where you drive.
Conclusion
We sincerely hope the above questions and answers proved helpful to you as you choose the perfect bull bar or grille guard for your truck or SUV. If you have any questions not handled above, call our friendly Customer Service team at 800-663-1570.
This page was written by John AutoAccessoriesGarage