With a tough brush guard mounted in front of your truck or SUV, you'll be equipped to handle all the hazards of the road. Like a facemask for your front end, our brush guards and bull bars block debris, bushes, and other impacts from damaging your headlights, grille, and bumper. Not to mention, they seriously toughen up your exterior style, making your vehicle's face a whole lot more intimidating. The grille guard installation process will vary slightly depending on your vehicle and what type of guard you choose, but here we'll give you the basic guidelines to properly install your brush guard.
Shopping For The Best Brush Guard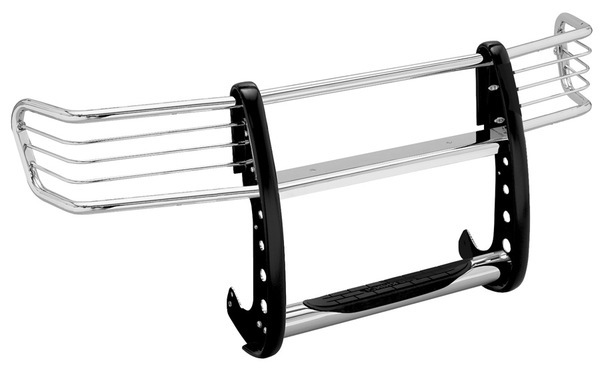 There are many different types of front-end protectors out there, and they each have different benefits to suit your protection and style needs. The traditional grille guard, such as the Westin Sportsman Grille Guard, cover your whole front end and include headlight guards that wrap around your lights. If you're looking for a more subtle style and simply some underside/bumper protection, a bull bar is the way to go. Check out Aries Bull Bars or the Romik Bull Bar for sleeker protection with optional skid plates to block pebbles and parking barriers from damaging your bumper. Be sure to read our brush guard reviews and hear from your fellow drivers about their experiences with these products. And no matter which model you choose, your grille guard or bull bar is sure to fit precisely - every one of them is custom-designed to your vehicle, and we make it easy to order your custom Chevy Silverado Grille Guard or Jeep Grand Cherokee Bull Bar.
The Brush Guard Installation Process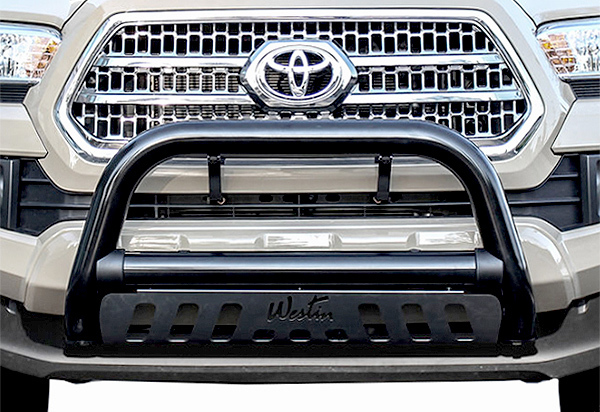 Installing a grille guard or bull bar generally doesn't take too long, and in many cases you don't need to do much if any drilling or modifying. Before you begin the installation, be sure to read the manufacturer's included instructions. Yes, we know, you're "too cool" for that, but seriously - you could miss an important step if you don't read them carefully, and you wouldn't want to ruin your truck that way, would you?
Anyway, the typicall grille guard installation process is as follows:
Examine your grille guard's packaging and make sure you have every part listed in the installation instructions.
Bolt the bottom brackets onto the grille guard, only keeping them hand-tight.
Hold the grille guard over the center of the bumper while a partner marks where the brackets are on your bumper or bumper cover.
Using a cutting wheel and die grinder, cut away the marked plastic. Test the guard's fit and trim more as necessary.
If your frame does not have factory-drilled mounting holes, mark and drill out the bolt holes and install the nuts.
Bolt the top mounting brackets to your radiator's core support, through your grille. Hand-tighten each bolt.
Once everything is lined up and in place, wrench all the bolts in place.
That's about all it takes to get your front end looking and acting tough. If you have any more questions about shopping for or installing grille guards or bull bars, feel free to call our expert customer service staff at 800-663-1570.
This page was written by Packy AutoAccessoriesGarage