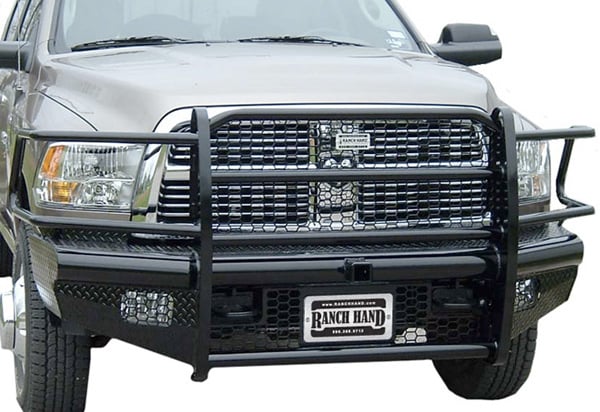 Your truck or SUV faces lots of hazards from day to day - especially if you use yours for construction work or rugged off-roading. That's why there's a whole range of heavy-duty bumpers that are specifically built to provide extra protection for your vehicle. Plus, they give your 4X4 a bold, intimidating new look. Check out some of the more commonly asked questions about our off-road bumpers to help you rind the best bumper for your truck.
Bumpers FAQs
Bumper FAQ Answers
How do heavy-duty bumpers mount to a vehicle?
Most of our heavy-duty and off-road truck bumpers simply bolt to existing holes on your frame, providing a rugged and strong connection to your vehilcle. The installation process will vary from truck to truck, and some cutting or drilling may be required in order to remove the stock bumper.
What bumper finishes are available?
Our off-road, heavy-duty, and step bumpers come in a few different finishes to suit your exterior style. For example, Fey Diamond Step Bumpers come in Black, Chrome, and Silver, whereas off-road bumpers like the Ranch Hand Legend Bumper come exclusively in Black powder coat for maximum ruggedness.
Can I use my recovery winch with an off-road bumper?
Yes! Many off-road bumpers feature built-in mounting plates for standard winches. Check out the ICI Magnum Winch Bumper for awesome front-end protection with convenient winching capabilities. The RBP HD Off-Road Bumper has a similar design, with a roller fairlead included to keep everything in line.
How do I add off-road lights to my off-road bumper?
Several of the bumpers we sell come equipped with mounting locations for off-road lights. Ranch Hand Bumpers feature pre-drilled holes to externally mount a pair of lights, whereas Iron Cross Off-Road Bumpers have recessed holes where you can drop in some fog lights.
Can I tow with a heavy-duty bumper?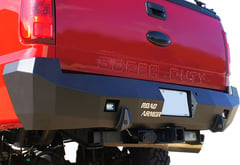 Many rear bumpers are designed to accept ball mounts or receiver tubes, allowing you to tow your trailer right off the bumper. The Ranch Hand Dually Bumper is tested to 1,000 lbs. TW/10,000 lbs. GTW, and is equipped with tow hook cutouts for many vehicles.
Will a heavy-duty bumper protect my vehicle in an accident?
A frame-mounted heavy-duty bumper will shield your front end from damage in collisions. Note that stand-alone bull bars and grille guards do not provide the kind of protection offered by a full bumper.
Final Thoughts
We hope these Bumper FAQs will help clarify some things you might be wondering about off-road Truck Bumpers. If you have any more questions, call our helpful customer service team at 800-663-1570, or check out our bumper reviews for advice from truck and SUV drivers just like you.
This page was written by Packy AutoAccessoriesGarage