Pickup trucks and 4X4s take on a lot of demands, from construction jobs and agricultural work to rock climbing and mudding. Most stock bumpers are designed to handle the impacts you may face in regular day-to-day driving, but not the more intense situations your heavy-duty vehicle encounters. That's where off-road bumpers come into play. Read on and find out more about these hefty bumpers, and how they can help you get the most out of your vehicle.
Why Put Heavy-Duty Bumpers On My Truck?
Why are heavy-duty bumpers so popular on SUVs and trucks all over the country? The benefits are many, and they apply to many different kinds of drivers.
Off-Road Protection
Off-Road bumpers are often crafted from thick, heavy-duty steel, which stands up to impacts and abuse much better than your vehicle's stock bumpers. Boulders, stumps, and ditches pose a great threat to your vehicle, but these tough bumpers offer an extra degree of protection. Plus, if you go with add-ons like a bull bar or brush guard, you'll shield your entire front end from harm.
Tough Custom Style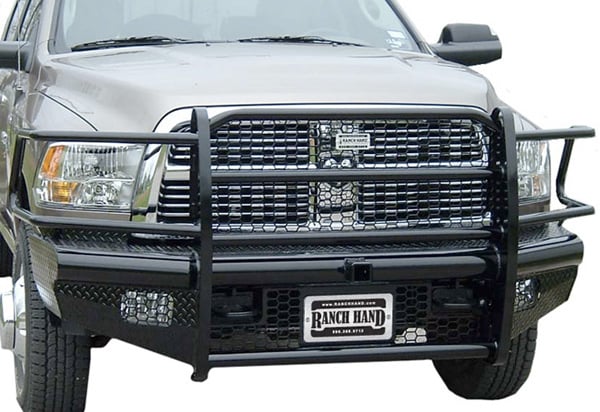 Ruggedness and protection are all well and good, but we all know how important it is for our trucks to look like they're up for anything, too. Bolting an off-road bumper to your SUV or truck adds some extra-beefy style to your vehicle to match their protection. They're available in a variety of finishes, like chrome Fey Bumpers or black powder-coated Road Armor Bumpers, so you can achieve the exact look you've been searching for. Those optional bull bars, grille guards, and light mounts also let you custom-design your bumper to fit your exact tastes.
Bolt-On Installation
The best part about our heavy-duty bumpers is that most of them simply bolt onto your vehicle. In many cases there's no need for extra cutting, drilling, or other modifications. This means you might be able to install your new bumper right in your driveway, saving you on those too-expensive labor costs. Call a buddy, grab your toolbox, and by the end of the day your truck will be a whole lot tougher.
Compare Our Most Popular Off-road Bumpers
Price
from $850.50
from $999.00
from $649.00
from $949.00
from $649.00
Shipping
Free Shipping
Free Shipping
Free Shipping
Free Shipping
Free Shipping

Rating

Overall:
Performance:
Quality:
Appearance:

Install Time
1-2 hours
1-2 hours
1-2 hours
30-60 minutes
30-60 minutes
Fit
Vehicle-Specific Fit
Vehicle-Specific Fit
Vehicle-Specific Fit
Vehicle-Specific Fit
Vehicle-Specific Fit
Warranty
Limited Lifetime warranty
1-Year Warranty
1-Year Warranty
1-Year Warranty
1-Year Warranty
More Details
More Details
More Details
More Details
More Details
Off-Road Bumper Styles
Heavy-Duty Bumpers come in a variety of styles, with many different accessories available. Let's take a look at some of the different bumper styles we offer.
Step Bumpers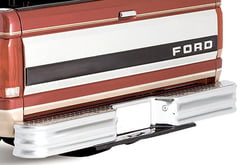 Many trucks are outfitted with oversize wheels and tires, as well as lift kits that can send the truck sky-high. That means to get easy access to the truck bed you could use a little step up. Bumpers like the Fey Diamondstep Rear Bumper are specially designed with a reliable surface on which you can step up and access your cargo. They also provide ample rear-end protection, and can even handle towing heavy trailers.
Grille Guard Bumpers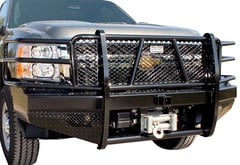 Many off-road bumpers are available with some extra front-end protection for your grille and lights. Ranch Hand Bumpers are available with optional grille guards that wrap around your headlights and grille for tough looks as well as reliable shielding from rocks, branches, and debris. For a slightly less imposing look, you can go with a bull bar bumper. This extra bit of steel tubing gives you some extra impact protection, without totally dominating your front end.
Winch Bumpers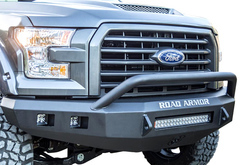 One of the most important pieces of equipment you need when off-roading is a recovery winch. Luckily, off-road bumper manufacturers know this, so many of their bumpers feature built-in standard winch mounts. Winch Bumpers like the Road Armor Stealth Bumper give you a handy and secure place to mount your winch, and many even include a roller fairlead so you'll already be good to go.
Final Thoughts
No matter where you use your truck or what you do with it, a heavy-duty bumper gives you the leg up you need. We hope this research guide gives you some helpful information when shopping for an Off-Road Bumper. Be sure to check out our bumper reviews pages to determine the best truck bumpers for you and get some advice from your fellow drivers, and call our helpful customer service team at 800-663-1570 if you have any other questions.
This page was written by Packy AutoAccessoriesGarage