There's nothing better than a good road trip, fishing expedition, or camping excursion. But you can't always fit everything and everybody you want. Don't force yourself to make the tough decision, you can bring all your friends and all of your gear when you have a rooftop cargo bag. Water-proof, durable, and seriously sizable, rooftop bags are the perfect solution and a must have accessory for any vehicle.
Finding the right cargo bag for your vehicle can be tricky. You have to consider whether it is compatible with your vehicle, and whether you'll need any other gear like a roof rack or crossbars to make it work. That's why we decided to make things easy. Looking at our sales data and customer reviews, we've decided to put together the Top 10 Best Rooftop Cargo Bags of 2022!
The Best Roof Cargo Bag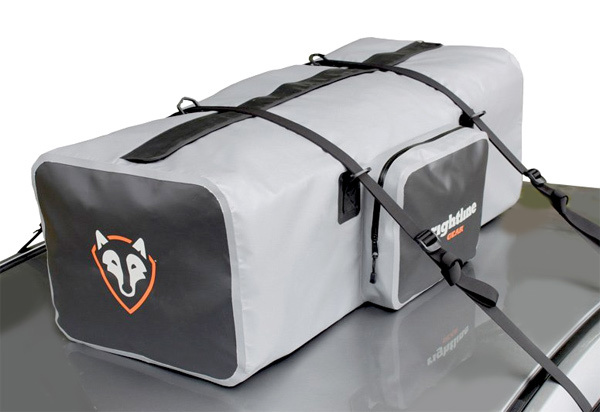 With four cubic feet of storage space, the Rightline Gear Roof Duffle Bag isn't the biggest bag in the game, but it will get the job done for smaller trips and the beauty of it is, most vehicles will have enough space for two or even three. Keep one loaded with camping gear, another with golf clubs, and you'll be able to run out to any event in a moment's notice!
As far as I'm concerned Rightline is the best name in cargo containers. I have been brand loyal for years and have never seen a rip, tear, or drop of water inside one of their products. I chose the duffle this time because I wanted something to store my skate gear in.

Read More Rightline Gear Car Top Duffle Bag Reviews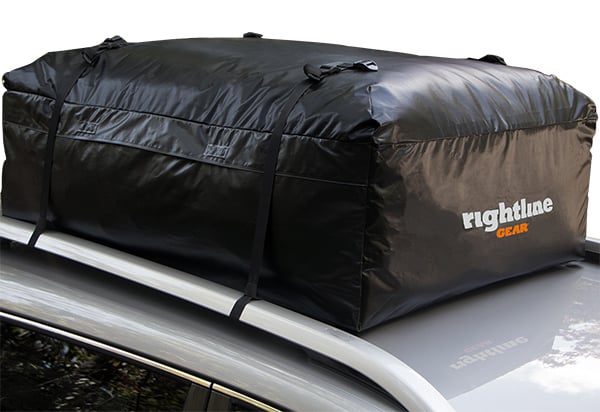 If you want to ace your next road trip or camping expedition, all you need is the Rightline Gear Ace Top Carrier. This versatile cargo carrier is designed to be compatible with SUVs, crossovers, as well as minivans and will offer your set-up as much as 15 cubic feet of additional storage space.
I love it. Now I have space inside my vehicle for passengers and even my dog while I keep all the camping gear up top. I had always seen these on the highway and now I'm glad to have one.

Read More Rightline Gear Ace Car Top Carrier Reviews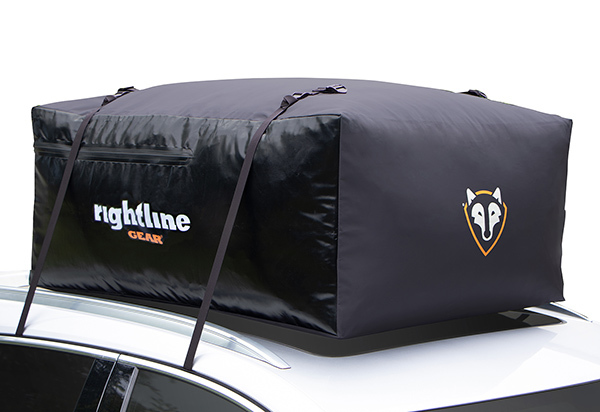 When it comes to the Rightline Gear Sport 2 Car Top Carrier, a 100% water-proof storage system is the standard. You can thank the nylon-reinforced PVC mesh construction as well as the urethane-coated zipper and the in-the-flap design. This storage bag includes two nylon straps, four car clips and more.
Great and easy to load, easy to put on my truck, and I can drive with complete confidence that all my stuff is safe. Thanks Rightline for making a great product, and thanks AAG for the great customer service.

Read More Rightline Gear Sport 2 Car Top Carrier Reviews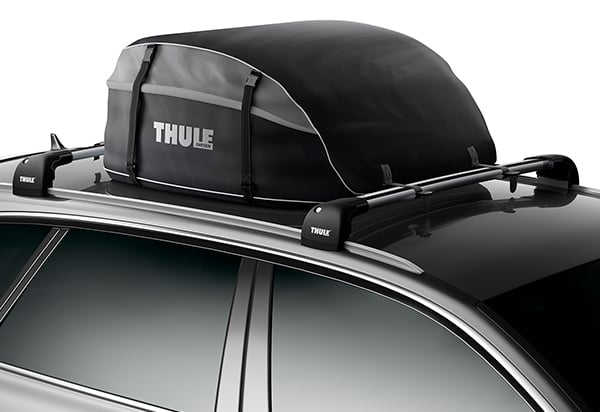 Now trip on the Great American Interstate is complete without the Thule Interstate Roof Cargo Bag. Offering sixteen feet of showstopping storage capacity, this bag with its IP-X3 weatherproofing is capable of keeping your gear dry even as you drive at highway speeds through the heaviest of rain storms.
This is perfect because I can switch it between mine and my wife's car at a moments notice. This thing can really be packed full too!

Read More Thule Interstate Roof Cargo Bag Reviews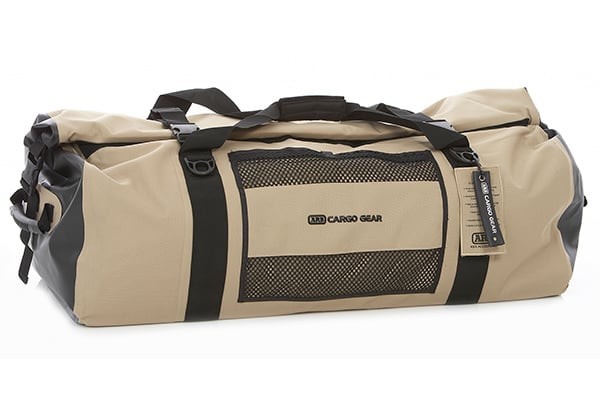 You never know what weather will accompany your next trip, which is why a weatherproof bag like the ARB Cargo Gear Stormproof Bag can hold all your gear and weather any storm. This unit is built with a waterproof polyester shell and features abrasion-resistant PVC base materials. Quick release buckles and a double-stitched carrying handle make this bag easy to bring anywhere.
Almost too big for what I needed but I guess too big is better than too small. It is definitely tough and made to last. ARB is a brand that I trust and AAG was great with delivery.

Read More ARB Cargo Gear Stormproof Bag Reviews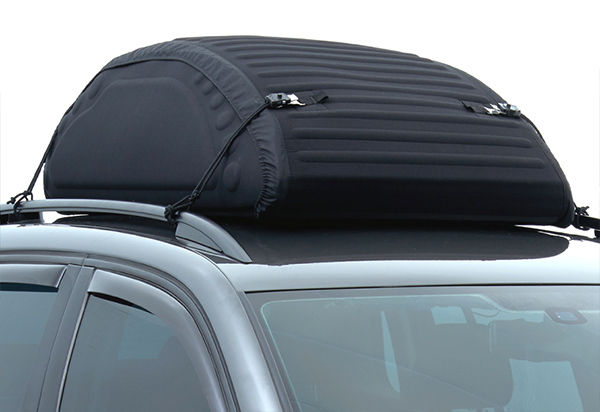 Built from a lightweight material that's easy to fold for simple stowing, the 3D Maxpider Foldable Roof Bag is ideal for storing camping gear, sporting goods, and more. The aerodynamic design minimizes wind resistance and noise while you drive, and an included plastic cover makes this bag completely weatherproof. This bag is backed by a 3-Year Warranty.
Awesome cargo bag! Really comes in handy when I'm loading up for a fishing trip. Get my cooler, bag, and tackle box all held down securely and I'm on my way!

Read More 3D Maxpider Foldable Roof Bag Reviews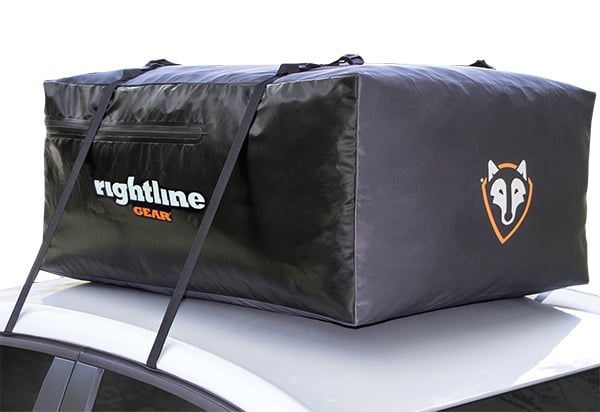 With a wear resistant and waterproof polyester material, the 9 cubic feet of cargo you can store in the Rightline Gear Sport Jr. Car Top Carrier will always be in good hands. PVC backing and tough urethane coated zippers ensure that this carrier will keep its form even when it's empty or only half full.
Clips worked great on my [Chevy car]. Straps were very easy to secure. The bag itself is very well engineered and built tough.

Read More Rightline Gear Sport Jr. Car Top Carrier Reviews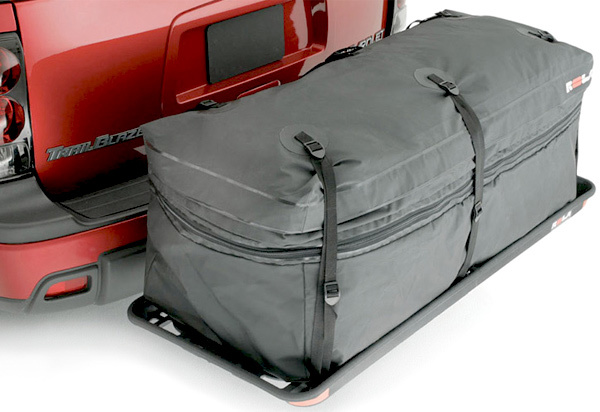 Sonically sealed to keep out road debris and weather, the ROLA Cargo Bag holds up to 15 cubic feet of cargo and fits on any cargo carrier or basket up to 24" x 60". Six individual straps make it easy to attach this bag to any set up, and much like a suit case, an additional zipper allows you to expand or contract at your convenience.
Easy to use and especially with my hitch mounted cargo carrier. I appreciate that this bag is more or less a rectangle. Definitely weather-proof too, nothing is getting in here.

Read More ROLA Expandable Cargo Carrier Bag Reviews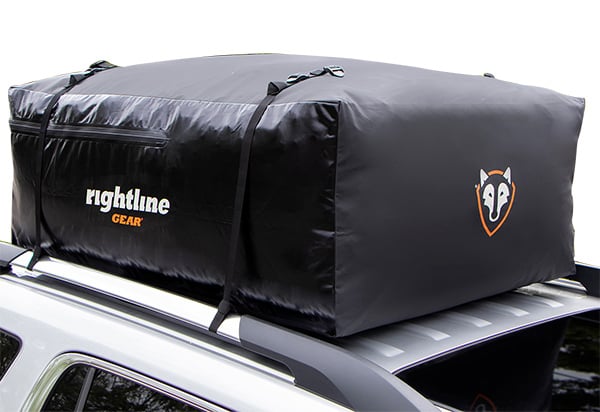 The interesting thing about the Superlift Lift Kit is that it doesn't alter your steering or handling at all. This lift kit raises your truck for a slick look and makes way for oversized wheels and tires, but the OE steering you've already grown accustomed to will stay in place. Plus, each component is made in the USA and backed by a Limited Lifetime Warranty.
Nice heavy-duty product. Very easy to install. I installed 38" tires under it with the 7" lift option. Really makes my SUV pop!

Read More Rightline Gear Sport 3 Car Top Carrier Reviews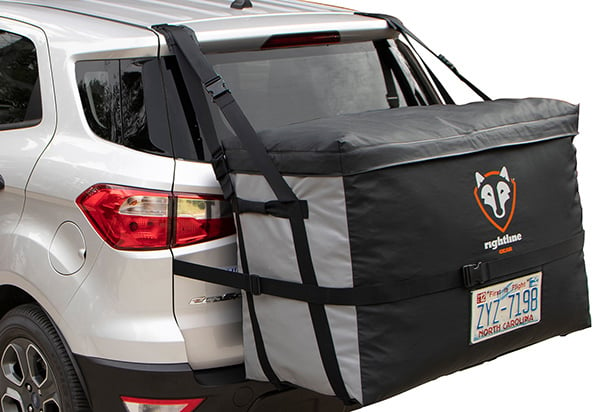 At a whopping 18 cubic feet of storage space, the Rightline Gear Sport 3 Car Top Carrier is one of the most spacious cargo bags available. It also has everything else we've come to expect from Rightline Gear such as available locks and accessories, and a completely waterproof construction with a rugged design.
We have a rack on top of our SUV and the car top carrier fit perfectly. The straps were a bit tricky to secure at first, but we figured it out. It is very durable and holds a lot of luggage, etc. Very pleased and would recommend it to a friend.

Read More Rightline Gear Cargo Saddlebag Reviews
What's the Best Fit for Your Vehicle? Enter Your Info Below to Find Out!
Top 3 Best Roof Cargo Baskets
Top 3 Best Roof Cargo Boxes
Cargo Bags & Containers Buying Guide
Hauling gear overhead is great for keeping your sight lines clear and your passengers comfortable, but what if it starts pouring outside? Is your valuable luggage and camping equipment protected from Mother Nature's various methods of assault? You should consider keeping your cargo covered when going on those long trips. The best way to do this is by storing your gear in a rooftop cargo container or roof cargo bag.
Cargo Boxes
Stow your gear in a secure, durable overhead compartment with a rooftop cargo container. These tough boxes mount easily onto your roof rack's crossbars and provide a handy place to haul your cargo. Carriers for SUVs and cars like the Thule Atlantis Box and the Thule Boxter Cargo Box are made from impact-resistant composites for supreme durability, and they shield your goods from even the worst weather. Plus, many of them have huge storage capacities despite their low-profile look, so you won't be at a loss for cargo space.
Did You Know? Cargo containers are specially designed not just to look cool - their smooth lines and curves maintain your vehicle's aerodynamics for a drag-free ride and excellent fuel economy.You probably take some valuable and expensive gear with you on road trips, whether you're going on a fishing excursion or helping your daughter move into her college dorm room. Keep your stuff safe with a cargo carrier. These rooftop boxes are designed to keep your valuables safe from theft and prying eyes. Rather than simply tying luggage to your roof, these boxes shield your goods out of sight. Plus, many carriers including the ProRac Explorer and the Thule Sidekick feature a locking mechanism to keep potential thieves away.

Cargo Baskets
You might have some luggage and gear that won't fit in a cargo bag or rooftop cargo container. If that's the case, pick up a cargo basket. These tough metal baskets clamp onto your roof rack and make a handy place to tie down your gear. With a Yakima or Curt roof rack you can carry just about anything you can imagine overhead.
Cargo baskets aren't just limited to your roof. You can also add some extra capacity behind your vehicle with a trailer hitch cargo container like the Curt Basket Style Cargo Carrier. These cargo boxes and baskets mount to your trailer hitch to carry up to 500 pounds of extra stuff. With a carrier on your hitch, you can haul everything from luggage and lumber to coolers and crates.
Cargo Bags
A cargo bag acts like a giant backpack for your car, truck, or SUV. By strapping one of these bags to your roof you add flexible cargo hauling capabilities to your vehicle. Many rooftop cargo bags like the PackRight Sport 3 car top carrier and the Thule Ranger rooftop cargo bag are crafted from water-resistant materials to shield your gear from the weather. Plus, a few roof cargo bags from PackRight can be mounted to your vehicle even if you don't have a roof rack. Understanding these differences is important for determining what is the best rooftop cargo bag for your needs.
Take a look at the following video to see how easily a PackRight cargo bag mounts to your roof rack and protects your gear.