When you've exhausted all other cargo options, it may be time to add more space altogether, right on your back end. If you have a cargo receiver hitch, adding a hitch-mounted cargo carrier on the back of your vehicle is as easy as can be. Once done, you'll be able to pile the luggage up high and set out on the great open road. When you've got a hitch installed on your rig, a hitch cargo carrier is simply a no-brainer! They're easy to install, uninstall, load, and unload. With a hitch mounted cargo carrier installed, you'll be able to free up space inside of your vehicle on your next camping out or road trip.
While space inside your ride used to come at a cost, you'll be pleasantly surprised to travel comfortably, and arrive with all of your cargo in tow. When deciding on a hitch cargo carrier to purchase, there are tons of options available: some fold up, some tilt away, some even fold in half. How can you be sure you are choosing the right carrier for your particular vehicle and needs? Luckily, Auto Accessories Garage is here to help with a thorough guide highlighting some of the top brands and products on the market. We've taken a look at our years of sales data, hitch cargo carrier reviews, and industry experience to bring to you the Top 10 Best Hitch Cargo Carriers and Rear Luggage Racks of 2022. Let's dive in.
The Best Hitch Cargo Carrier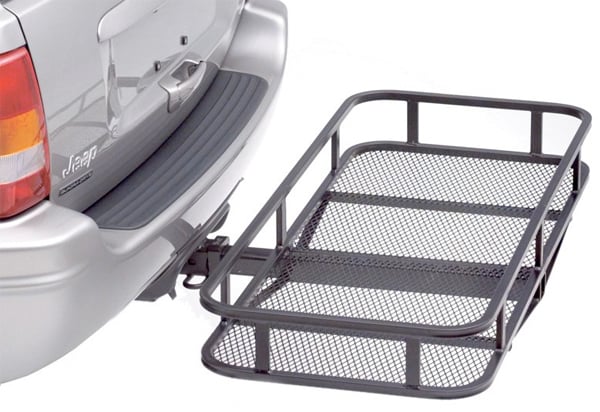 Breaking down into two pieces for easy storage, the Surco Cargo Hauler Hitch Basket can certainly haul some cargo. This all-steel basket is black powder coated to resist rust and corrosion and is available in a wide variety of sizes to suit all of your hauling needs. This system has a weight limit of 500 pounds.
The staff was friendly and the product is great. I'm very happy with AAG and Surco! Thanks!

Read More Surco Cargo Hauler Hitch Basket Reviews
The great thing about the Lund Hitch Cargo Carrier is not just it's heavy-duty steel construction and 500 pound weight limit. It's also the wide variety of accessories that Lund also has on the market. You can choose to add a storage bag, side bar attachment, or bike carrier to this or virtually any other cargo carrier.
It's great, lightweight so it doesn't create too much additional weight and it seems like very little drag too.

Read More Lund Hitch Cargo Carrier Reviews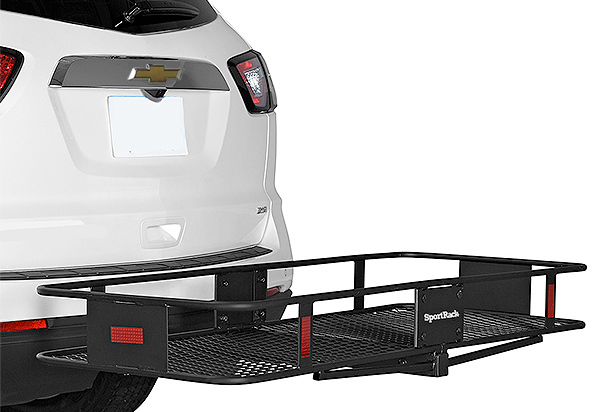 For the safety nuts out there, the SportRack Vista Hitch Basket is great because it also includes reflectors for added visibility. Additionally, this basket brings the space with an area that measures in at 60" by 20" by 6". If you've already got a 2" receiver hitch on your vehicle, then installation couldn't be easier.
Durable, rugged, and sturdy enough to stand on. Couldn't ask for much more.

Read More SportRack Vista Hitch Basket Reviews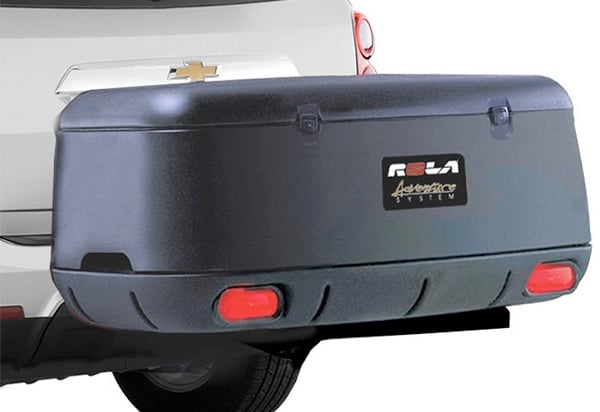 More than just a basket or a platform, the ROLA Adventure System Hitch Cargo Box features an entire lockable box to keep your cargo protected against everything from bad weather to prowling fingers. With a 2" receiver hitch, you can order this box in a tilt-up or swing-away model for easy trunk access.
It's great! Spacious, and durable. I like the look of it. It even makes a good makeshift bench.

Read More ROLA Adventure System Hitch Cargo Box Reviews

A big name in receiver hitches, any Curt product that involves your back-end can reliably be expected to be of a very high quality. With a 300 pound weight limit, the Curt Cargo Carrier is available not only in a black powder coat, but also in a polished steel finish to match any of your other chrome accessories.
To be honest I haven't used it yet but it looks great and it installed very easily. I trust in Curt manufacturing.

Read More Curt Cargo Carrier Reviews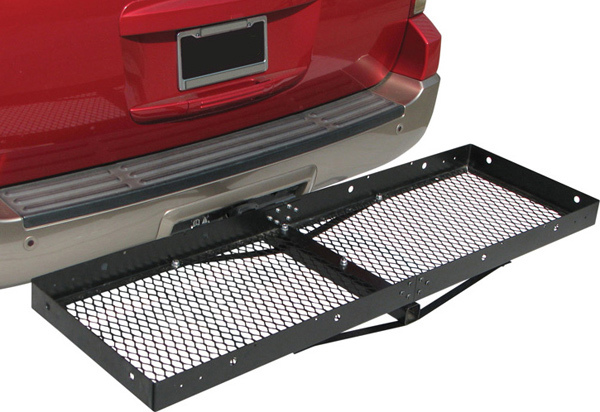 Carrying up to 500 pounds and fitting on any 2" receiver hitch, the ProMaxx Hitch Cargo Carrier is great for tailgate grills, coolers, and any other cargo and gear you need to bring along for the ride. No need to clutter your cockpit with wrangling and jangling luggage when you can carry it all in back!
I love it because it means I don't have to put my muddy lawn tools in my cargo area, and I don't have to listen to them jangle around when I drive!

Read More ProMaxx Hitch Cargo Carrier Reviews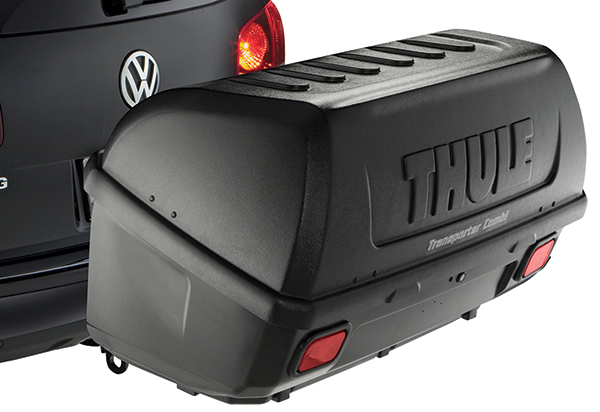 Mounting to any class II trailer hitch, the Thule Transporter Combi Cargo Box holds up to 165 pounds and offers 13 cubic feet of storage space. But better yet, this box swings down to bring you full and unobstructed access to your cargo area. As if there weren't enough perks already, Thule backs this with a Lifetime Warranty.
Just as advertised, this cargo box is definitely worthy of the Thule name! I'm happy I decided on this one.

Read More Thule Transporter Combi Cargo Box Reviews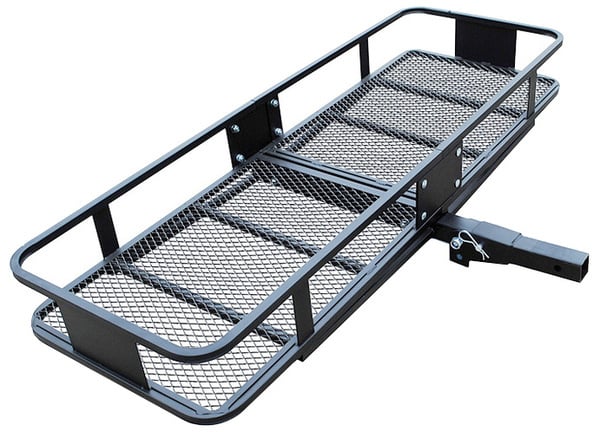 Unlike many hitch-mounted cargo carriers, the DK2 Hitch Mount Cargo Carrier will actually fold up against your vehicle when not in use which really comes in handy when you want to squeeze into a short garage or parking space without fully removing the cargo carrier. This strong steel basket is backed by a 1-Year Warranty.
I don't have time to remove and reset my cargo carrier as often as I use it, and I don't fit in my garage with it on. I was very glad to find this set-up from DK2.

Read More DK2 Hitch Mount Cargo Carrier Reviews
With a compatible bike rack also available, the ROLA Vortex Hitch Mounted Cargo Carrier can turn your vehicle into a cargo dynamo in a moment's notice. This system is compatible with any 2' or 1.25" receiver hitch and provides a deep and ample surface area for all of your essential cargo and gear.
If you want to bring a bike, and all kinds of cargo, this is the perfect system. A must have for outdoorsmen!

Read More ROLA Vortex Hitch Mounted Cargo Carrier Reviews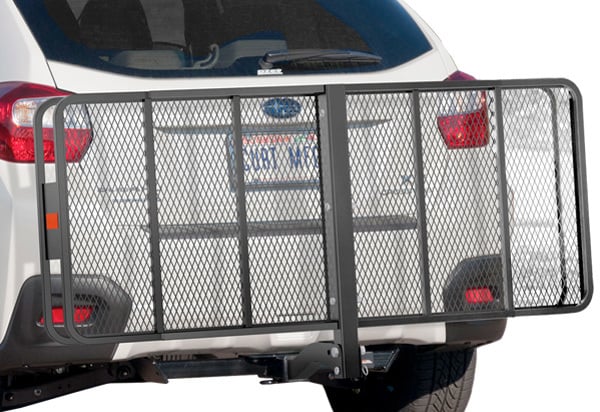 The top-selling cargo basket on the Curt line (so that's really saying something!) is the Curt Basket Style Cargo Carrier. This all-steel accessory is finished in a durable black powder coat finish. Compatible with any 2" receiver hitch, this basket is available as your choice of a fixed or fold-away system.
I bought this to use for my business. It does exactly what Its supposed to do. Works perfect and its easy to take off and put on.

Read More Curt Basket Style Cargo Carrier Reviews