Third Brake Light Covers
Bring an extra sizzle to your truck with a Third Brake Light Cover. Just a little bit of additional flash goes a long way towards making your truck look its absolute best. Easy to install, it won't take long once you pick up one of our Chrome Third Brake Light Covers before your truck is both styling AND profiling as you go about your business. Your truck deserves to look its best, and there's no reason that it shouldn't.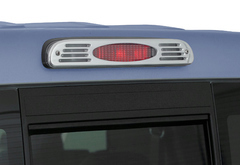 Bling out your SUV or truck with an AMI Third Brake Light Cover. These chrome 3rd brake light covers are available in a wide selection of designs to suit your style. All Sales Manufacturing Third Brake Light Covers mount right over your third brake light without modifications and require just a screwdriver to install.
From $42.93
Free Shipping
Quick View
About Third Brake Light Covers
There's no reason to leave any stone unturned when it comes to your vehicle's style. In that vein, grab a Third Brake Light Cover! We've got Ford F150 Third Brake Light Covers and Dodge Ram Third Brake Light Covers, among others, with everything custom-made specifically for your vehicle. With one of these 3rd Brake Lights facing out to those driving behind you, not only will they know when to stop, but they'll also think, "Man, that driver knows what's up!" For your part, you'll be chilling up front, well aware of exactly how true that is.
If you're looking for Third Brake Light Covers, then you need to look up AutoAccessoriesGarage.com. Our helpful layout takes all the guesswork and estimating out of your Chevy Silverado Third Brake Light Covers shopping process. Every 3rd Brake Light Cover we offer is lined up on one page, and each individual product page has both color photography and an in-depth description. Find something that looks good, and it ships for free. Easy as that, AAG won't leave you hanging!
More Popular Third Brake Light Covers Vehicles: