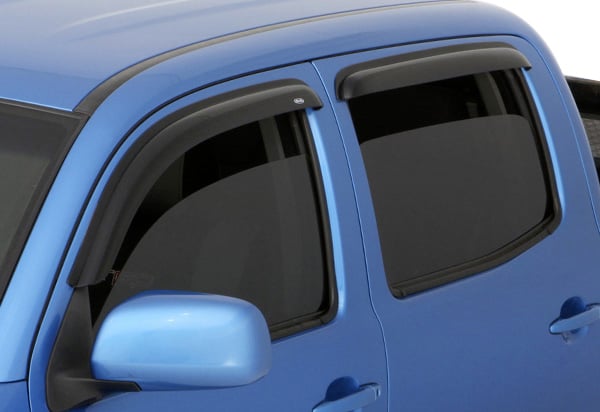 They may be small, subtle, and inexpensive, but Deflectors can make a huge difference on your vehicle. We offer a full line of Window Deflectors, Sunroof Vent Visors, and Hood Deflectors that protect your car or truck and provide a more comfortable driving experience. Read on and learn more about how Deflectors work and how you can choose the best Wind Deflectors for your vehicle.
Types of Deflectors
Deflectors come in three main designs, each with their own advantages. Depending what kind of vehicle you drive, you can install a combination of these deflectors:
Window Deflectors

Window Deflectors (also known as Wind Deflectors or Vent Visors) line the perimeter of your windows to block wind and rain from getting inside your vehicle. They're usually made from durable impact-resistant acrylic or ABS and most often have a dark "Smoke" finish. Rear Window Deflectors mount to the back of pickup truck cabs to provide a touch of style and some interior shade.
Wind Deflectors mount to your windows in one of two ways:
Tape-On Window Deflectors include automotive-grade adhesive and mount on top of your exterior window frames.  
In-Channel Wind Deflectors install by inserting them into your window channel. In-Channel Side Window Deflectors have a smooth, seamless look thanks to their invisible mounting design, and they don't require putting any tape on the outside of your vehicle.
 Understanding these differences is important for choosing the best window deflectors for your vehicle.

Sunroof Deflectors
Just like Window Deflectors, Sunroof Deflectors are designed to re-direct the noisy, hair-whipping wind that comes rushing into your open sunroof. They're often tinted to provide extra shade and to reduce glare when driving on sunny days. Sunroof Deflectors from brands like AVS and Stampede are also available with tape-on or in-channel mounting designs.
Bug Deflectors

Bug Deflectors, also known as Hood Deflectors, are designed to shield your vehicle's front end from rocks, gravel, and bugs. They mount onto the front of your hood to redirect wind and debris over your vehicle. Because they face so much abuse on the road, Bug Deflectors for trucks and cars are made from tough materials like high-impact acrylic. All of our Hood Bug Deflectors, including AVS Bug Shields and Wade Hood Deflectors install easily with screws or 3M adhesive.
Compare Our Most Popular Wind Deflectors
 
Price
from $55.00
from $61.71
from $45.10
from $38.88
from $41.25
Shipping
Free Shipping
Free Shipping
Free Shipping
Free Shipping
Free Shipping
Special Offers
 

Rebate

Rebate

Rebate

Rebate

Rating

Overall:
Performance:
Quality:
Appearance:

Install Time
Under 30 minutes
Under 30 minutes
Under 30 minutes
Under 30 minutes
Under 30 minutes
Fit
Vehicle-Specific Fit
Vehicle-Specific Fit
Vehicle-Specific Fit
Vehicle-Specific Fit
Vehicle-Specific Fit
Colors
 
Finishes
Dark Smoke

---

Light Smoke
 
Chrome

---

Smoke
 
Smoke
Installation Design
In-Channel
 
In-Channel

---

Tape-On
 
In-Channel
Material
Acrylic
Acrylic
ABS
Acrylic
Acrylic
Warranty
3-Year Warranty
Lifetime Warranty
Lifetime Warranty
Lifetime Warranty
Lifetime Warranty
 
More Details
More Details
More Details
More Details
More Details
Why Add Deflectors To Your Vehicle?
You've probably seen quite a few cars and trucks that have deflectors attached to their windows and hoods. What's the point of these little plastic fins, and what do they do?
Deflectors Reduce Wind Noise

There's nothing quite like cruising with the windows open on those sunny, beautiful days. There's one problem, though - you can't enjoy that open-air feeling on the highway. Once you start driving at faster speeds, the wind rushing into your windows and sunroof causes blown-out eardrums and blown-up hairdos. This happens because open windows alter your vehicle's aerodynamics in a way that sucks fast-moving air into your cockpit. The result: loud gale-force winds constantly whipping in your face.
Window Deflectors and Sunroof Wind Deflectors help alleviate these problems by slightly changing your vehicle's aerodynamic profile. When wind hits the deflectors it gets sent over your open windows and around your vehicle, keeping it from rushing in. This means you can roll your windows down or crack open your sunroof without fear of ear-splitting noise and gusty interior winds.
Rain Guards Keep Water Out and Let Fresh Air In
When storm clouds form overhead, that usually means it's time to roll the windows up. Even if you have them open just a tiny bit, you're sure to drench your clothes and carpet with rain water. Worse yet, water can sneak into your door panels and short out your power locks and windows. Rain also tends to make your windshield fog up. This would be easily solved by cracking the windows, but of course that causes a whole other set of pesky problems.
Did You Know? Drivers who smoke enjoy having Window Deflectors because they can crack the windows for fresh air in any weather.Luckily, Side Window Deflectors and Sunroof Deflectors let you open your windows a bit to let fresh air in without getting soaked. This airflow helps eliminate potentially dangerous windshield fog and keeps your cockpit from getting stuffy. With a set of Vent Visors and a Sunroof Visor you can enjoy open-air driving, even when it's pouring out.
Avoid Bug Guts With A Bug Deflector
Helpful Tip: Don't just take our word for it! When shopping for the best deflectors for your vehicle, be sure to read our Customer Reviews, written by drivers and customers just like you.No matter how much you drive, your car or truck is bound to hit some bugs. Kamikaze critters leave a gooey legacy on your hood and your windshield. They may be small, but after a while all of those bug carcasses can smear up your windshield and block your view of the road. Plus, bug guts tend to have a high acid content, which can slowly eat away at your paint job. Before long, dead bugs can lead to pits in your paint that evolve into rust spots and expensive repair costs.
Equip your front end with an AVS Bug Deflector or Lund Bug Deflector, however, and bug goo on your windshield and hood will be a thing of the past. These Hood Bug Deflectors change your aerodynamic profile to create a wall of wind that shoots up and over your vehicle. When bugs get in your vehicle's path they get launched up and away by this wind current, so they won't slam into your windshield. Once you find the best bug deflector for your vehicle, your windows and hood will be cleaner than ever, even after those epic road trips.
Hood Deflectors Protect Your Finish Against Rocks
They say sticks and stones may break your bones - unfortunately your vehicle's finish is just as vulnerable. Rocks and debris on the side of the road can get kicked up by the car in front of you, launching these objects at your windshield and scratching up your paint job. Hood Deflectors help minimize the chance of damage from these hazards by acting like a shield for your front end. Rocks and pebbles hit the deflector rather than your hood, and they bounce off away from your delicate glass and paint.
Vent Visors Help Save Fuel
Have you ever noticed your gas gauge dropping faster when summer comes around? That's not just because you're out cruising more often - it's because you've been cranking the AC every time you hit the road. Air conditioners draw a ton of energy, so your engine has to use up more fuel to make up for the extra power consumption. You can shut the AC off and roll the windows down, but that causes annoying wind and noise as well as air drag that also hurts your vehicle's efficiency.
Wind Deflectors let you enjoy cool, fresh air without all the noise and swirling winds, so you don't have to be so quick to crank up the air conditioner. Plus, deflectors improve your vehicle's open-window aerodynamics, cutting down on drag for a more efficient ride. This 1-2 combo reduces your summertime fuel consumption and helps you save some extra spending cash for those summertime road trips and cookouts.
Enhance Your Exterior Style With Deflectors
Sunroof Deflectors and Side Window Deflectors don't just protect your vehicle and offer a more comfortable driving experience - they add some extra style to your ride, too. Almost all of our Hood, Window, and Sun Roof Deflectors are completely custom-fit to your exact vehicle, so they perfectly hug your exterior contours and curves. Plus, many of our Deflectors feature sleek hidden mounting designs that look like they came installed at the factory, without the high dealership markup. Pickup truck drivers can also mount a Rear Window Deflector to the rear cab window add a touch of style and sun shade.
Deflectors come in a variety of finishes to suit your visual taste. Weathertech Visors, Wade Deflectors, and more are available with a translucent Smoke finish that adds a subtle look while filtering out sunlight. You can also choose a set of Chrome Window Deflectors or Chrome Bug Deflectors to add a gleaming touch to your exterior.
Choose The Best Deflectors For Your Vehicle
Your Location & Climate

Finding the best Vent Visor or Bug Deflector for your needs depends on where you live and drive. For example, if you live in a sunny and warm climate like the muggy South or the Southwestern desert, help keep your interior cool with a Sunroof Visor and Window Deflectors, such as AVS Window Visors and a Wade Sunroof Deflector. If you drive a pickup in sunny climates, a Wade Rear Window Deflector will help block some sunlight and lower your cab's temperatures.
Do you deal with a lot of bugs where you live, like in humid Florida or the forests of the Northwest? You can keep your vehicle looking great and keep your windshield clean with the help of a Bug Deflector. Stampede Bug Deflectors and Lund Bug Deflectors offer excellent protection against critters big and small.
Driving Comfort & Vehicle Protection
Deflectors are an excellent choice if you want to guard your vehicle's exterior from damage. Hood Deflectors like the AVS Bug Deflector II provide a reliable shield against rocks and debris, guarding your delicate finish from scratches and nicks. If you're more interested in driving comfort, a set of visors like AVS Ventvisor Window Deflectors will provide a quiet and wind-free ride.
Style & Finish
Don't forget to consider how a set of deflectors impacts your looks. AVS Deflectors and Weathertech Visors come in a variety of finishes, whether you're looking for the subtle looks of a Smoke bug deflector or the head-turning gleam of Chrome Window Deflectors. If you want your deflectors to look like factory-installed accessories, go with Stampede Deflectors for their smooth "snap-in" design.
Final Thoughts
No matter where you live or how you drive, Window Deflectors and Bug Deflectors are excellent for protecting your vehicle from hazards and providing a comfortable driving experience. If you have any questions about our Deflectors Research Guide, feel free to call our experienced Customer Service Department at 800-663-1570.