Sunroof Deflectors
Sunroof Wind Deflectors provide superior reduction of in-cabin noise and air turbulence. They're designed precisely to fit your vehicle and hold securely in place. They're a sharp and practical add-on to any vehicle with a sunroof. With a Sunroof Deflector in place, your ride is smooth, quiet, and comfortable.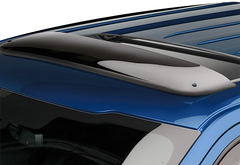 Get fresh air into your car without any unnecessary wind by using the WeatherTech Sunroof Wind Deflector. These handy deflectors attach in front of your sunroof and prevent wind from rushing down into your car when it's open. Each thick acrylic construction is easy to install and aerodynamically designed to your specific make and model.
From $79.95
Free Shipping
Quick View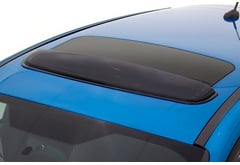 With an AutoVentshade Windflector Sunroof Deflector on your vehicle, you can roll the sunroof back without annoying wind noise and drafts. It's available in several lengths to fit your sunroof and is molded from rugged acrylic. Plus, it takes just minutes to install with pre-applied 3M adhesive.
From $57.21
Free Shipping
Quick View
Want to learn more? Read our:
About Sunroof Deflectors
Your sunroof rocks, but that rushing can kill the vibe quickly once you get on the highway. This is where sunroof deflectors like come into play. These handy acrylic visors let you enjoy the fresh air along with a helping of peace and quiet.
Our Sunroof deflectors also keep the weather out of your sunroof, meaning you can pop it open in just about any weather. Even better, most, such as Lexus IS300 Bug Deflectors are guaranteed to last, meaning they'll be at the ready when you need them. Why waste time? Peruse our selection and find the perfect one for your vehicle today!