You want more power, higher efficiency, and an awe-inspiring sound. You can get it all with one of our performance exhausts - but what brand should you go with? Borla and Bassani, two high-performance brands, are among the standouts in the crowded world of exhaust manufacturers. If you're trying to decide between a Bassani or Borla exhaust, take a look at the following comparisons and find the right performance exhaust system for your vehicle and your needs.
Bassani Exhaust Systems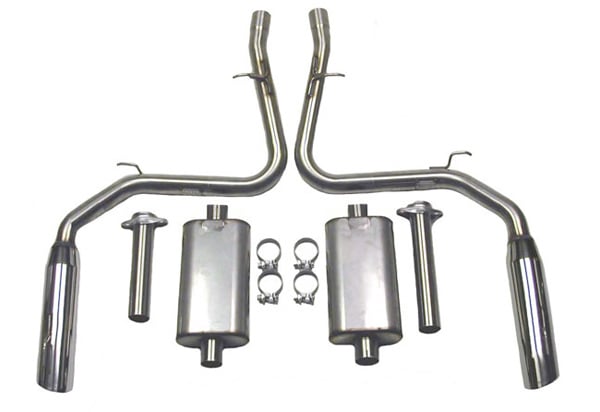 Darryl Bassani turned the world of motor sports on its head when he started buildling motorcycle exhausts in 1969. Before long he was also bending pipes and building systems for automobiles, and Bassani Exhaust quickly became a household name among performance enthusiasts. And decades later, Bassani is still making some of the most state-of-the-art exhaust systems around.
"Bassani Xhaust" Systems are known for their unmatched fit and build quality. They utilize top-quality Stainless Steel for superior durability, and use precision mandrel bends for optimal exhaust flow. This results in maximum power gains, as well as improved fuel economy. Plus, their gasket-less ball and socket connections make for an easy installation, and every system is custom-made to fit perfectly. For even greater performance bolt on a set of Bassani Headers or simply install a Bassani Muffler for great power and sound without doing a full-blown system upgrade.
Borla Exhausts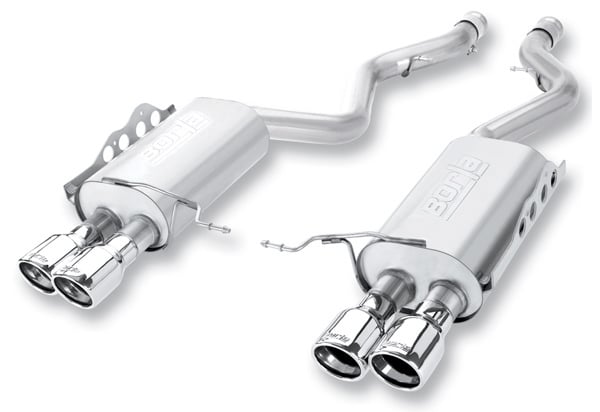 Borla's roots begin in the highest pedigrees of performance vehicles. When you get your start building exhausts for Corvettes, Rolls-Royces and Ferraris, you learn pretty quickly what performance is all about. Borla Exhausts are built to demanding standards, with top-shelf materials and true mandrel bends that coax the most possible power from your engine. Even the mufflers are designed to enhance your power - in fact, many racers use Borla Mufflers, even when not required by racing rules! That's not all, every Borla Exhaust Kit is custom-built to your exact vehicle for a perfect fit and finely engineered performance gains.
Both Borla Exhausts and Borla Headers are built from high-quality T-304 Stainless Steel. This material fights corrosion and rust, providing a lifetime of reliable performance and great looks. Borla stands behind their build quality and durability by backing their systems with a Million-Mile Warranty.
Borla or Bassani - What Is The Right Exhaust for Your Vechile?
Borla and Bassani Exhausts offer excellent performance, a powerful sound, and even sweet exterior style. Still, one brand might be a better fit for your needs and your budget. Check out the chart below and compare the two brands side-by-side - chances are, this will help you determine which is the right exhaust system for you. Of course, you can also read our Exhaust Kit Reviews to get the inside scoop from real-world drivers and performance enthusiasts.
| | | |
| --- | --- | --- |
| | | |
| Starting From | $385.00 | $199.02 |
| Materials | Stainless Steel | T-304 Stainless Steel |
| Styles | Single or Dual Exit | Single or Dual Exit |
| Designs | Cat-Back | Cat-Back, Axle-Back, X/Y/Down-Pipes |
| Available Accessories | Mufflers, Headers, Catalytic COnverters, Crossover Pipes | Headers, Exhaust Tips |
| Warranty | 18-Month or Lifetime (Depending On System) | 1,000,000-Mile |
| Shipping | FREE | FREE |
| | | |