Do you want to amp up your vehicle's performance and let out a big, bold sound? Hooking up a performance exhaust is the way to do it. There are many exhaust brands out there, however, so you're gonna be faced with a lot of options. We'll lay out the differences between Flowmaster and Borla, two of the leading brands in exhaust systems and accessories, so you can make a more informed purchase.
Borla Exhaust Systems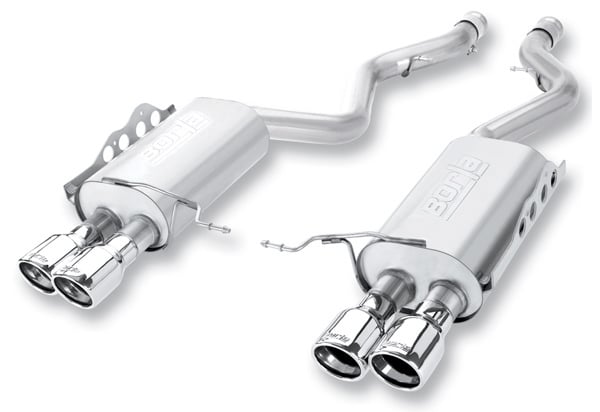 Borla got their start building exhaust systems for the upper echelon of vehicle makers, including Rolls-Royce and Ferrari. This means from day one Borla has been committed to absolute excellence. And with that commitment to performance comes incredible build quality, perfect custom designs, and top-notch materials used at every step. Every Borla Exhaust System is custom-designed to your exact year, make, and model, so you're guaranteed to have a simple installation, fine-tuned performance, and a perfect fit using stock mounting locations. You can also add a set of Borla Headers to your rig for even more horsepower gains.
Borla Exhausts are crafted from T-304 Stainless Steel that fights rust and lasts virtually forever. Their pipes feature true mandrel bends that offer superior exhaust flow - even better than a straight piece of pipe! Plus, Borla mufflers are designed to not only tune in an excellent tone, but actually improve your performance, and they're backed with a Million-Mile Warranty.
Flowmaster Exhausts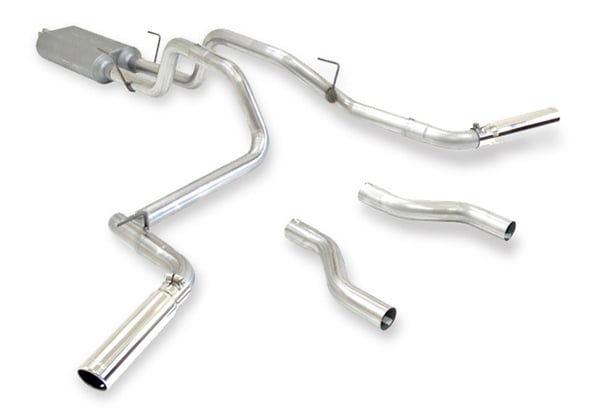 Flowmaster, one of the most popular names in exhaust systems and mufflers, has been beefing up exhaust tones for over two decades. Many drivers turn to Flowmaster Exhausts to give their vehicles a tough, unique sound, but that's not all they do. Flowmaster Exhaust Systems also enhance your performance, thanks to their fine-tuned designs and high-flow chambered mufflers. For both a bold sound and up to 10% more horsepower, check out the Flowmaster American Thunder Exhaust or go with the Hushpower Exhaust if you want a mild or moderate tone. All Flowmaster Exhausts and Components are backed with a 3-Year Warranty.
Flowmaster builds their exhaust systems and mufflers from high-quality Aluminized Steel, and like Borla they utilize true mandrel bends for maximum flow. Aside from complete systems, you can also hook up one of our Flowmaster Mufflers like the power-oriented Flowmaster 70 Series Muffler or the super tough sounding 40 Series muffler. All Flowmaster Muffleres feature fine-tuned designs that accentuate your engine's bold sound while phasing out harsh drones and unwanted frequencies.
Borla or Flowmaster - What's The Right Exhaust for Your Vehicle?
When shopping between Flowmaster or Borla exhaust systems, you should consider your vehicle type, what kind of sound output you want, and the budget for your exhaust upgrade. While both systems offer real performance gains, good looks, and a tough sonic signature, one system might be better suited to you than the other. When shopping, check out the following comparisons and read our Exhaust System Reviews to find the right exhaust for your needs.
| | | |
| --- | --- | --- |
| | | |
| Starting From | $196.89 | $199.02 |
| Materials | Aluminized Steel | T-304 Stainless Steel |
| Styles | Single or Dual Exit | Single or Dual Exit |
| Designs | Cat-Back, Axle-Back, Header-Back, Turbo-Back | Cat-Back, Axle-Back, X/Y/Down-Pipes |
| Available Accessories | Mufflers | Headers, Exhaust Tips |
| Warranty | 3-Year | 1,000,000-Mile |
| Shipping | FREE | FREE |
| | | |