The exhaust system is a key component to your vehicle's performance. By tossing out your stock exhaust and hooking up a performance exhaust system, you'll do away with the restrictions and inefficiencies that restrain your power potential. And when it comes to performance, both Borla and Gibson Exhaust are big names. Read on - we'll do a shoot-out of the two brands and help you find the right exhaust system for your truck or car.
Borla Exhaust Systems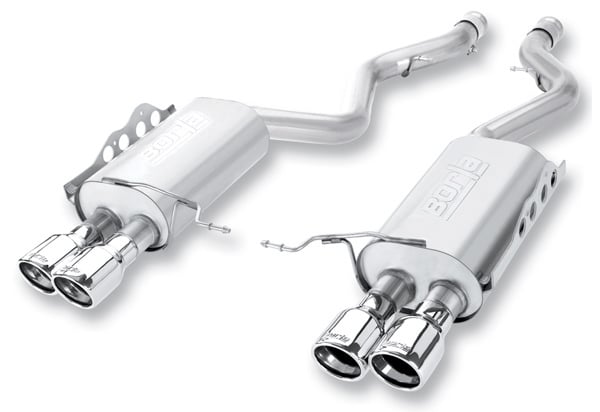 Having started off by building exhausts for the cream of the crop (Rolls Royce, Ferrari, and Corvette for starters), Borla knows a thing or two about top-notch performance. Right from day one Borla has been committed to absolute excellence, and they haven't strayed from that focus. How do they do it? For starters, they use top-notch materials and technology to craft reliable, long-lasting gear. Plus, they custom design each Borla Exhaust System to your exact year, make, and model vehicle. This ensures truly fine-tuned performance, a perfect fit, and an easy installation. For even more power gains, add a set of Borla Headers to your rig, and put on some polished exhaust tips for sweet exterior style.
Borla Exhausts are crafted from T-304 Stainless Steel that fights rust and lasts virtually forever. Their pipes feature true mandrel bends that offer superior exhaust flow - even better than a straight piece of pipe! Plus, Borla mufflers are designed to not only tune in an excellent tone, but actually improve your performance, and they're backed with a Million-Mile Warranty.
Gibson Exhaust Systems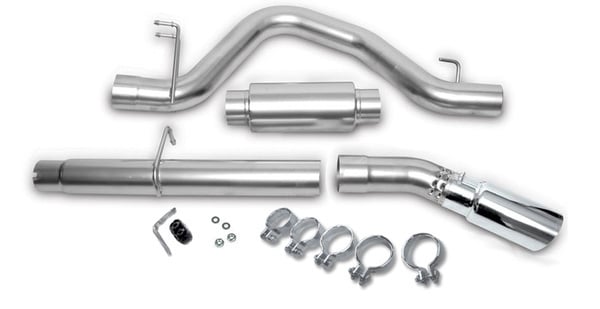 Gibson Exhaust is one of the optimal choices for trucks and SUVs with either gas or diesel engines. Every Gibson Exhaust System is dyno-tested and proven to offer awesome gains in horsepower and torque - up to 10-20 HP and 15-20 ft. lbs., in fact. Whether you want to tow huge trailers and carry heavy loads or just accelerate quicker off the line, Gibson Exhaust Kits will do the trick. Gibson Exhaust pipes are mandrel-bent, so the pipes maintain a conistent diameter for unrestricted exhaust flow and maximum efficiency. Every system fomes with a SuperFlow muffler that also tunes in a nice sound. Gibson Exhausts also include a Lifetime Warranty, so this is a system you can count as long as you own your vehicle.
Gibson also offers exhaust accessories to enhance your performance and style. If you don't want to go through the expense and hassle of installing a whole new exhaust system you can go with a Gibson Muffler or Gibson Exhaust Headers to unleash some extra power power. Then, clamp on a polished Gibson Round Exhaust Tip or Turndown Exhaust Tip and give your exterior looks that finishing touch.
Borla or Gibson - What Is The Right Exhaust System?
When choosing between a Gibson or Borla exhaust, there are several factors to consider. Your budget, your vehicle type, and your desired exterior look all come into play when comparing Gibson vs. Borla exhausts. This chart lays some of their brand-wide features side-by-side so you can find the right exhaust for your car or truck.
| | | |
| --- | --- | --- |
| | | |
| Starting From | $171.41 | $199.02 |
| Materials | Aluminized Steel, 409 Stainless Steel | T-304 Stainless Steel |
| Styles | Single or Dual Exit | Single or Dual Exit |
| Designs | Cat-Back, for Gas or Diesel Engines | Cat-Back, Axle-Back, X/Y/Down-Pipes |
| Available Accessories | Mufflers, Exhaust Tips, Headers | Headers, Exhaust Tips |
| Warranty | Lifetime | 1,000,000-Mile |
| Shipping | FREE | FREE |
| | | |