Bolting on a new exhaust system is one way to give your vehicle a tough sound, boost your power and efficiency, and even enhance your exterior looks. Of the many exhaust brands out there, both Borla and Magnaflow are among the leaders of the pack. Every system has its advantages for every vehicle, however, so it's good to compare brands when shopping for a new performance exhaust. Take a look at the differences between Borla and Magnaflow exhausts to make an informed decision about which is the right exhaust system for you.
Borla Exhaust Systems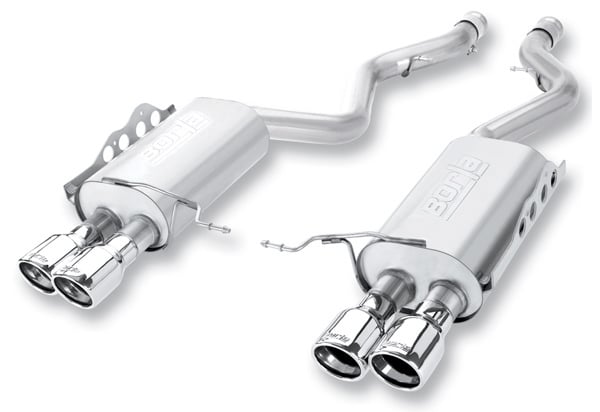 Borla Performance Industries has been advancing exhaust design to new heights for over 25 years. They started off building exhaust systems for cream-of-the-crop makes like Ferrari and Rolls-Royce - clearly, unrivaled performance has been the priority from day one. They achieve this by not cutting any corners, from materials to custom design. All Borla Exhausts are built from aerospace-grade T-304 Stainless Steel for excellent strength and rust resistance, and mandrel bends provide the smoothest possible flow - even better than a straight piece of pipe. Each system includes Borla mufflers, which are so perfectly tuned that winning racers use them even when not required. Talk about an endorsement!
You can also pick up a set of Borla Headers, which also boast top-quality T-304 Stainless construction and custom mandrel-bent pipes for extra flow and horsepower. Finally, to finish off your style, add a set of polished Borla Exhaust Tips. In the end, your vehicle will be both burning rubber and turning heads. Plus, Borla's signature "throaty growl" will up your vehicle's intimidation factor, without creating annoying in-cabin noise.
Magnaflow Exhausts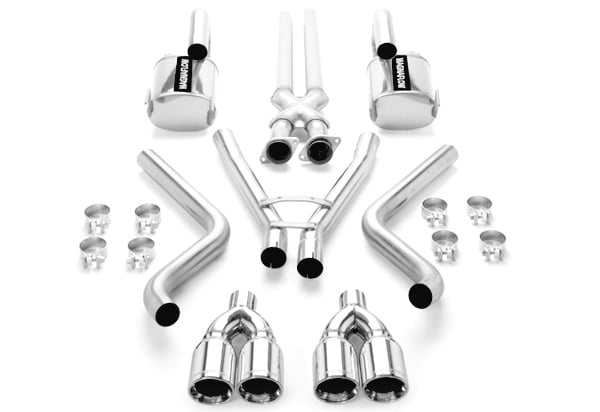 When you want a tough and throaty, yet smooth exhaust tone, a Magnaflow Exhaust is the way to go. Magnaflow Exhaust Systems also unlock up to 10% more horsepower, as well as potential gains in MPGs. All their components are crafted from 409 Stainless Steel to resist corrosion and hold up for the long haul, and true mandrel bends in the pipes provide superior exhaust flow for maximum performance gains. The included mufflers provide excellent temperature consistency while reducing harsh noise and vibrations for a tone that's both bold and smooth. They're also available in a variety of styles and finishes to suit your performance needs and your budget.
Magnaflow also sells their mufflers individually, so you can upgrade your exhaust performance on the component level. For superior performance and emissions control, hook up a Magnaflow Catalytic Converter. These converters feature a honeycomb-shape catalyst for maximum surface area while minimizing exhaust restrictions. This opens up the bottleneck that stock catalytics can cause, so you'll greatly enhance exhaust flow for serious power gains. Plus, Magnaflow Cat Converters do all this while keeping your emissions street-legal, so you can ride with peace of mind.
Magnaflow or Borla - Which Exhaust Is Right for Your Vehicle?
Now you've got a few more details on both Magnaflow and Borla exhausts. So which one should you choose? Check this chart for a direct comparison between Borla and Magnaflow's materials, styles, and prices. For an even more in-depth comparison, however, read our Exhaust Reviews and see what your fellow drivers have to say.
| | | |
| --- | --- | --- |
| | | |
| Starting From | $199.02 | $288.51 |
| Materials | T-304 Stainless Steel | 409 Stainless Steel |
| Styles | Single or Dual Exit | Single or Dual Exit |
| Designs | Cat-Back, Axle-Back, X/Y/Down-Pipes | Cat-Back, Axle-Back, Downpipe-Back, Turbo-Back, DPF-Back |
| Available Accessories | Headers, Exhaust Tips | Mufflers, Catalytic Converters |
| Warranty | 1,000,000-Mile | Lifetime |
| Shipping | FREE | FREE |
| | | |