The exhaust system is a crucial element when it comes to your vehicle's power and performance. There is a lot of precision engineering that goes into designing and building a performance exhaust, and there are plenty of conflicting theories and trendy technical buzzwords that can make it hard to get to the truth about these systems. Read on and get answers to some of the most common questions people ask when trying to find the best exhaust system for their car or truck.
Exhaust FAQs
Answers to Frequently Asked Questions
What do exhaust systems do?
In a nutshell, the exhaust system carries out a variety of functions. Primarily, its job is to direct the hot waste gasses that emanate from your engine away from your engine compartment. It also attenuates the noise output of your engine and, in modern cars, reduces exhaust emissions.
Stock exhausts and headers perform all three jobs adequately, but they're often not optimally designed for maximum flow. Performance exhaust systems are engineered for fast, efficient exhaust flow, which maximizes your engine's power output. Exhaust pipes and mufflers can also be designed to achieve a certain sound or look that gives your vehicle a whole new attitude.
How much power can I gain with a performance exhaust or muffler?
Performance exhaust systems can typically provide power gains of up to 5-20% extra horsepower. Every vehicle and engine is different, however, so your performance gains maybe be more or less depending on your model, engine type, and other modifications. Adding a set of performance headers with your exhaust system can open up an extra 10-20 HP from your engine.
Note that a performance muffler or exhaust system cannot "make" or generate more horsepower. Every exhaust system imparts a degree of restriction on your engine; the goal of a performance exhaust is to minimize its restrictive effects and bring out as much of your engine's potential as possible.
Are bigger exhaust pipes always better?
Larger exhaust pipes are indeed better - but only to a point. Vehicle manufacturers typically make their exhaust pipes too small in an attempt to save a few bucks on metal, but that makes the system more restrictive and inefficient. That doesn't mean you should go out and bolt 6" pipes to your sub-compact, however. Pipes that are too wide will flow less efficiently, actually causing a loss of power compared to stock. Luckily, by choosing an exhaust system that's specifically designed to your vehicle and engine you can rest assured that the pipe diameters are optimized to provide the best flow and scavenging.
What does CARB mean?
CARB stands for the California Air Resource Board. This agency establishes legal automotive emissions levels for the state. CARB's strict standards for road vehicles they set the bar for most exhaust systems and parts, even if they're sold and used outside of California. Generally, if an exhaust system, catalytic converter, or header is "CARB-Certified" it will also be legal in the other 49 states as well.
How do mufflers make my engine quieter?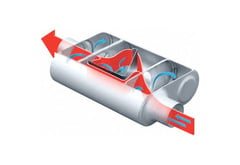 Mufflers usually take care of loud noise by using any combination of three main methods: restriction, absorption, and reflection. Restriction is the cheapest type of noise control, which is why you'll see it on nearly all OEM exhausts. While this is a cheap method and requires the least engineering skill, as the name implies, this makes for inefficient exhaust flow that chokes your engine of power. The absorption method utilizes fiberglass or some other "packing" material that prevents sound from reflecting inside the muffler and absorbs extraneous noise. This  Reflection, the most sophisticated method, utilizes specially sized baffles and pipes that cause sound waves to bounce into each other in a way that makes them cancel each other out.
What is the difference between "dual exit exhaust" and "true dual exhaust?"
A true dual exhaust includes all the pieces of 2 separate systems, from pipes and catalytic converters to mufflers and tailpipes. V-6 and V-8 engines are capable of running dual exhausts because they have one exhaust manifold on each side. Dual-exit exhausts can work on 4, 6, and 8-cylinder engines, as they simply utilize a muffler that splits into two tailpipes.
What does "Cat-Back" mean?
In order to maintain legal emissions, an aftermarket exhaust can't interfere or require the removal of your catalytic converter. Therefore, most performance exhaust systems install after the converter. This style is referred to as "cat-back," for it includes everything to the back of the converter. You may also hear cat-back exhausts called "aft-cat," as in "aft (rear) of the converter."
Is it difficult to install a new exhaust system?
Upgrading your exhaust system is a relatively straight-ahead process, though it requires a little forethought and elbow grease. It is likely that you will have to cut off your stock pipes, so you'll need a hacksaw or reciprocating saw handy. The pipes can be long and awkward to handle, so it's recommended that you have a partner assist you in getting the exhaust in place. As always, don't forget to consult the installation instructions included with your new exhaust to make sure you have every piece you need and that you're doing everything in the right order.
The following video shows what it takes to install a Flowmaster American Thunder Exhaust onto a 2010 Camaro:
Conclusion
We hope these Exhaust FAQs will help you navigate the often confusing world of exhaust system shopping. If you have any other questions about how exhaust components work, feel free to give your knowledgeable Customer Service staff a call at 800-663-1570.