Performance Exhaust Reviews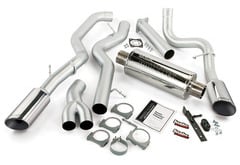 When it comes to overhauling your vehicle's performance and sound there's nothing like installing a full-blown performance exhaust system. Nearly all of our customers report a noticeable increase in power, with an impressive exhaust tone to boot. Because they're custom-designed for specific vehicles, most drivers have little to no trouble installing cat-back exhaust systems right in their driveway. Best yet, many systems include a polished exhaust tip to give you an extra hint of style.
Out of the block the sound is incredible! Cruising on the highway @60 it's a nice quiet rumble in the cab. Buy this exhaust system for the power and quality, it's not as loud as those other cheap brands but those are just for noise anyway. This system delivers some serious power!
Randy C. from Decatur, AL - Dodge Ram 1500

The box arrived much faster than expected, however, there were no install instructions in the box. Luckily, Auto Accessories Garage has installation instruction downloads on their site and I had printed them up when I placed the order earlier in the week to get a heads up on what I needed to do when the box came. The setup really was easier than I expected and the performance upgrade is worth double the price I paid. My car looks, sounds, and performs awesome!
Todd K. from Glen Ellyn, IL - BMW 330i
Mufflers Reviews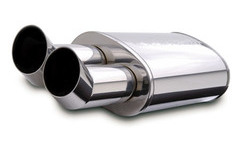 Short of bolting on a complete exhaust system, a new muffler can provide a new sound and even increase your performance without having to break the bank. They're also relatively easy to install, in many cases not needing extra welding or modifications. Every engine and muffler is different, so check out our muffler reviews to see how these products bring out different sounds in different vehicles.
This muffler does everything they claim, and everything I need. I was getting a harsh droning noise around 2,000-3,000 RPM with my other aftermarket muffler, so I replaced it with this. I love the tone at idle and cruising, but the aggressive sound I get when I really lay on it is beastly! The only concern I have with this series is that they oxidize and lose their luster rather quickly, but the tone gets even better at the same time so I think it's a fair trade. If you want to sound different from every other Mustang in town, these are the mufflers for you!
Mike L. from Collierville, MS - Ford Mustang
I am very pleased with the glasspack muffler. It is short, concise and very effective (sound-wise). It's shortness (in length) is good size-wise and for ease of handling & installation, but I did have to cut & splice in a 22-inch piece of tailpipe to make up for the longer standard muffler.
John K. from Oakland, CA - Oldsmobile Cutlass
Exhaust Header Reviews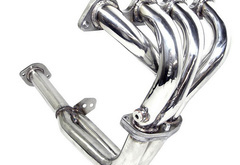 Maximizing exhaust flow for optimized power starts with the headers. Bolting a performance header to your engine improves waste gas excavation, improving your engine's torque, efficiency, and power. Our customers also tend to notice an improvement in sound as well. See what your fellow drivers and performance enthusiasts have to say about our different exhaust headers.
I bought the stainless steel, ceramic-coated headers and they look and perform great on my 4.7 V8 Dakota. Runs excellent, better mileage and throttle response, and sounds awesome. Bolted up to the stock Y-pipe flawlessly, no problems at all there. They're a must-have in your truck, I should have put them on earlier.
Mark G. from Alexandria, VA - Dodge Dakota

This header is a great fit for my car but is not a 4-2-1 which would give you more bottom end, instead it is a 4-1 for more top end. Good quality seems to be there but it is a little over priced, but this website is the cheapest i found. So if you have some extra money, go for it, I also bought header wrap to keep underhood temps at a minimum. So I'm into it about $250. Is it worth it? It's all up to you but for me, yes.
Elliot T. from San Luis Obispo, CA - Nissan 240SX

Exhaust Tip Reviews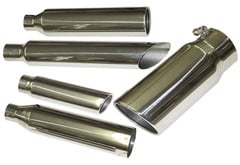 A popular accessory for performance and aesthetic enthusiasts alike, exhaust tips give your vehicle that finishing touch of style. They're available in a wide range of designs to suit your visual taste, whether you drive an import, a hot rod, or a minivan. Some even offer some extra resonance for a bolder sound. Check out what our previous exhaust tip customers have to say about the quality, fit, and finish of these custom tips.
Great quality exhaust tips. I installed a pair of these on a Victory Vision motorcycle and they have a nice rumble at cruising speeds but loud when on the gas. Clean-looking, easy to install, and super affordable. Great deal!
Craig J. from Watertown, SD - Victory Vision

If you've never tried these resonator tips, you're missing out on a GREAT sound! These tips are stand alone (no need for a muffler) and they have a throaty and deep tone, not high and raspy like glasspack mufflers. Try them out, you'll love 'em! Just be prepared to do a little welding if you're installing them yourself.
George B. from Dublin, OH - Chevy C/K Pickup
Catalytic Converter Reviews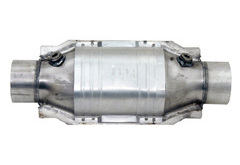 A necessary component for maintaining street-legal emissions, the catalytic converter is yet another piece of the exhaust puzzle you can improve. Rather than creating a restrictive bottleneck, our performance cat converters open up exhaust flow for improved horsepower and torque. Most customers report that our converters are simple to install and fit perfectly in place of stock parts.
No complaints here. The converter bolted right in place of the factory original, perfect fit. I haven't measured my gas mileage since installing it, but I can tell there's an improvement in how my car runs. The only thing they could change is including mounting holes to reinstall the heat shield that surrounded my stock converter. Total installation time was under an hour. Definitely worth your money.
Paul R. from Dothan, AL - Honda Civic

Great fit, no welding needed. I bought this along with a cat back exhaust system and I'm noticing serious low RPM power gains and improved acceleration. Straightforward to install and replace the stock converter, though I had to pick up some new gaskets.
Gary S. from Champaign, IL - Pontiac Grand Prix

This page was written by Packy AutoAccessoriesGarage