Your engine and exhaust sytem are complicated pieces of machinery, and they also have a complicated relationship with the chemicals they spit into the atmosphere. One key way to minimize the pollution that's kicked out of your exhaust pipes is by using a catalytic converter, or cat converter. But what exactly is this pod mounted between your headers and your exhaust, and what does it do? Let's take a closer look at catalytics to learn how they work and see how you can upgrade your performance with a replacement catalytic converter.
The Ins and Outs of Catalytic Converters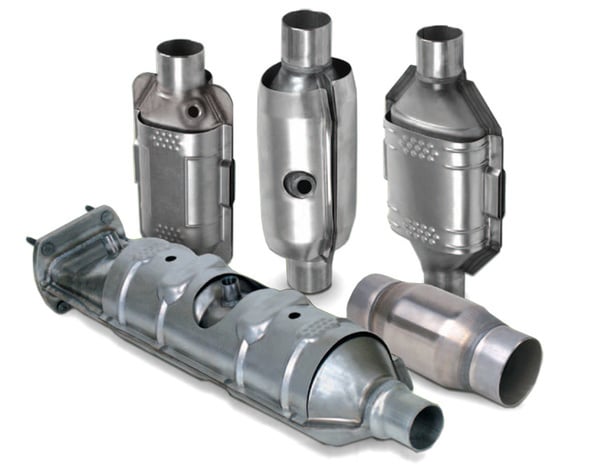 Your internal combustion engine ignights a combination of gasoline and air, causing the thousands of tiny explosions per minute that make your wheels go. The byproduct of these explosions is a combination of carbon monoxide, unburned hydrocarbons, and nitrogen oxides that threaten to ruin our atmosphere. Your cat converter is designed to convert these exhaust gases into a less harmful state.
The term "catalytic converter" comes from the "catalyst" inside the unit that does the work. The catalyst is loaded with precious metals like platinum, palladium and rhodium that set off a series of chemical reactions. First, the nitrogen oxides get reduced and separated out to nitrogen and oxygen. Then, carbon monixide gets oxidized into carbon dioxide and unburt hydrocarbons get oxidiezed into carbon dioxide and water. This process drastically decreases the amount of harmful chemicals spewed into the air, making your vehicle run cleaner and safer for the environment.
Why Upgrade Your Catalytic Converter?
Helpful Tip: Because catalytic converters contain precious metals, they are often targets for theft. Make sure yours is safe from criminals with a CatClamp Cat Converter Lock. Catalytic converters are a great thing for the environment (and they're legally required for road vehicles), but that emissions reduction does come at the cost of some performance. Because cat converters introduce a degree of restriction into your exhaust flow, that can result in less horsepower and torque coming from your engine. Luckily, some brilliant engineers have designed high-flow catalytic converters to minimize their impact on your flow and overall performance. With a Bassani Catalytic Converter or a Magnaflow Cat Converter you can open up some of the restrictions of your stock converter and get a crucial extra bit of performance.
When upgrading or replacing your catalytic converter, it's important to know that not all catalytics are 50-state street legal. California's strict emissions standards dictate even higher levels of testing and certification to be considered street legal, so if your vehicle is registered in CA make sure you're picking up a 50-state catalytic converter. But if you're in any of the other states, a 49-state model like the direct-fit Eastern Catalytic Converter will do just fine.