So, you want to toughen up your truck's looks, get a little extra off-road clearance, or give your finish some extra protection from mud and kicked-up rocks? The answer, of course, is putting on a custom set of Fender Flares. There are a few steps to this process, however. First, you have to choose a fenders that's right for your vehicle and your driving needs. From there, the installing process is pretty simple.
The following video will give you a good idea of how the typical fender flare installation goes down, and below that you'll find plenty more information:
Choosing The Best Fender Flares For Your Truck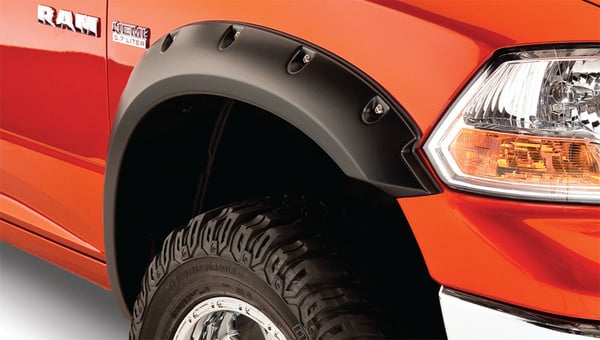 At AutoAccessoriesGarage.com, we offer a variety of options for your truck fender flares. If you want a look that's fresh and sleek, like that of a brand new vehicle, take a look at our factory style fender flares. On the other hand, we also have off-road fenders that give your truck or SUV a more burly and beefed-up look.
Whatever style you prefer, you can be sure you're getting the best fender flares at AAG. Browse highly distinguished Bushwacker fender flares for a super-tough bolted-on look, as well as the sleek OE-style of EGR Fenders. If you're just looking to add a little flash of chrome to your wheel wells, ICI Chrome Fender Trim is a great choice. We also make it super easy to find custom fender flares that are made specifically for your vehicle. Just enter your make, model, and year in our vehicle selector widget and we'll only show you the flares that are custom-designed for that application. This ensures that you'll always get the right part, and that it will fit perfectly.
Installing Your Fender Flares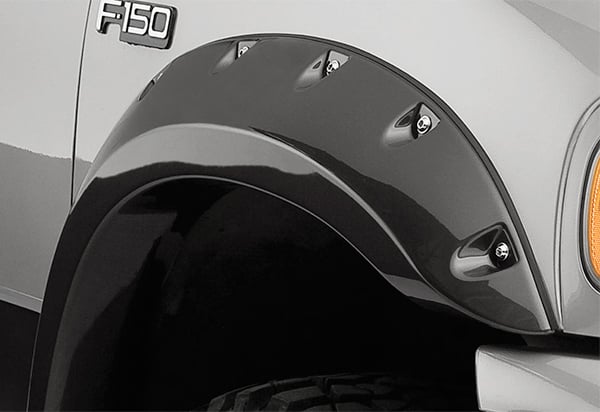 It's relatively quick and pain-free to install your new flares. For all four fenders you'll only need about an hour to put them on. Every model of fender flares may have slightly different requirements, so make sure to thoroughly read through the included instructions. But generally speaking, these are the steps you need to take to mount your new fender flares:
If your truck has factory fender flares, unbolt them from the wheel well and remove them.
Check the fit of your fender flares against your vehicle's body. If they fit right, the bottom edge will line up with the bottom of the fender and the front will fit snug up against the bumper.
Some light drilling may be necessary if your vehicle did not come with fender flares. Most fender flare kits include a template that will show you where to drill new holes.
Many fender flares include double-sided automotive tape for additional mounting security. Apply the tape to the fender first, then peel off the other side of the backing and apply the flare to the body, making sure to line the holes up properly.
Insert bolts through the holes and tighten them on.
Check out the video below for a little more detail on how to install new truck fender flares:
That's about all it takes to set your truck or SUV up in hot new style! Make sure to read our Fender Flare Reviews, which include helpful tips about installation written by real 4X4 drivers like you. And if you have any more questions about our Fender Flares and Trim, be sure to chat with our customer service crew online or at 800-663-1570.
This page was written by Packy AutoAccessoriesGarage