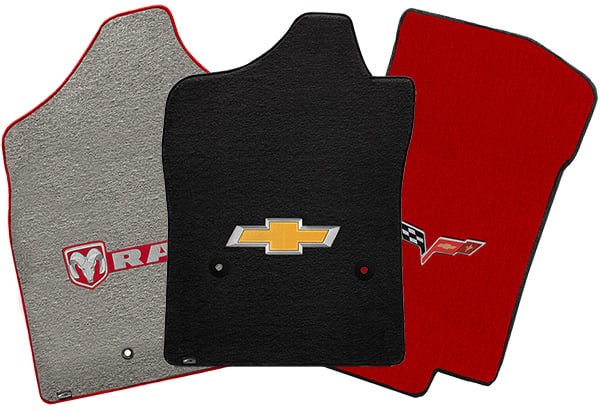 Like your clothes, your home, or even your computer background, your vehicle is really an extension of your personality. Everything about your ride, from the color and engine to which fast food wrappers you've left on the floor, gives the world a peek at who you really are. Plus, your car or truck is like a blank canvas that you can modify to your heart's delight. Whether you install a full-blown chrome trim package, bolt on an aggressive muffler, or just slap a Led Zeppelin sticker on the bumper, you make your vehicle all your own.
Exterior modifications get a lot of attention, but how do you dress up the inside of your vehicle? One of the most popular ways to add a personal touch to your interior is by dropping in a set of custom floor mats. Car floor liners and mats are affordable, easy to customize and dead simple to install, making them your first choice when you want to take your interior style up a notch. Let's take a look at the different ways you can add some personality to your vehicle with custom floor mats.
Equip Yourself With Floor Mats For Your Lifestyle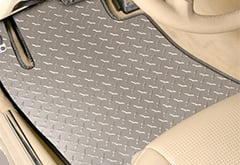 The first thing to consider when picking up a set of car floor mats is how you use your car. Do you use your vehicle to go out on the town and live it up, or do you spend your weekends driving to muddy bogs for hiking and hunting excursions? If your answer is more on the outdoorsman side, make sure you've got proper floor protection with a set of durable all-season floor liners. These liners aren't only built tough to handle heavy boots and snowy soles - they also give your interior a rugged, off-road-ready look. If you're more interested in luxurious style and a posh feel without much wet and muddy traffic, then carpet car floor mats are more for you. 
Show Off Your Favorite Teams With Logo Floor Mats
You take great pride in your local sports teams, whether you live in your team's hometown or have smuggled your fandom into a rival city. What better way to show off your allegiance than with a set of logo floor mats!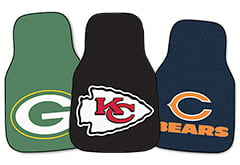 Our logo mats are emblazoned with big, bright logos featuring your favorite team, letting all of your passengers know who you're rooting for. Our mats feature 100% officially licensed logos from NBA, NFL, NHL, and even NCAA teams, so you can show off just about any team or your alma mater. Car mats are also available with military logos, so you can show pride in our armed forces every time you drive.
Our sports and military floor mats are available in both carpet and all-weather vinyl, so you have even more options depending on the style and floor protection you're looking for. Sports logo cargo liners are also available for your trunk or cargo area, instantly transforming your SUV into a tailgating machine.
Vehicle Logos Add A Classy Look
Don't just leave logos to your trunk and hood ornament - show off your vehicle's make with a custom floor mat. Many Lloyd floor mats are available with optional vehicle logos that add a touch of custom class to your interior. All logos are officially licensed,  so you know you're getting a genuine product. Plus, every logo is beautifully stitched for bold, sharp looks that last. No matter if you're rolling in a Saab or a Saturn, use a custom logo floor mat to tie the whole look together.
Custom Embroidered Floor Mats Give Your Ride A Personal Touch
Our custom floor mats are available with more than just logos. In fact, you can add your own custom-embroidered text to many of our carpet floor liners from Lloyds Mats. Up to 2 lines of text can be sewn right into the carpet, in a variety of colors and fonts. Embroidered car mats make a great gift, of you can buy yourself a set and make the statement you want in your vehicle.
How To Order Custom Floor Mats
Ordering a set of customized car floor mats is a simple process. We've laid out all the steps for you, so in just a few clicks you'll have a great set of custom mats on the way. Of course, with all the available options you have plenty of tough artistic decisions when designing your custom mats, but what you choose is up to you!
Step 1: Choose your vehicle using the vehicle selector on our product pages. Let's say we're ordering Lloyd Velourtex Mats for a 2010 Camaro: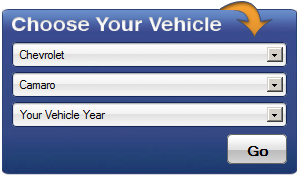 Step 2: Once you've chosen your make, model, year, and trim package, select how many mats you want. Most vehicles are available with 2 piece or 4 piece kits, or in some instances you can choose a cargo/trunk liner: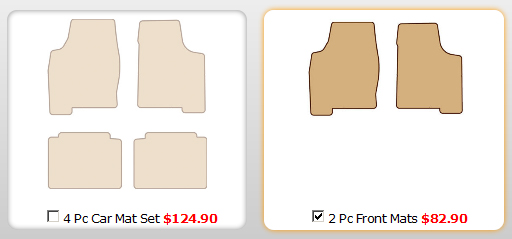 Step 3: Choose what color mats you want. The default view is "Factory Colors," but for every available option, click on "All Colors." Some mats are also available with optional custom edge binding, in an array of colors:

Step 4: After the color selector, you can choose a custom logo, add your own embroidered text, or just purchase the mats plain. Simply click the tab for the option you want. In this case, we'll add some custom text. Type your text, choose your font, and then pick your embroidery color. Remember what edging color you picked (if any) and choose a color that matches or complements it!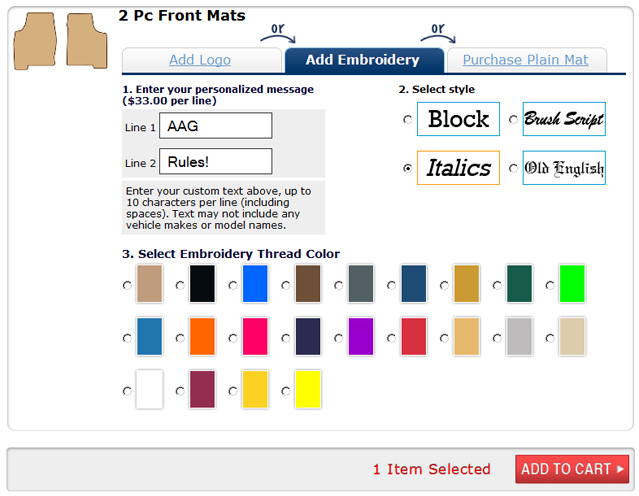 Step 5: Click "Add To Cart" and you're ready to go!
Conclusion
Custom embroidered floor mats instantly give your vehicle's interior some personal style. If you need any help shopping for a set of custom car floor mats, please call our knowledgeable Customer Service staff at 800-663-1570.