There are many reasons to consider purchasing a new floor mat or floor liner, depending on your specific needs. Among other convenient uses, they can provide all-weather protection or bring new life to your vehicle's interior. Below you will find the answers to a series of common questions concerning the purchase of a new floor mat or floor liner. They should help you in your decision-making process.
Frequently Asked Questions about Floor Mats & Liners
Floor Mats & Liners FAQs Answers
Will I need tools to install new floor mats?
No. Every floor mat we sell is intended to be laid out on your vehicle's floor. No tools of any kind are required, and installation is quite simple.
All-weather floor mats vs. carpet floor mats: which is better?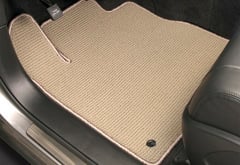 All-weather floor mats offer thicker protection against moisture, mud, dirt, and messes. Made of a durable synthetic material, they have tall outer walls to trap mud and moisture until they can be hosed off. Carpeted mats come in a wide variety of colors to match your vehicle's interior and are made of thicker, longer-lasting, more crush-resistant material than factory mats. These are cleaned via vacuuming, shaking out, hand-washing, or with carpet cleaner.
Neither is better than the other, however. They are both useful in different ways, for different lifestyles.
Should I buy a 1-piece floor mat or 2-piece set?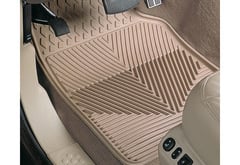 This mostly depends on your particular vehicle's floor configuration. The vast majority of trucks, vans, and SUVs will use a 1-piece full-size rear floor mat, and some of them (though not all) also have a 1-piece full-size in front. Nearly all car floor mats come as a set of two, both front and rear. Pay attention to your vehicle's configuration and do a little research to find out what the best set-up is for your particular automobile.
What's the difference between these floor mats and my factory mats?
While the floor mats you purchase from Auto Accessories garage may look similar to your factory mats, replacement floor mats, in many ways, are an improvement upon factory models. They are usually more durable, thicker, longer-lasting, and protect a larger area than factory mats. The idea with the purchase of a new floor mat is to upgrade beyond what a factory mat can do for you.
Is there any appreciable difference between all-weather floor mats and all-weather floor liners?
All-weather floor mats are thick and heavy, for concentrated protection immediately below the feet of passengers. All-weather floor liners cover more surface area while at the same time retaining a greater volume of mud and moisture. Both are intended to be cleaned off with a hose. Outside of your vehicle, of course.
Of what material are all-weather floor mats and all-weather floor liners made?
Most all-weather floor mats are made of heavy-duty rubber or vinyl. Most all-weather floor liners are made with their manufacturer's proprietary synthetic formula.
How do I match a floor mat to my vehicle's interior?
Carpeted floor mats are available in several different colors, universal enough to match or at least accentuate any vehicle interior. All-weather floor mats usually only come in a few different colors, but these are versatile enough to ensure you can accentuate your interior if not match it outright.
What is a Semi-Custom floor mat?
A custom floor mat is made to the exact year, make, and model of your particular vehicle. Semi-Custom floor mats, on the other hand, will fit a vehicle's dimensions with relative ease but won't fit them exactly. They are made to accomodate MOST vehicles within a certain set of sizes. Measure your vehicle before purchasing these kinds of mats so you buy the right size for your car or truck.
Why are the floor mats I received a slightly different color than the ones on the website?
Every computer monitor represents colors differently. The colors on your particular monitor will very closely resemble the actual color of each floor mat, but there may be some slight variation upon receipt. Feel free to contact our customer service department with any questions that arise.
Will these floor mats stain?
All-weather floor mats are made of rubber and are designed to trap mud and moisture prior to being hosed off, and so should never stain. Replacement carpeted floor mats are treated with stain-resistant formulas. That said, resistance does not mean something unfortunate definitely will not happen. Consult the manufacturer's instructions for proper cleaning procedures. Household carpet cleaner can also be used on most carpeted mats.
Will these floor mats stay in place?
Many of the floor mats on our site have some sort of underside spike, snap, or lock to keep them in place. The ones that don't will have a non-slip backing surface. In short: every floor mat we sell should stay in place without any extra effort on your part.
Conclusion
We sincerely hope these questions and answers proved helpful and useful to you. If you have any further questions about these products, please contact our helpful Customer Service staff at 800-663-1570.