All-Weather Floor Mats Reviews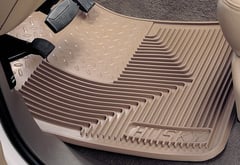 All-weather floor mats and liners are thick, grooved mats that keep snow and mud away from your factory carpeting. Heavy-duty plastic comes in a host of colors to match most interiors; many custom-fits are available, but some of these require modification to be a perfect match. More than a few customers have been disappointed that the fits were not as exact as the manufacturers claimed, but just about every commenter loved the way these floor mats protected their vehicle interior.
I purchased these units to replace my OEM carpet floor mats. These digital fit liners are just that. Digitally fit! They offer fantastic protection, fit like a glove, and match my Black leather interior perfectly. Sure, they come with a hefty price tag, but so would replacement carpet for your interior. Do the right thing, protect your investment from dirt, snow, rain and anything else you track into your car from the outside!
Rob W. from Bloomington, MN - Toyota 4Runner
Very pleased with the front but not at all with the 2nd row mats. As to the front liners, amazing fit and looks. As to the rear, well, I guess I could cut them as suggested but I bought a digital fit product. Not a one-size fits some.
Tim G. from Tulsa, OK - Toyota Tundra
Carpet Floor Mats Reviews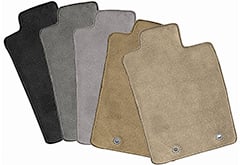 Carpet floor mats and liners offer protection for your vehicle's carpeting that blends with the stock interior better than all-weather versions. Oftentimes, these carpet liners are also treated with stain-protectant or moisture-resistant solvents. Several customers had problems with the colors seen online not exactly matching the ones they received, but the majority of customers enjoy the new look. Most, though not all, agree that these carpet mats protect better than factory mats do.
I cannot be happier with these mats. They look better than I expected, and are much nicer than the factory mats that came with my Tahoe. They fit perfectly, and even provide better coverage than the original mats. I plan to order another set for my husband's truck.
Stacy C. from Brentwood, TN - Chevrolet Tahoe
The mats did not match the quality of the photo and are in no way comparable to the stock Mercedes mats. I thought I was purchasing equal quality from the description. I am not satisfied.
Jerry S. from Boston, MA - Mercedes CLS500
Cargo Mats & Liners Reviews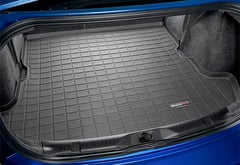 Available in both carpet and all-weather versions, cargo liners protect your rear cargo area from stains, moisture, mud, and dirt accrued while hauling cargo. Able to be removed, cleaned, and re-inserted, many customers love the versatility and protection available with cargo area liners. Several did complain about the materials used and the length of time it took these liners to relax after unpacking, while others were excited about the outside lip on some models that keeps moisture trapped within the liner.
It's a great fit for the back of my Explorer. It's already saved me rust marks from a propane bottle! The only thing that I don't understand is why it comes rolled from Huskey, because it takes awhile for the sides to form right to the vehicle.
Bradley E. from Manitowoc, WI - Ford Explorer
Only one color option was offered for my vehicle and the match was not perfectly exact. The fit is very good, but I do wish I had an exact color match.
Anotherson from Houston, TX - Cadillac SRX