A custom-designed grille, whether bolt-over or replacement, is the quickest and easiest way to give your car the kind of sleek facelift it deserves. Tribal designs, patriotic patterns, or simple and elegant bars or mesh Dodge Durango Grills are available in a wide variety of sizes and fits for nearly every car or truck. Use these questions and answers to make your way through the shopping process, and find the best grille for your needs. As an extension of your personality, your car should look the way you feel. It's our pleasure to help.
Grilles FAQs
Grille FAQs Answers
What are billet grilles made from?
Most commonly, Ford Excursion Grilles are made from aluminum. Occasionally, they are made from a mixture of aluminum and stainless steel, or 100% stainless steel. Some are also crafted from chrome-plated or painted ABS plastic, an affordable, corrosion-free option. Rest assured, all of the billet grilles we sell will be made of fine materials that will stand up to the rigors of heavy use.
Will a billet grille prevent air from cooling down my motor and radiator?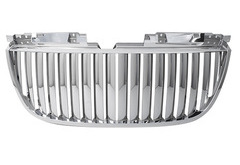 No, Ford Mustang Grills will not reduce air flow or cause overheating. Grille manufacturers know how important air flow is to keeping your engine running safe and cool, and they design their grilles to maintain that flow. Even with fewer openings than stock grilles, plenty of air will get into the engine compartment. Some grilles are cover more than others, but none are totally sealed.
How do I install a billet grille, and how long will the process take?
The answer to this question depends on what kind of grille you purchase. If you buy a bolt-over grille, then installation is easy and shouldn't take long at all. These kinds of Ford Fusion Grills, as you might have guessed, feature mounting hardware that simply bolts over your factory grille. The process takes 20 to 30 minutes and will require no cutting or drilling. A replacement billet grille, on the other hand, will require some work. Installing one of these grilles involves completely taking out the factory grill, which requires a bit more time, effort, and tools to do properly. The look is cleaner and more integrated, and achieving it may require some cutting and drilling. The entire process of installing replacement Pontiac GTO Grilles will probably take over an hour, but it shouldn't take an entire day.
How can I be sure a billet grille will fit my vehicle?
All Chevy Caprice Grills are custom-designed to fit your particular vehicle. Use our handy "Choose Your Vehicle" tool to pick your year, make, and model (and, in some cases, submodel) vehicle, and our website will offer grilles designed specifically to fit that vehicle.
How do I clean a billet grille?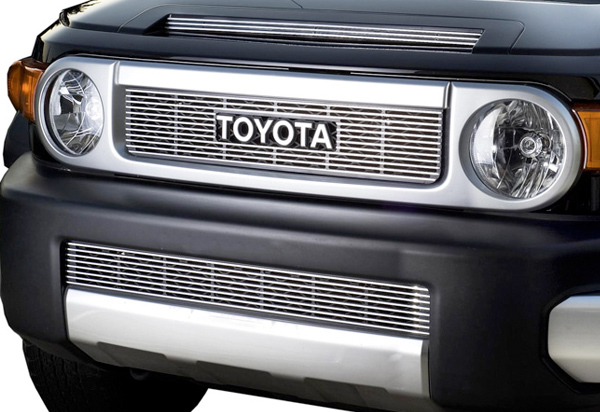 The process of cleaning Honda Pilot Grills is the same as cleaning factory ones. You'll need water, soap, a bucket, a sponge, and a hose. Pretty standard. For extra protection, you can treat your grille with metal polish. Doing so will lend your new grille a lustrous shine along with extra corrosion-resistance. Before doing so, please be sure to read the manufacturer's instructions to check for any solvents or polishes that cannot be used on a particular grille.
What does the word "billet" mean, anyway?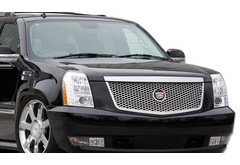 For these purposes, the dictionary's second definition works best, as it is related to metallurgy. In this context, a billet is "a comparatively narrow, generally square bar of steel." Jeep Wrangler Grills are referred to as "billet grilles" because the grille itself, in most cases, is made from solid bar stock of aluminum or steel. These days, "billet grille" has become an umbrella term for all vehicle grilles, even those made of ABS or mesh.
Conclusion
With the right research and knowledge, picking up the best billet grille for your vehicle can be a quick and easy process. If you need further help, please don't hesitate to contact our friendly Customer Service staff at 800-663-1570.
This page was written by John AutoAccessoriesGarage