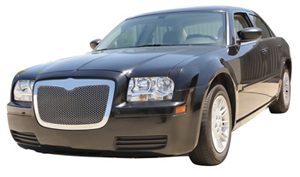 Your vehicle doesn't just get you from point A to point B (and the inevitable point C) - it's also a way to express your unique style and personality. There are plenty of ways to customize your car or truck, but the quickest way to give your ride a whole new face is by bolting on a Custom Grille. We offer a wide variety of Grilles for trucks, cars, and SUVs so you can upgrade your style no matter what look you're going for. Plus, our Grilles are custom-fit to your vehicle so they're easy to install. Read on and learn how to pick the best Custom Grill for your vehicle.
Upgrade Your Looks With A Custom Grille
Your stock grille does a fine job protecting your engine and radiator from impacts and debris, but chances are it's pretty boring in the looks department. Most stock grilles are made from drab black plastic that offers little in the way of style. Plus, everyone else who drives your make and model has the exact same factory grille - if you want to stand out from your fellow drivers, you should change it up a bit.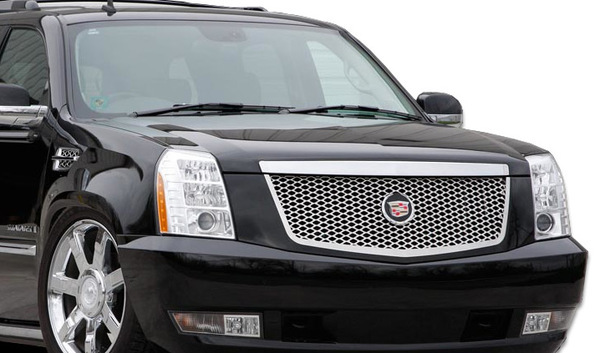 No matter what you drive, an Aftermarket Grille takes your look to a whole new level. Our Truck Grills and Grille Inserts also come in several different materials and finishes, giving you a wide range of visual options. Whether you drive a lifted off-road truck or a slicked-out sedan, our Putco Grilles and T-Rex Grilles offer plenty of new looks for your vehicle. From Chrome and Polished to Black Chrome and Clear-Coated Black, we supply just about any style and finish you can imagine.
Car & Truck Grill Styles
Grilles for trucks and cars come in a variety of styles, so you're bound to find the look you want for your vehicle. Let's take a look at the different kinds of grills we offer.
Bar Billet Grilles

If it's classic, classy style you're after, go with a Bar Grille. These bolt-on grilles come in horizontal designs, like Westin Grilles and the Putco Shadow Billet Grille, or you can choose the vertically-aligned Bully Grille. Our Bar Grilles are available in aluminum, stainless steel, and ABS construction to fit every driver's style needs and budget, and they easily replace or bolt over your factory grille.

Punch Billet Grilles
Another way to achieve cool custom looks is by cutting holes into a solid piece of metal. Our Punch Grilles give your front end a bold shot of chrome while providing plenty of air flow to your engine. With a Putco Punch Grille you can add tough yet sophisticated style to your work truck or your daily driver.
Mesh Grilles
For a clean, high-performance look, go with a Mesh Grille. These grilles look like intertwined pieces of thin metal and look great from both near and far. They can take on a sleek chromed-out look, like the T-Rex Upper Class Mesh Grille and Street Scene Speed Grille, or you can go with a Black powder-coated RBP Grille for tough, in-your-face 4x4 style.

Specialty Billet Grilles
Sometimes you just gotta crank your style up to the max. Make a big, bold statement on your truck with a Specialty Billet Grille. These truck grills are cut from high-quality billet aluminum and feature wild designs including Flame Grilles and Spiderweb Grilles. For a hot style that pledges allegiance to the flag, go with the stars-and-stripes look of a Putco Patriot Grille.
If you have a special love for your motorcycle, don't just slap a "My Other Car Is A Harley" sticker to your bumper - show off your easy-riding lifestyle with a Harley Davidson Grille. These grilles come in bar, punch, and flame designs and are emblazoned with the Harley-Davidson name and logo. These Harley grills are the perfect way to let everyone on the road know you'd rather ride on two wheels.
Snap-On Grille Shells

Grille Shells are super-easy to install, and the instantly enhance your front-end style. These grilles and frames are designed to install right over your factory grill, and in many cases you don't even need to use any tools. Street Scene Grille Shells and Pilot Grilles mount to your vehicle in minutes, come in chrome-plated ABS or metal, and include all the hardware you need. If you're trying to upgrade your looks and stay under budget, Grille Shells are the way to go.
Bumper Grilles

Grilles don't just sit in front of your engine. Many vehicles also have openings in their bumpers to provide extra air flow for cooler brakes and other parts. Don't leave those openings bare - dress them up with a Bumper Cover. Our Bumper Grilles, including the Street Scene Bumper Cover, enhance your custom style and match your other chrome accessories for a consistent look.
Compare Our Most Popular Grilles
Price
from $76.99
from $62.00
from $139.63
from $91.51
from $69.86
Shipping
Free Shipping
Free Shipping
Free Shipping
Free Shipping
Free Shipping

Rating

Overall:
Performance:
Quality:
Appearance:

Install Time
30-60 minutes
1-2 hours
1-2 hours
Under 30 minutes
2+ Hours
Fit
Vehicle-Specific Fit
Vehicle-Specific Fit
Vehicle-Specific Fit
Vehicle-Specific Fit
Vehicle-Specific Fit
Colors
Material
Stainless Steel
Aluminum
Aluminum
Aluminum
Stainless Steel
Style
Hole Punch-Pattern
Mesh
Horizontal Bar
Horizontal Bar
Mesh
Warranty
Lifetime Neverust Warranty.
1-Year Warranty
1-Year Warranty
3-Year Warranty On The Grille'S Finish; Lifetime Warranty On Structure
3-Year Warranty
More Details
More Details
More Details
More Details
More Details
Grille Materials
Stainless Steel
Stainless Steel provides great looks that last. Stainless Grilles like the T-Rex X-Metal Grille are built with 304 Stainless Steel that resists rust and looks great for years to come. If you live in a humid or high-precipitation climate, Stainless is the way to go.
Aluminum
Putco Grilles and Carriage Works Grilles are crafted from solid, aircraft-qualityT6 aluminum. This material is durable, affordable, and lightweight. Aluminum looks great polished, but it can also be brushed for a subtly modern look or finished in black for understated style.
ABS Composite
For sleek looks without the heft or the high price tag, go with an ABS Plastic Grille. Spyder Grilles and some Bully Grilles feature ABS construction with a chrome-plated finish that looks just like the real thing. ABS is the perfect choice for drivers looking for an easy-to-install style upgrade that's easy on the wallet.
Grille Installation
Virtually all of our Car and Truck Grills are custom-designed to your exact year, make, and model. This ensures not only a perfect, seamless look and fit, but also a relatively easy installation.
Helpful Tip: Don't just take our word for it! When shopping our site, be sure to read our Grille Reviews and find out what your fellow drivers think of our Grilles.Many of our Aftermarket Grilles are complete factory replacements. For these models simply unbolt the grille from your hood, remove the grill from the surrounding shell, and put the new one in its place. In some cases you may have to drill holes into the new grille to ensure an exact fit on your vehicle's existing holes.
Some Grille Inserts, such as the Bully Imposter Grille, simply mount over your factory grille. All you have to do for these models is snap them into place with included brackets or utilize their pre-installed automotive-grade tape. These grilles install in just minutes, so you'll be back on the road with hot new style in no time.
The following video shows how easy it is to install the Carriage Works Grille over your stock grille.
In Conclusion
When you want to turn your vehicle into a stylish statement, give it a new face with a Custom Grille. We hope this guide will give you the info you need to buy the best Grille for your truck, SUV, or car. If you have any questions about the info in this Research Guide, call our experienced Customer Service team at 800-663-1570.
This page was written by Packy AutoAccessoriesGarage