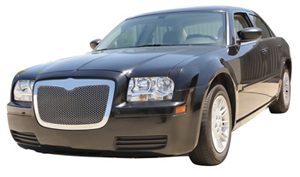 Your vehicle doesn't just get you from point A to point B (and the inevitable point C) - it's also a way to express your unique style and personality. There are plenty of ways to customize your car or truck, but the quickest way to give your ride a whole new face is by bolting on a Custom Grille. We offer a wide variety of Grilles for trucks, cars, and SUVs so you can upgrade your style no matter what look you're going for. Plus, our Grilles are custom-fit to your vehicle so they're easy to install. Read on and learn about our picks for the Top 10 Best Truck & Car Grilles of 2022, with reviews!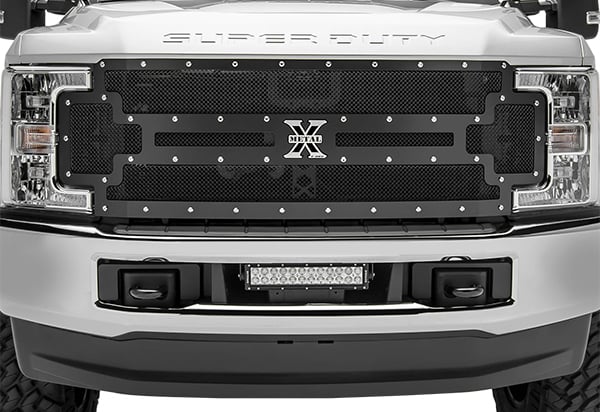 For serious style that will always turn heads, get a load of the T-Rex X-Metal Grille. This grille comes custom-made to fit your rig exactly and features an eye-catching metal "X" right in the center of the grille. All of the applicable hardware comes packed away in the shipping container making installation easy.
Great find for me 2010 Chevy Silverado! The grille is as good as they come and it really makes the truck look tough.

Read More T-Rex X-Metal Grille Reviews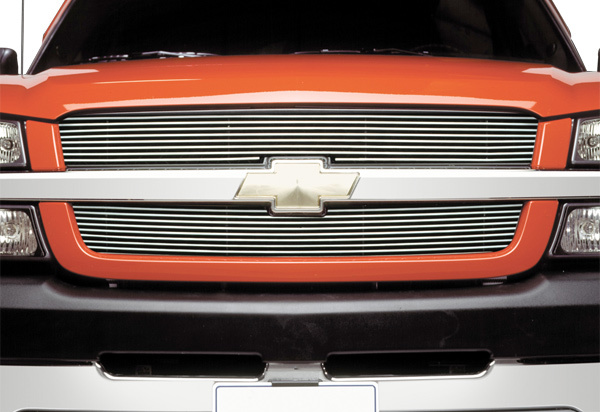 Featuring a mirror-polished finish, you just can't beat the classic shimmering look of the Putco Shadow Billet Grille. This sturdy aluminum grille will go on with no drilling or cutting required. You won't even need to get out the toolbox to put this grille into place!
They say no tools and they mean it! This thing goes right on quick! Very pleased!

Read More Putco Shadow Billet Grille Reviews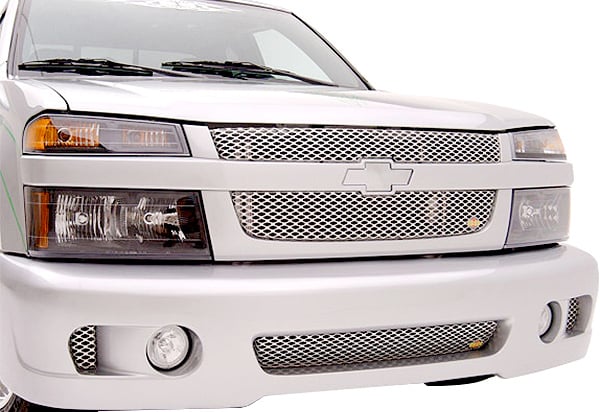 If your car or truck is race-styled or inspired, you'd be doing yourself a disservice if you failed to take a look at the Street Scene Speed Grille. A diamond-shaped hole pattern really sets this grille apart and makes this grille one of the hottest looks available on the market.
A true metal grille like this will always make your ride look better. Directions for installation are pretty easy too.

Read More Street Scene Speed Grille Reviews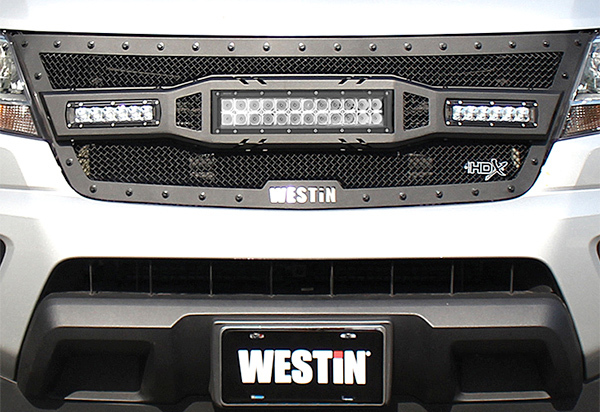 Built tough from 16-guage steel, the Westin HDX LED Mesh Grille is perfect for people that demand strength in all of their truck accessories. Designed for a fast and easy bolt-on installation, this grille is also finished in a rugged Black Powder Coat that will resist rust and corrosion for years to come.
Easy to install and looks very strong. If you do a lot of country driving this grille is a must.

Read More Westin HDX LED Mesh Grille Reviews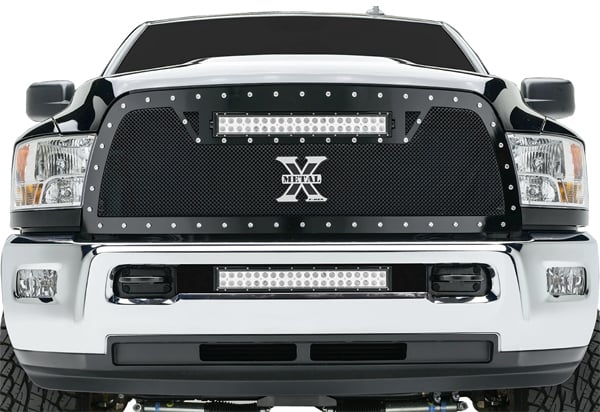 Like a torch in the dead of night, the T-Rex Torch Series LED Light Grille includes high-intensity CREE LED lighting which will illuminate your path on the off-road trails after dark. Not only that, but it's also one of the most rugged-looking grilles on the market with T-Rex's signature "X" marking the front end.
I love everything about it. I don't think the LEDs are street-legal, but if I'm off-road or by myself I'll let 'er rip!

Read More T-Rex Torch Series LED Light Grille Reviews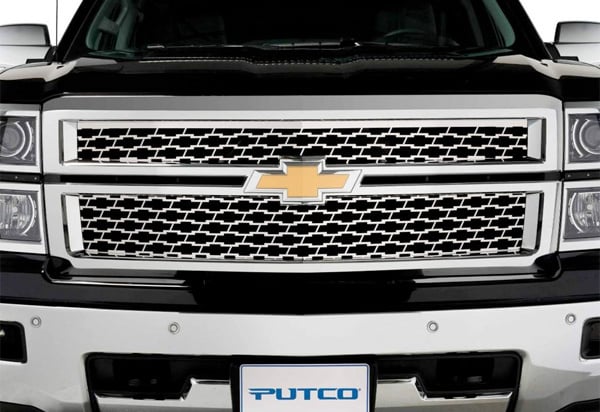 If you need to punch up your style points, look no further than the Putco Punch Grille. This grille is about as easy as they come. It actually installs over your factory grille, making it a simple cover rather than a full replacement. This grille is available in a wide variety of styles and for a wide variety of vehicles.
I really didn't want to cover up the GMC logo on my Sierra, so the Punch Grille from Putco was the perfect fit for me.


Read More Putco Punch Grille Reviews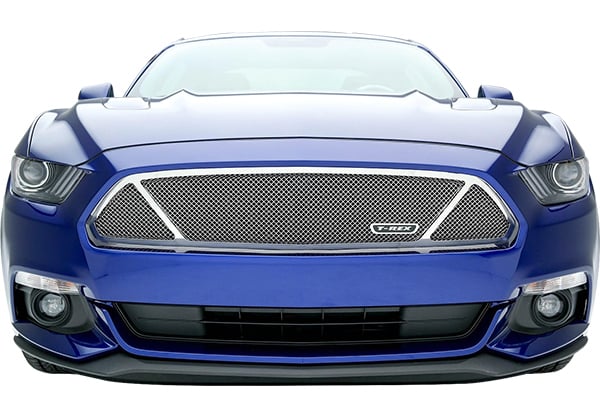 If your vehicle is high class, so should be your grille. Feast your eyes on the T-Rex Upper Class Mesh Grille. Laser cut from top quality stainless steel, this grille features a premium mesh core and comes in your choice of two available finishes. If you've been meaning to class up your wheels, this could be your chance.
Very pleased with the Upper Class grille. I highly recommend it. It made a huge difference on my car.

Read More T-Rex Upper Class Mesh Grille Reviews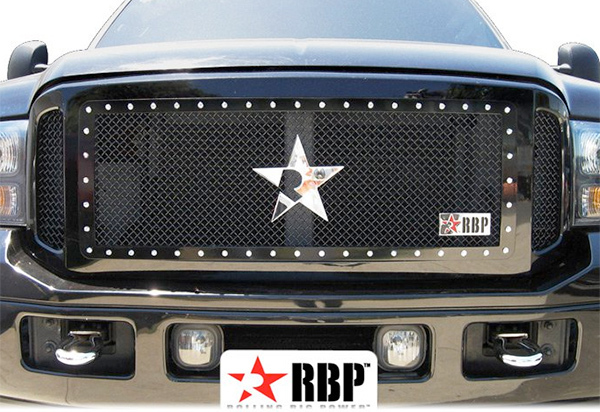 Rolling Big Power, or RBP for short, really know what they're doing when it comes to grilles. This will be clear to you once you lay your eyes on the RBP Billet Grille. Available in an RL Series, RX Series, or RX-2 Series, your sure to find anything you may be looking for in a truck or SUV grille when you shop the RBP Billet Grille.
This grille rules. You can tell it was recently pressed at the factory and shipped direct to me. Takes a while since it's custom made, but well worth the wait.

Read More RBP Billet Grille Reviews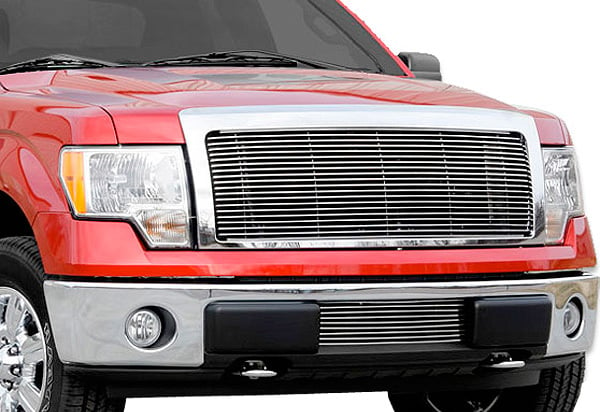 Completely American made, the Carriage Works Billet Grille is built from 6061-T6 aircraft-grade aluminum and is available in your choice of Black, Brushed, or Polished. This grille is perfect for cars, trucks, and SUVs and comes custom-made to fit your vehicle exactly. Everything is included for an easy installation right out of the box.
Best looking grille insert on the market. Coating is of high-quality and installation was straightforward. Just bolt it over your existing grill and in under 15 minutes you're good to go.

Read More Carriage Works Billet Grille Reviews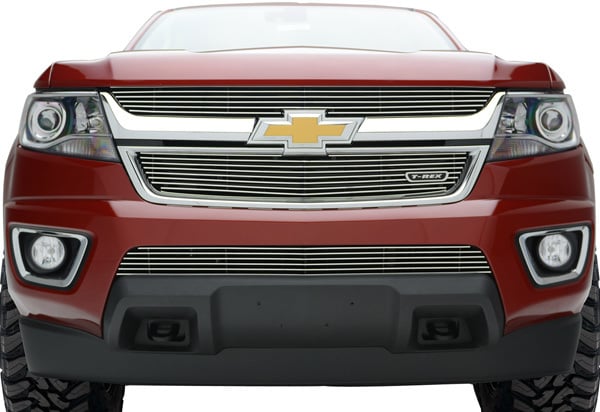 A huge name in the grille game, you know if T-Rex is offering a billet grille they're going to mean business with it. Custom-made to your vehicle specs, the T-Rex Billet Grille is made from aircraft grade aluminum and is finished in a DuPont semi-gloss black powder coating. The structure of this grille is backed by a Lifetime Warranty.
Very pleased with the grille, exactly as advertised, no problems, fast delivery.

Read More T-Rex Billet Grille Reviews




What's the Best Fit for Your Vehicle? Enter Your Info Below to Find Out!
Grilles Buying Guide
Upgrade Your Looks With A Custom Grille
Your stock grille does a fine job protecting your engine and radiator from impacts and debris, but chances are it's pretty boring in the looks department. Most stock grilles are made from drab black plastic that offers little in the way of style. Plus, everyone else who drives your make and model has the exact same factory grille - if you want to stand out from your fellow drivers, you should change it up a bit.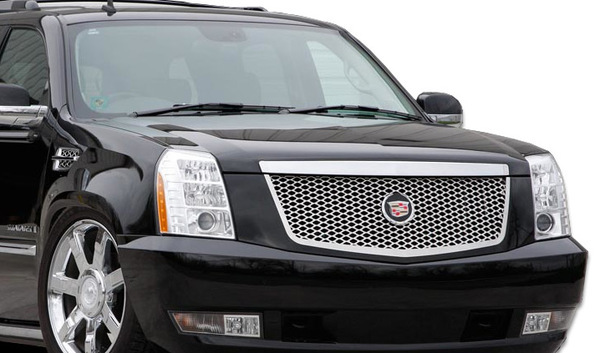 No matter what you drive, an Aftermarket Grille takes your look to a whole new level. Our Truck Grills and Grille Inserts also come in several different materials and finishes, giving you a wide range of visual options. Whether you drive a lifted off-road truck or a slicked-out sedan, our Putco Grilles and T-Rex Grilles offer plenty of new looks for your vehicle. From Chrome and Polished to Black Chrome and Clear-Coated Black, we supply just about any style and finish you can imagine.
Car & Truck Grille Styles
Grilles for trucks and cars come in a variety of styles, so you're bound to find the look you want for your vehicle. Let's take a look at the different kinds of grills we offer.
Bar Billet Grilles

If it's classic, classy style you're after, go with a Bar Grille. These bolt-on grilles come in horizontal designs, like Westin Grilles and the Putco Shadow Billet Grille, or you can choose the vertically-aligned Bully Grille. Our Bar Grilles are available in aluminum, stainless steel, and ABS construction to fit every driver's style needs and budget, and they easily replace or bolt over your factory grille.

Punch Billet Grilles
Another way to achieve cool custom looks is by cutting holes into a solid piece of metal. Our Punch Grilles give your front end a bold shot of chrome while providing plenty of air flow to your engine. With a Putco Punch Grille you can add tough yet sophisticated style to your work truck or your daily driver.
Mesh Grilles
For a clean, high-performance look, go with a Mesh Grille. These grilles look like intertwined pieces of thin metal and look great from both near and far. They can take on a sleek chromed-out look, like the T-Rex Upper Class Mesh Grille and Street Scene Speed Grille, or you can go with a Black powder-coated RBP Grille for tough, in-your-face 4x4 style.

Specialty Billet Grilles
Sometimes you just gotta crank your style up to the max. Make a big, bold statement on your truck with a Specialty Billet Grille. These truck grills are cut from high-quality billet aluminum and feature wild designs including Flame Grilles and Spiderweb Grilles. For a hot style that pledges allegiance to the flag, go with the stars-and-stripes look of a Putco Patriot Grille.
If you have a special love for your motorcycle, don't just slap a "My Other Car Is A Harley" sticker to your bumper - show off your easy-riding lifestyle with a Harley Davidson Grille. These grilles come in bar, punch, and flame designs and are emblazoned with the Harley-Davidson name and logo. These Harley grills are the perfect way to let everyone on the road know you'd rather ride on two wheels.
Snap-On Grille Shells

Grille Shells are super-easy to install, and the instantly enhance your front-end style. These grilles and frames are designed to install right over your factory grill, and in many cases you don't even need to use any tools. Street Scene Grille Shells and Pilot Grilles mount to your vehicle in minutes, come in chrome-plated ABS or metal, and include all the hardware you need. If you're trying to upgrade your looks and stay under budget, Grille Shells are the way to go.
Bumper Grilles

Grilles don't just sit in front of your engine. Many vehicles also have openings in their bumpers to provide extra air flow for cooler brakes and other parts. Don't leave those openings bare - dress them up with a Bumper Cover. Our Bumper Grilles, including the Street Scene Bumper Cover, enhance your custom style and match your other chrome accessories for a consistent look.
Grille Materials
Stainless Steel
Stainless Steel provides great looks that last. Stainless Grilles like the T-Rex X-Metal Grille are built with 304 Stainless Steel that resists rust and looks great for years to come. If you live in a humid or high-precipitation climate, Stainless is the way to go.
Aluminum
Putco Grilles and Carriage Works Grilles are crafted from solid, aircraft-qualityT6 aluminum. This material is durable, affordable, and lightweight. Aluminum looks great polished, but it can also be brushed for a subtly modern look or finished in black for understated style.
ABS Composite
For sleek looks without the heft or the high price tag, go with an ABS Plastic Grille. Spyder Grilles and some Bully Grilles feature ABS construction with a chrome-plated finish that looks just like the real thing. ABS is the perfect choice for drivers looking for an easy-to-install style upgrade that's easy on the wallet.
Grilles FAQs
Grille FAQs Answers
What are billet grilles made from?
Most commonly, Ford Excursion Grilles are made from aluminum. Occasionally, they are made from a mixture of aluminum and stainless steel, or 100% stainless steel. Some are also crafted from chrome-plated or painted ABS plastic, an affordable, corrosion-free option. Rest assured, all of the billet grilles we sell will be made of fine materials that will stand up to the rigors of heavy use.
Will a billet grille prevent air from cooling down my motor and radiator?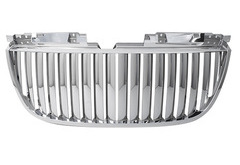 No, Ford Mustang Grills will not reduce air flow or cause overheating. Grille manufacturers know how important air flow is to keeping your engine running safe and cool, and they design their grilles to maintain that flow. Even with fewer openings than stock grilles, plenty of air will get into the engine compartment. Some grilles are cover more than others, but none are totally sealed.
How do I install a billet grille, and how long will the process take?
The answer to this question depends on what kind of grille you purchase. If you buy a bolt-over grille, then installation is easy and shouldn't take long at all. These kinds of Ford Fusion Grills, as you might have guessed, feature mounting hardware that simply bolts over your factory grille. The process takes 20 to 30 minutes and will require no cutting or drilling. A replacement billet grille, on the other hand, will require some work. Installing one of these grilles involves completely taking out the factory grill, which requires a bit more time, effort, and tools to do properly. The look is cleaner and more integrated, and achieving it may require some cutting and drilling. The entire process of installing replacement Pontiac GTO Grilles will probably take over an hour, but it shouldn't take an entire day.
How can I be sure a billet grille will fit my vehicle?
All Chevy Caprice Grills are custom-designed to fit your particular vehicle. Use our handy "Choose Your Vehicle" tool to pick your year, make, and model (and, in some cases, submodel) vehicle, and our website will offer grilles designed specifically to fit that vehicle.
How do I clean a billet grille?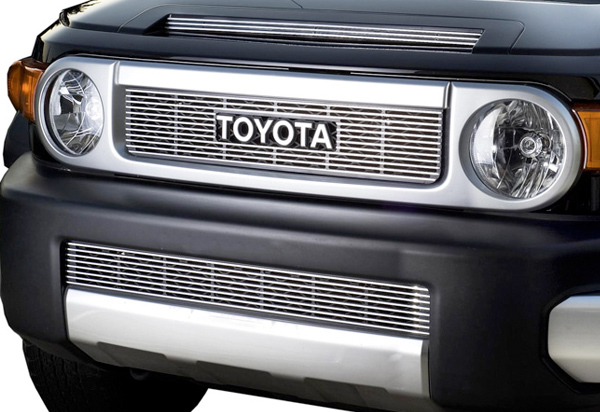 The process of cleaning Honda Pilot Grills is the same as cleaning factory ones. You'll need water, soap, a bucket, a sponge, and a hose. Pretty standard. For extra protection, you can treat your grille with metal polish. Doing so will lend your new grille a lustrous shine along with extra corrosion-resistance. Before doing so, please be sure to read the manufacturer's instructions to check for any solvents or polishes that cannot be used on a particular grille.
What does the word "billet" mean, anyway?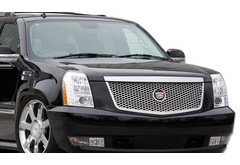 For these purposes, the dictionary's second definition works best, as it is related to metallurgy. In this context, a billet is "a comparatively narrow, generally square bar of steel." Jeep Wrangler Grills are referred to as "billet grilles" because the grille itself, in most cases, is made from solid bar stock of aluminum or steel. These days, "billet grille" has become an umbrella term for all vehicle grilles, even those made of ABS or mesh.
Grille Installation
Virtually all of our Car and Truck Grills are custom-designed to your exact year, make, and model. This ensures not only a perfect, seamless look and fit, but also a relatively easy installation.
Helpful Tip: Don't just take our word for it! When shopping our site, be sure to read our Grille Reviews and find out what your fellow drivers think of our Grilles.Many of our Aftermarket Grilles are complete factory replacements. For these models simply unbolt the grille from your hood, remove the grille from the surrounding shell, and put the new one in its place. In some cases you may have to drill holes into the new grille to ensure an exact fit on your vehicle's existing holes.
Some Grille Inserts, such as the Bully Imposter Grille, simply mount over your factory grille. All you have to do for these models is snap them into place with included brackets or utilize their pre-installed automotive-grade tape. These grilles install in just minutes, so you'll be back on the road with hot new style in no time.
The following video shows how easy it is to install the Carriage Works Grille over your stock grille.
In Conclusion
When you want to turn your vehicle into a stylish statement, give it a new face with a Custom Grille. We hope this guide will give you the info you need to buy the best Grille for your truck, SUV, or car. If you have any questions about the info in this Research Guide, call our experienced Customer Service team at 800-663-1570.